As OOLA editors, we select and write about stuff we love and think you'll like too. OOLA has affiliate and advertising partnerships so we may earn a commission if you make a purchase.
Host Must-Have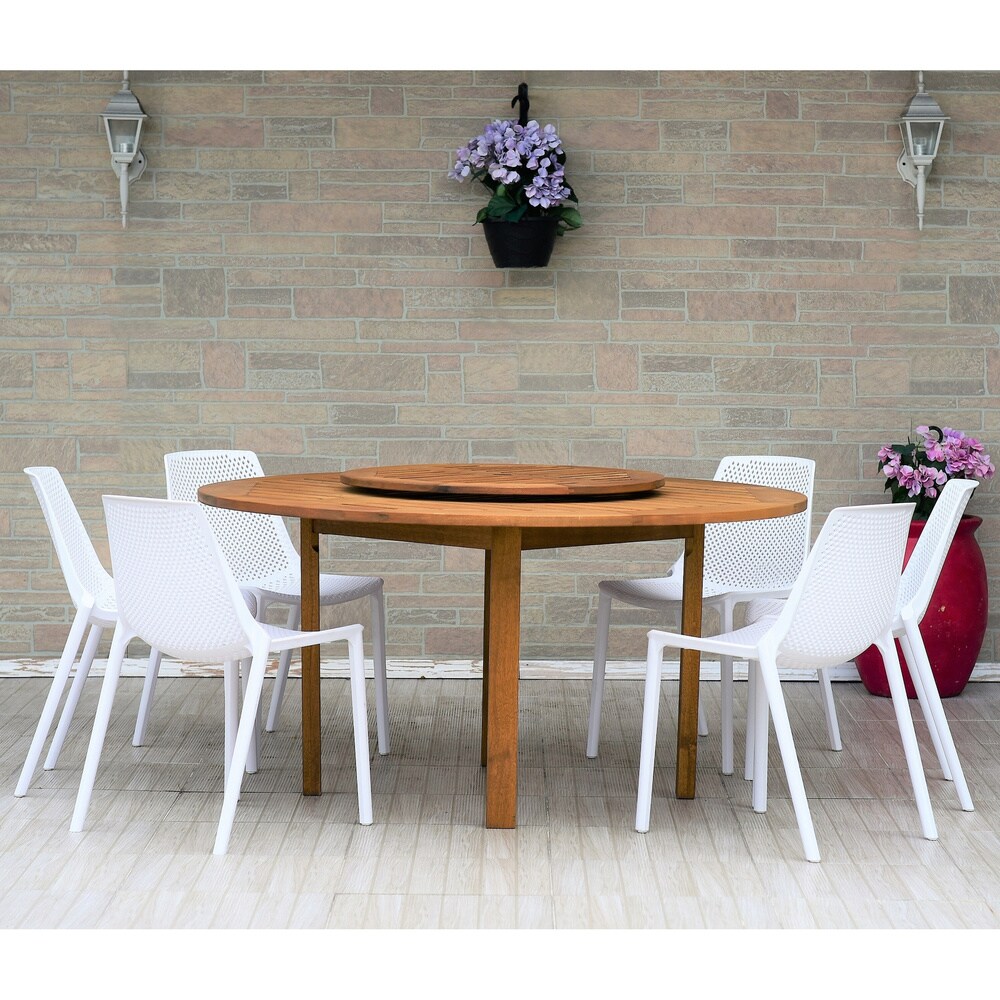 Check Latest Price
Transform the dish-juggling routine of eating outdoors into an effortless breeze with this lazy susan outdoor dining set. The convenient rotating platform serves the entire table drinks, burgers, and other backyard BBQ favs without anyone having to leave their seat.
The 100% FSC-certified eucalyptus wood looks polished enough to be used indoors, and the included maintenance kit ensures this table will be the centerpiece of gatherings and shin-digs for many years to come.
Coziest Pick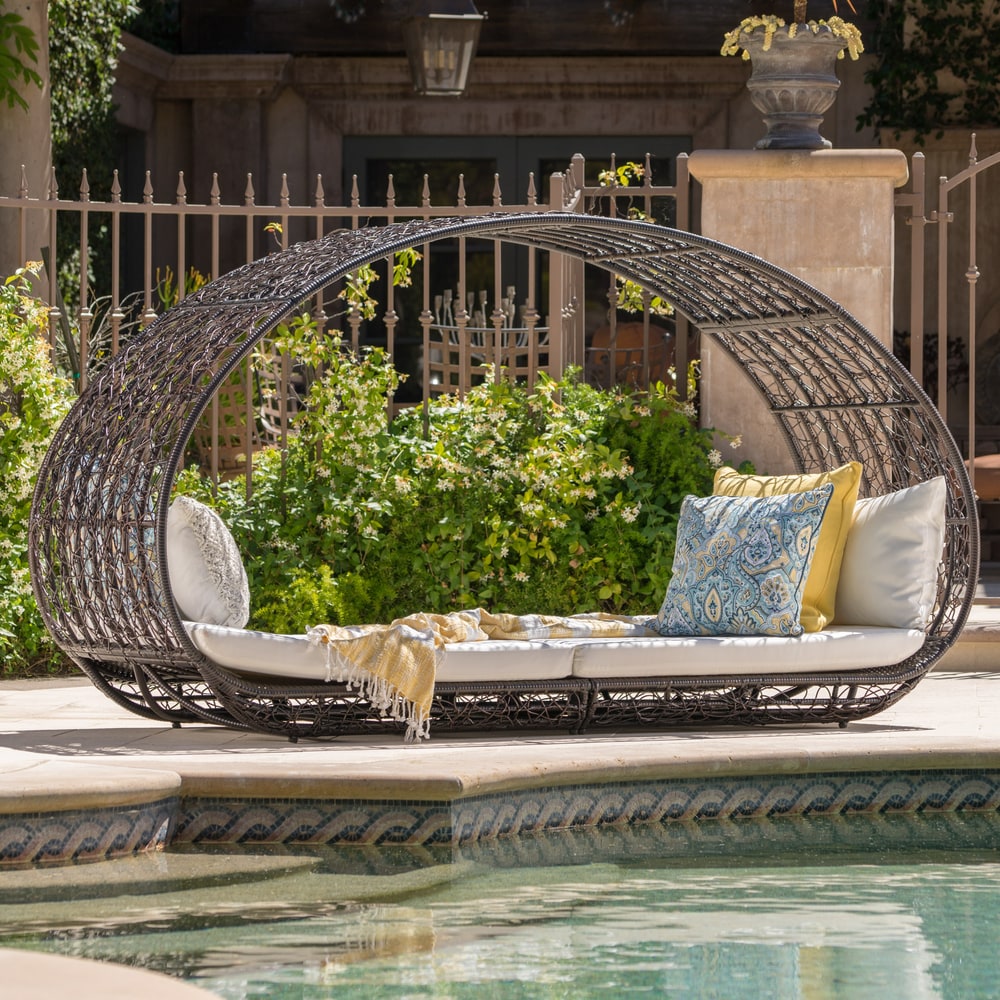 Check Latest Price
A backyard is nothing if not a place to relax, and oh, how relaxed you will be in Boca Grande's outdoor daybed. Cozy up with a good book, take a cat nap in the afternoon shade, or eat some grapes splayed out Greek-goddess style. The joy this piece will add to your backyard space is well worth the investment.
For an extra touch of whimsy, we highly recommend stringing fairy lights through the decorative aluminum frame. Mosquito nets or shade curtains can also be affixed to either side for maximum comfort.
Check Latest Price
Take your backyard cocktail game to the next level with a rolling bar cart perfect for storing ice, glasses, bottles, cans, and of course, snacks. This versatile piece is an excellent alternative for smaller outdoor spaces that can't easily fit a table and chairs set.
The glass countertop can hold up to 80 pounds of food and drink, making this as suitable for serving hors d'oeuvres as it is heaping plates of BBQ. Cold beverages and lots of food—does a backyard shindig really need anything else?
Check Latest Price
When the sun goes down, and the air gets chilly, there's no better backyard addition than a fire pit. Sunnydaze's cosmic outdoor fire pit stands out from the bland competition thanks to a charming celestial design punched out of the heavy-duty, rust-resistant steel.
The all-in-one cosmic fire pit comes with a rounded spark screen, a built-in wood-burning grate for optimal airflow, and a BBQ pit cooking grate. Make some s'mores, roast a weenie or two; maybe someone will even bust out a six-string. Anyway, here's Wonderwall.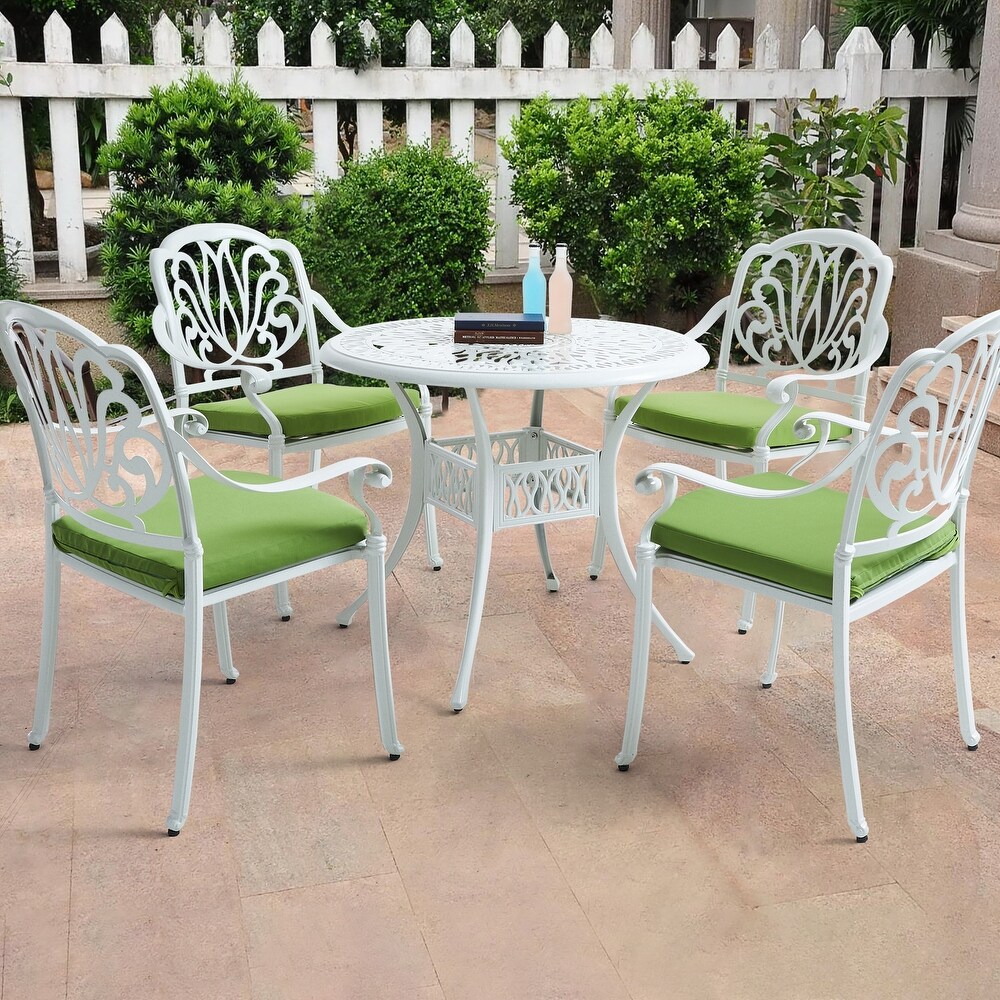 Check Latest Price
For smaller outdoor spaces or a garden that's missing a little extra something, consider brightening the area with an eye-catching cast aluminum table and chairs set. The ornate chairs and small rounded table add a timeless vibe to any backyard, patio, or garden without overpowering the entire space.
The weather- and rust-resistant cast aluminum is sturdy enough to stay put in strong winds and rain but light enough for one person to move easily, making it a great option for frequent movers or rearrangers.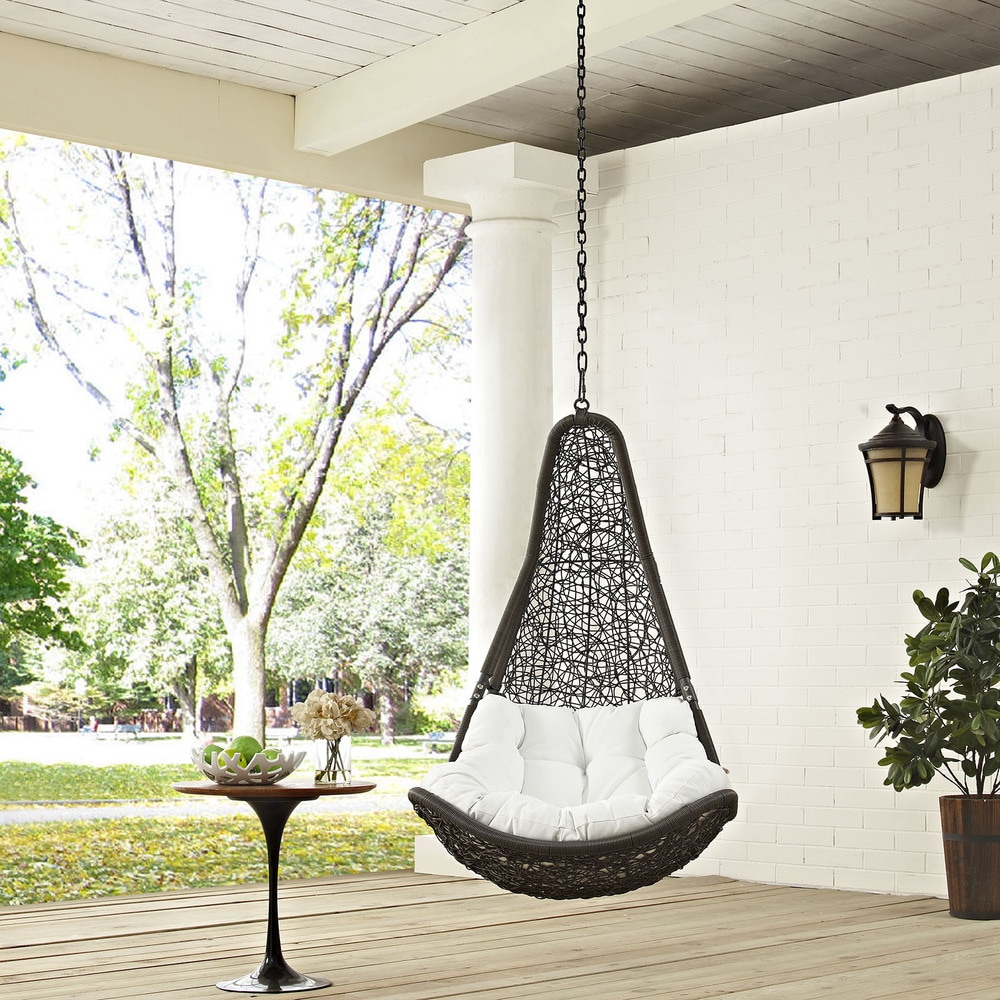 Check Latest Price
Cozier than a porch swing and less fussy than a hammock, the Abate patio swing chair is ideal for backyard reading, hanging out with the kiddos, or soaking in the sunshine. You'll enjoy this breezy chair long after summer's gone, thanks to its warm, ultra-plush cushion—add a fuzzy blanket, and you've got the ultimate coffee-drinking spot on a brisk fall morning.
An average 4.9 out of 5 stars rating speaks for itself, with tons of customers lauding the swing for its easy assembly, long-lasting durability, and comfort.
Check Latest Price
We've done our fair share of internet scouring for the best of the best backyard furniture, and few pieces compare to this insanely versatile all-in-one outdoor entertaining set.
This hardworking piece of furniture serves as a dining table, BBQ grill, fire pit, and ice bucket. The matte black iron construction is durable enough to stand up against the elements alone, but thanks to the included high-quality 600D oxford polyester protective cover, it doesn't have to.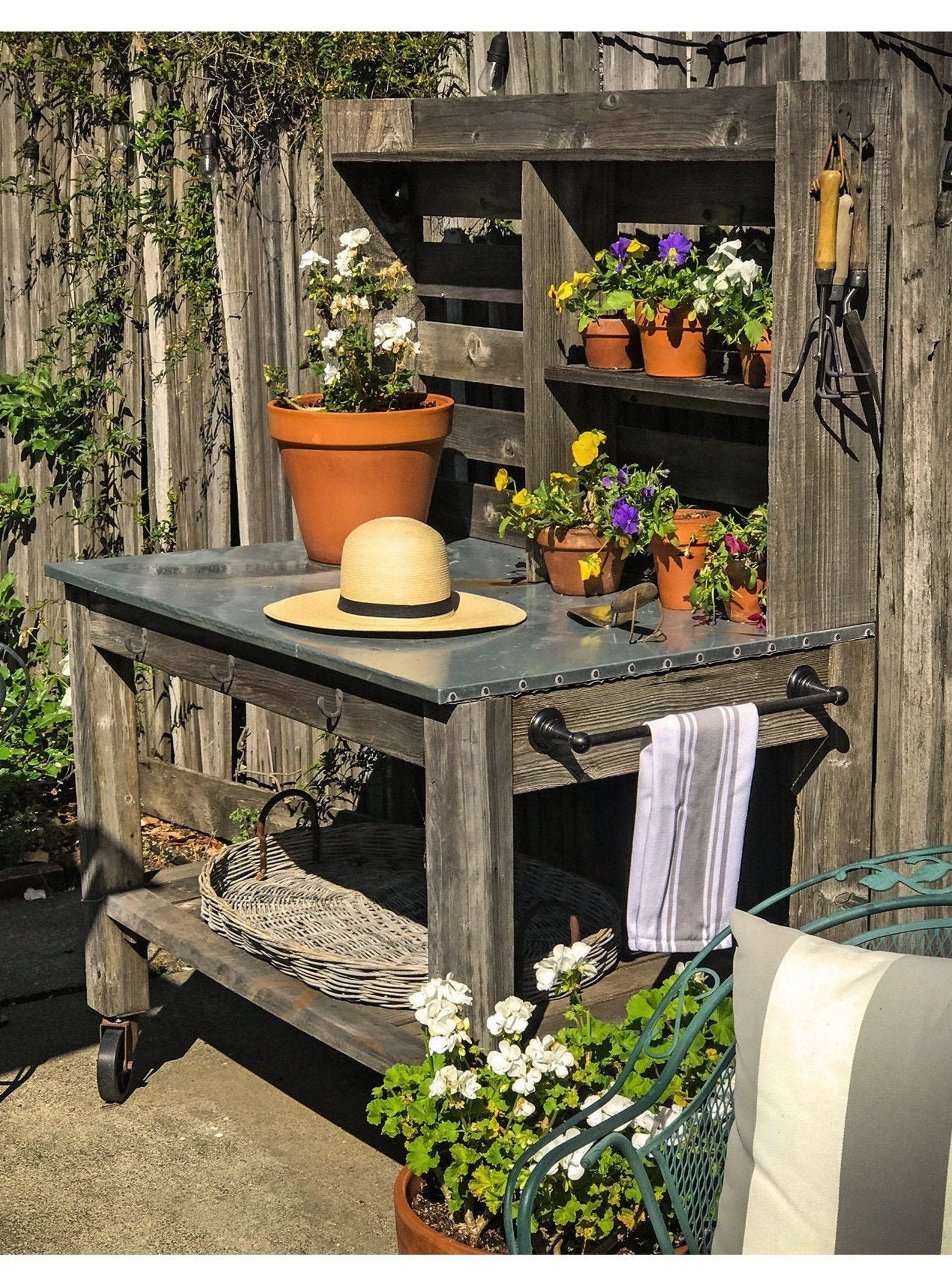 Check Latest Price
This handmade redwood potting table workstation from Lee Display Seasonals on Etsy is the ideal piece of furniture for those who love to work hard and play hard. Multiple shelves and a long-lasting zinc countertop make for a great gardening station, cocktail bar, or buffet station.
Vintage castor wheels allow for easy transport from worksite to party patio, and for a small additional fee, the shop will add hooks and a towel bar under the countertop. The workstation ships in two pieces and needs no tools for assembly.
Check Latest Price
Buyer beware: it's next to impossible to want to do anything else after fully reclining into one of these zero-gravity lounge chair recliners. Elastic cords between the Textilene fabric and lightweight foldable frame automatically adjust to your body weight, creating a wonderfully weightless ergonomic feeling. In a word: ahhh.
And because the best things in life are enjoyed together, Patio Lounge Chairs offers these ahhh-mazing lounge chairs in sets of two. Now all that's left to do is agree on one of the 14 colors.
Check Latest Price
If you prefer your backyard hangs to be more chatty than catered, consider investing in a bistro set instead of a table and chairs. Bistro sets feature thick, comfortable cushions and a low table that stays out of the way of multiple streams of conversation.
This lightweight, rattan wicker furniture set is ideal for smaller outdoor spaces, and hundreds of satisfied Amazon users commented on how easy it was to assemble all four pieces.
Related Reading