As OOLA editors, we select and write about stuff we love and think you'll like too. OOLA has affiliate and advertising partnerships so we may earn a commission if you make a purchase.
Best Outdoor Toys For Kids
Must Have
Check Latest Price
3…2…1…Blast Off! Kids and adults alike will have hours of fun outside launching rockets into the sky! Kids will love having a friendly competition of who can launch their rocket the farthest. The fun doesn't stop when the sun goes down, have fun well into the evening with glow-in-the-dark rockets. If you're looking for an affordable summer toy that will provide the whole family with hours of entertainment, Stomp Rocket fits the bill!
Pros
Affordable
Fast assembly
No batteries required
Glow-in-the-dark
Key Features
Includes a stomp launcher and 4 junior glow-in-the-dark stomp rockets
Specifications
Brand: Stomp Rocket
Weight: 14.1 ounces
Dimensions: 1 x 1 x 10 inches
Top Pick
Check Latest Price
If you're looking for the best Power Wheels money can buy, then the Power Wheels Dune Racer is your best bet. The Dune Racer was rated the best ride-on toy of 2020 for its excellent traction, which allows the vehicle to maneuver on all surfaces with ease for maximum adventure.
The roomy cockpit supports up to 130 pounds, so parents will not have to worry about their children outgrowing this outdoor toy anytime soon. The Dune Racer is perfect for children ages three through seven. However, note that safety is a top priority as the Dune Racer has a sturdy steel construction and sits low to the ground, making it near impossible for your child to topple over.
Pros
Features a traction system that can run on any surface
Can comfortably support up to 130lbs
Extremely stable and durable frame
Cons
Long assembly time
Long charge time
Key Features
Monster traction system drives on hard surfaces, wet grass, and rough terrain
Drives 2.5 and 5 mph forward and 2.5 mph in reverse
Metal sidebars for hand support
Power lock brake system
Includes 12-volt battery and charger
Specifications
Brand: Power Wheels
Dimensions: 25 x 46 x 15 inches
Weight: 68.7 pounds
Check Latest Price
The Little Tikes Magic Flower Water Table is the hottest new water table to hit this year's summer water toy collection that will keep your kids not only entertained for hours on end but also cool in the summer heat. Young children will be drawn to the captivating blooming magical flower, which is the focal feature of this charming water table. The unique water table features four platforms, with over 10 exciting accessories for hours of enjoyment.
Pros
Several built-in activities for long lasting play
Visually stunning and captivating
Multiple children can play together at once
Key Features
Five unique activities built-into the Magic Flower Water Table: the Blooming Flower, Spinning Turtles, a Frog Fountain, Floating Ducks, Swimming Fish
Over 10 accessories and water toys
Specifications
Brand: Little Tikes
Weight: 12.5 lbs
Dimensions: 27.00 x 24.00 x 39.00 Inches
Top Pick
Check Latest Price
The SplashEZ inflatable pool is the perfect spot for children 12 months and older to have fun in the sun this summer while staying cool. Young children will continue to learn as they discover the bright and colorful learning mat at the base of the pool. The SpalshEZ pool will stay inflated with consistent water flow from a garden hose.
Pros
Affordable
Provides learning through play
Perfect for toddlers and young children
Compact
Cons
Pool deflates when water hose is not running
Key Features
Promotes early childhood learning
Durable material, BPA-free and phthalates free
Specifications
Brand: SplashEZ
Weight: 1.2 pounds
Dimensions: 7.6 x 6.4 x 2.6 inches
Check Latest Price
G & F Products JustForKids Kids Garden Tool Set is the ideal garden set for serious little gardeners. The sturdy garden tools are high quality with comfortable rubber handles perfect for small helping hands, looking to help Mom and Dad attend to the garden. The garden tools are made from real wood and steel; we recommend supervision at all times when children are at play.
Pros
Handles are made of solid wood
Heads are made of real metal
Plastic safety caps for easy hanging
Cons
Could be potentially dangerous if children don't use them properly
Key Features
4 different kids of tools:Rake,Shovel,Hoe and Leaf Rake
Specifications
Brand: G&F Products
Weight: 2.98 pounds
Dimensions: 30 x 8.5 x 4 inches
Check Latest Price
Transform your ordinary trampoline into a waterpark this summer with the Trampoline Waterpark Heavy Duty Sprinkler Hose! The trampoline waterpark hose is extremely simple to install, taking less than 10 minutes to set up! It's adjustable to fit any trampoline net enclosure size! The durable hose will be housed on the outside of the trampoline avoiding any possible hazards and unwanted grabbing from children when in use. The trampoline waterpark hose will provide your children with hours of nonstop fun and activity!
Pros
Easy to install
Encourages movement
Incredibly durable; double walled hoses, brass fittings, and over 60 simple attachments
Cons
Doesn't come with a trampoline
Key Features
Adjusts to fit all standard trampoline enclosures: straight pole, curved pole, angled pole, or arch pole enclosure poles
Specifications
Brand: Thrill Zoo
Weight: 3.69 pounds
Dimensions: 10.9 x 10.7 x 2.5 inches
Check Latest Price
Introduce your little one to the world of basketball with the Little Tykes Easy Score toy basketball set. The easy score basketball set is a classic outdoor toy for summer with an over-sized rim that will help improve the skills of every little sports enthusiast. The easy score basketball set grows with your child, as it has an adjustable height to increase the challenge.
Pros
Develops social and motor skills and coordination
Made in the USA
Cons
Assembly required
Unit does not adjust
Key Features
Best for kids 18 months – 5 years old
Oversize rim ensures easier basket
Kids sized ball makes it easier to shoot
Base must be weighted with 40lbs. of sand (not included )
Specifications
Product Size: 23.75"L x 22.00"W x 52.00"H
Weight: 8.00lbs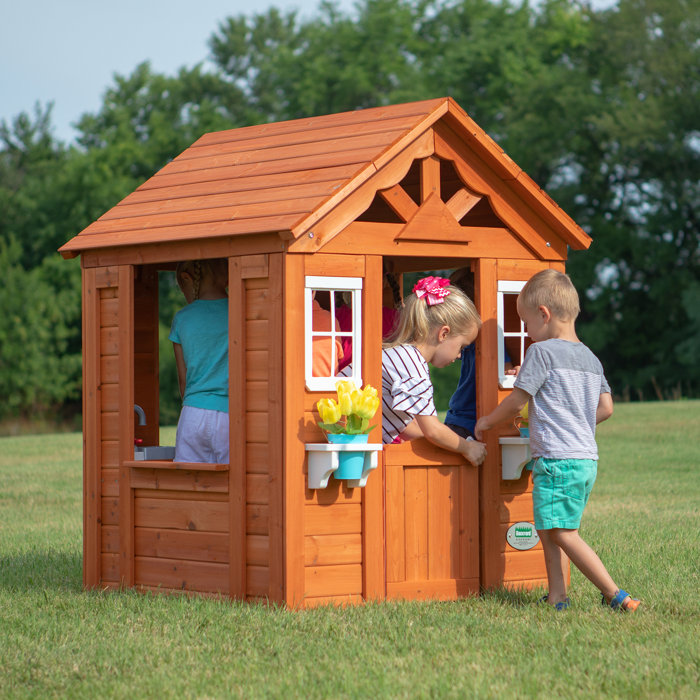 Check Latest Price
Rated as one of the best children's playhouses of 2020, the Backyard Discovery Timberlake Playhouse is simple, yet features a built-in kitchen, flower pot holders, a play phone, and wide windows for easy supervision and cool breezy air to flow through on warm summer days.
Parents will appreciate that this adorable little playhouse is assembled from cedarwood, which is naturally decaying, rot and insect resistant, making it an excellent choice for families seeking a durable play space for little ones to enjoy, years to come.
Feel free to get creative and paint this charming wooden playhouse to match your tot's personal style.
Pros
High-quality, sturdy construction
Instructions are clear, and all pieces are clearly labeled
Key Features
Weather resistant
Warranty included
Max occupancy – 6
Specifications
Primary material: Cedar
Overall Dimensions: 55" H x 42" W x 46" D
Product Weight: 81 lb.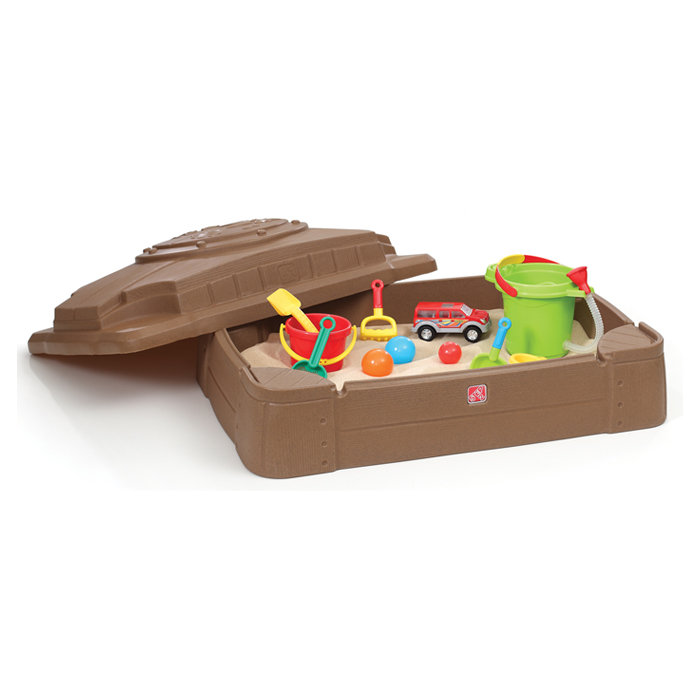 Check Latest Price
Bring the beach home with the attractive Step2 Play and Store Sandbox! Your enthusiastic tot will have hours of fun building sandcastles and excavating a dig site with their construction toys while sitting comfortably on one of the four molded-in seats.
When your little one is through playing, simply cover the sandbox with the handy lid to keep out rain and unwanted critters. The Step2 Play and Store Sandbox has an attractive design that will blend into any home landscaping decor, and provide many fond summer memories for your children.
Pros
Accompanying lid saves sand from unwanted debris or animals
Corner seats are sturdy and useful
Key Features
Weather resistant
Warranty included
Sand capacity – 200 lbs.
Specifications
Overall dimensions: 11" D x 28" W x 42" L
Product weight: 14 lb.
Check Latest Price
As the weather warms up, many parents dread the invasion of what seems like never-ending sticky, slippery, messy bubble fun. But, thankfully this year, Fubbles No-Spill bubbles are coming to the rescue with their patented no-spill design, allowing for all the crazy nonstop bubble fun without any of the crazy nonstop mess.
Your children can independently blow bubbles without the worry of the bottle tipping over, upside down, or being knocked over. It's like magic! Fubbles tumblers come in bright, cheery colors that your children will love!
Pros
No-spill design allows for all the fun, without the mess (or the tears)
Cons
Doesn't come with extra bubble solution
Key Features
Includes 4 oz of bubbles
Ages 18 months+
Non-toxic and safety tested
Specifications
Product Dimensions: 5.2 x 3.2 x 9 inches
Item weight: 8.8 ounces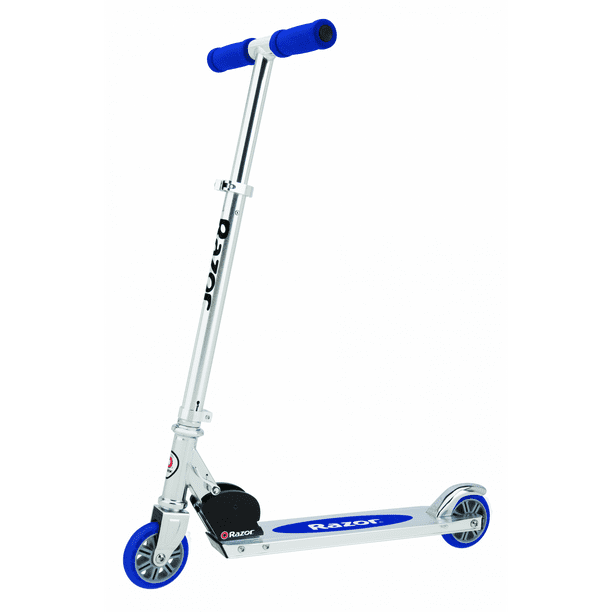 Check Latest Price
The Razor Authentic A Kick Scooter is the original kick scooter and the bestselling! Fun for young kids and teens alike, the Razor kick scooter is a trendy and fun way for kids to speed their way around the neighborhood this summer.
The Razor kick scooter is crafted from aircraft-grade aluminum for sturdiness and durability while remaining lightweight and easy to store. With no assembly required, your kids can be riding in style in no time! Order your Razor Authentic A Kick Scooter today, before they sell out!
Pros
Lightweight, yet durable
Requires no assembly
Cons
Not sturdy enough for the advanced scooter rider
Key Features
For ages 5+ and riders up to 143 lbs.
Folds up for storage or carrying in a bag
98mm inline-style urethane wheels
Patented rear fender brake
Specifications
Product weight: approximately 6 lbs.