As OOLA editors, we select and write about stuff we love and think you'll like too. OOLA has affiliate and advertising partnerships so we may earn a commission if you make a purchase.
Delivered to Your Door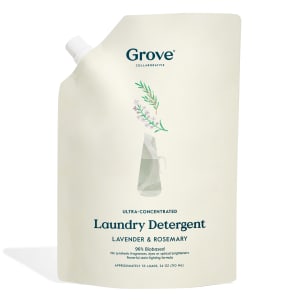 Check Latest Price
Grove Collaborative is the jam when it comes to eco-friendly cleaning and their subscription is a great way to start if you want safe products delivered straight to your door.
A Certified B Corporation, Grove Collaborative is committed to becoming plastic-free by 2025. Listed on the EPA's Safer Choice list, this Ultra-Concentrated Laundry Detergent comes in lavender & rosemary and citrus & woods. Able to tackle difficult stains with less detergent, it's economical, environmentally safe, and effective.
Check Latest Price
Safe for all surfaces, this glass cleaner is Environmentally Working Group (EWG) certified, which is the highest rating possible. Transparent in listing all ingredients, kid, and pet safe, this glass cleaner will make your mirrors shine. For best results use on glass, bathroom fixtures, chrome, and enamel.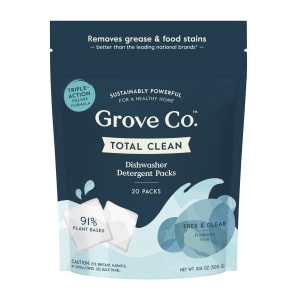 Check Latest Price
With no harsh chemicals, Grove Collective Dishwasher Detergent Packs meet the EPA Safer Choice standards. Certified cruelty-free, the dishwasher packs use a biodegradable formula.
A reviewer stated, "These work amazingly! With store-bought pods, I would always have residue left behind on my dishes. I don't with these. They also have a nice smell without it being overpowering."
Smells SO Fresh
Check Latest Price
When it comes to cleaning products the FDA does not define the word "natural," so Puracy decided to give it a try. Puracy's definition states, "a "natural ingredient" means it started from a natural, renewable source found in nature with absolutely no petroleum compounds. Here are some examples of "natural ingredient" sources we use: coconut, lime, salt, olive oil, sunflower seed, green tea, geranium, corn, ginseng, pink grapefruit, sesame seed, vanilla bean, and many more. A "natural ingredient" may also be identified as plant-based, plant-derived, or naturally derived. Additionally, a "natural product" is 100% biodegradable."
We love a detailed definition, and Puracy delivers. Their dish soap is safe for the whole fam and 99.96% natural. Easy on the hands and nose, the dish soap comes in green tea & lime, organic lemongrass, and citrus & sea salt. The dish soap received an A on the EWG website.
Check Latest Price
With an A rating on the EWG website, ECOS All-Purpose Cleaner is Leaping Bunny Certified, made in the USA, and non-toxic. The company became carbon-neutral in 2013, and ECOS is a women-led company. The All-Purpose Cleaner is also listed on the EPA's Safer Choice Program.
Packaged in recyclable bottles, this cleaner smells great and will make your home feel so fresh and so clean!
Check Latest Price
Receiving a B rating on the EWG website, Eco-Me Floor Cleaner is leaping bunny certified and scent-free for those with fragrance sensitivity.
Safe for pets and kids, a reviewer who left a 5-star review stated, "I had to stop using supermarket floor cleaners because of my migraines, so I was thrilled to find something that is not only allergy, migraine, and eco friendly, but actually WORKS. I have a toddler so I do my floors almost every night. I never have to rinse, and the floors are never left sticky or have a residue from this cleanser."
Check Latest Price
Check Latest Price
With a B rating on the EWG's Guide to Healthy Cleaning, ECOS Fabric and Carpet Odor Eliminator is formulated to use on fabric-based furniture, bedding, carpet, and more. We love the soft lemongrass scent.
We also love the fact that as well as being carbon neutral, according to the website the company also achieved, "TRUE Platinum Zero Waste certification in 2015, meaning we actively reduce, repurpose and recycle over 95% of our manufacturing and office waste so it doesn't end up in a landfill or incinerated." On top of that, the company became water neutral in 2016.
Check Latest Price
Receiving an A rating on the EWG Guide to Healthy Living, Seventh Generation Toilet Bowl Cleaner is safe and effective.
A reviewer raves about the product, "I've been using this product for years and love it! I buy it in bulk via subscribe and save. This product is equally as good as any other toilet cleaning product I've tried, and does not contain bleach or have any harsh smell! I usually soak the inside of the toilet with this cleaner as the first step of my bathroom cleaning, and let it sit while I clean everything else. I don't find the scent of the cleanser too strong or offensive while it's soaking, either. I also appreciate the fact that the bottle is made from 100% recycled plastic! FULLY recommend this product! Buy one to keep in every bathroom."
Check Latest Price
Listed on both the EPA Safer Choice list and on the EWG guide to healthy cleaning (in which it earned a B rating), the Breathe Stainless Steel Cleaner is fragrance-free and safer for families and pets.
With BreatheSafe Technology, the canister is powered by air instead of Liquified Petroleum Gas (LPG). The cleaner will remove grease, fingerprints, dust, and grime from stainless steel appliances leaving them sparkling and beautiful.
Safely Wipe Away Grime
Check Latest Price
Cans of disinfectant wipes flew off the shelves last year, and Seventh Generation Disinfecting Wipes were no exception. The wipes are listed on the EPA's list of disinfectants for use against Covid. No rinsing is necessary, just wipe down high traffic surfaces and be on your way! With recyclable packaging, transparency with ingredients, and made with botanical and essential oils, your home will be safer and so much cleaner!
An Amazon reviewer stated, "These clean ridiculously well and have a light pleasant scent. I use them for toilets, fingerprint smudges on walls, counters, remotes, high chairs (rinse off once dry) refrigerators and so much more. They are very convenient and I love knowing they are environment friendly and the company has good ethics. I will be stocking up for any apocalypse situations, I can't live without them."
Related Reading