As OOLA editors, we select and write about stuff we love and think you'll like too. OOLA has affiliate and advertising partnerships so we may earn a commission if you make a purchase.
Look cute be safe
Check Latest Price
invisaWear "smart jewelry" keeps you safe and fashionable at the same time. Designed to keep you and your loved ones safe, these personal safety devices look like everyday accessories. But, they have a hidden button on the back that you can easily access in case of an emergency.
When you double-click the button, these devices will immediately text up to five people a link to your GPS location. The message will also let them know that you are in trouble and need help.
These pieces have a 911 feature that you can enable which will connect you with a dispatcher. invisaWear is backed by ADT, the number one name in home security. When you are in an emergency, you can be confident that the response technology will contact the help you need.
With invisaWear, you don't have to dig your phone out of your purse, open an app, or make a call. All you have to do is press a button and help will be on the way. You can choose between keychains, bracelets, necklaces, athletic bands, and scrunchies.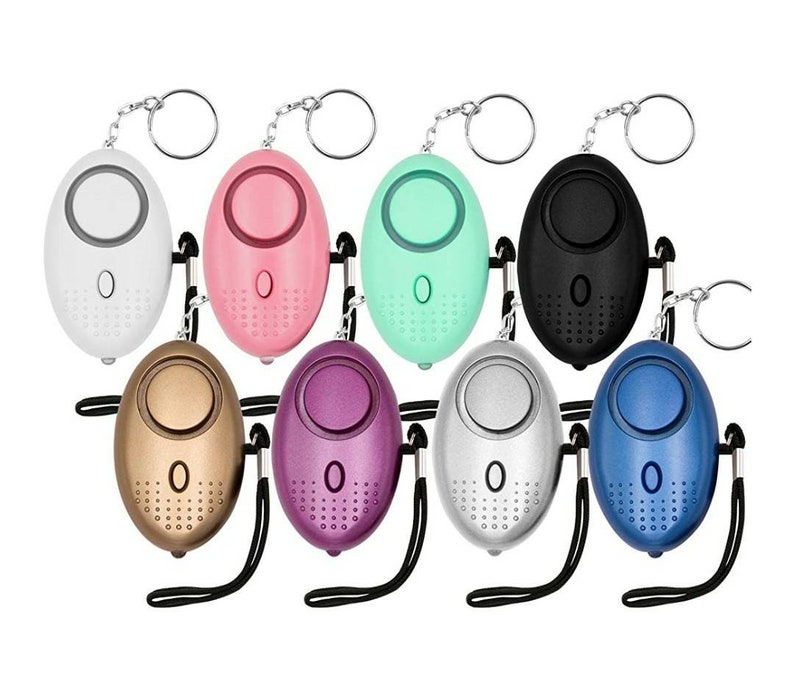 Check Latest Price
This Personal Safety Alarm Keychain with Flashlight from Eclectic Wallflower Co is a nice item to have in your hand when you aren't feeling safe. As an added bonus, it comes in multiple colors.
This little device has an alarm that's activated by a pull pin for easy use. It can get as loud as 140 decibels, and the sound can be heard up to 600 feet away. The continuous siren lasts up to 40 minutes. The LED flashlight on the alarm has an intensity of 85 lumens, and the entire device is small enough to fit in your hand.
stunner
Check Latest Price
Personal weapons like a stun gun aren't for everyone. But for many of us, they are a great alternative to carrying a firearm. In the event of a physical attack, this Micro Stun Gun from Vipertek renders an assailant immobile with a strong, non-lethal electric shock. This personal safety device is small enough to fit in your purse, it's affordable, and it works.
We should note that some cities and states do have laws that make stun guns illegal. If you live in Illinois, Iowa, Michigan, or Mississippi, check on your local laws to make sure you are legally allowed to own one.
This stun gun should only be operated by an adult who has been properly trained to use it.
Check Latest Price
Many of us remember the classic medical alert device commercial from the 1990s that featured the famous line "I've fallen, and I can't get up." Now, there are alternatives that are less medically-focused. Instead, they are aimed at overall personal safety.
A Ripple Personal Safety Monitoring device is easy to attach to a bracelet or necklace. When you are in trouble, you activate the device by clicking the tiny button three times. This will let the Ripple team know that you need emergency assistance. It can also text friends or family members your GPS location.
Check Latest Price
Used by both police and the military, the Atomic Bear Tactical Pen can be used as both a pen and a weapon. This personal safety device is made out of military-grade aluminum, so it won't rust or break. It's strong enough to hurt an attacker, and the tip can shatter a car window with enough force.
This tactical pen comes with a nylon belt sheath, a spare black ink cartridge, an online self-defense class, and a lifetime warranty.
Check Latest Price
As the number one pepper spray brand in the world, SABRE knows all about personal safety. This SABRE Personal Safety Kit with Pepper Spray and Personal Alarm will give you protection against multiple threats.
The pepper spray canister has 25 bursts with a 10-foot range. The attention-grabbing alarm can hit 120 decibels and is audible up to 1,280 feet away. This kit comes with links to free training videos so you will be prepared to use it if you need to.
Never walk alone again!
Check Latest Price
The BSafe app makes sure that you never have to walk anywhere alone. When you download the BSafe app to your phone, the first thing to do is add "guardians" from your list of contacts. When you activate the app's SOS button by touch or voice, your guardians will get a sound alarm with your location.
Your guardians will also be able to see and hear everything in real-time because the app automatically records both audio and video when the SOS button is pushed. This information is sent to your guardians' phones for live streaming.
When you know you will be walking somewhere alone, you can invite your guardians to walk with you via the live GPS tracking feature. When guardians accept your invite, you will get a notification so you know that someone is watching over you.
You can get peace of mind with any of these great personal safety devices. These gadgets can help you feel safe and comfortable when you are out and about doing the things you love.