As OOLA editors, we select and write about stuff we love and think you'll like too. OOLA has affiliate and advertising partnerships so we may earn a commission if you make a purchase.
Our Fav "Mom" Jean
Check Latest Price
For avid skinny jean enthusiasts, we recommend easing into your wide-legged transition with a pair of high-waisted, tapered-leg jeans. (Remember when these pants were considered so "out" of style that we nicknamed them Mom jeans?! Our mothers all deserve an apology.)
Nonstretch, 100% cotton jeans like these from Nordstrom offer support, structure, and timeless style. Plumber cracks are all but eliminated thanks to the 12" front and 15" back rise, and the tapered leg maintains a slim silhouette while allowing you some extra wiggle room. Plus, the durable cotton denim means you'll be rocking these jeans for years to come. Perfection.
Top Year-Round Pick
Check Latest Price
The flare jean trend of the early aughts also brought on the dreaded soggy hem. For reasons unbeknownst to this author (who eagerly participated in this trend), cold, muddy, and tattered pant legs were somehow all the rage. Fashion (and people) are weird; what can we say?
Queen's high-waisted ankle jeans offer a wide-legged silhouette that ends in a raw hem at the ankle, keeping hems safe from stray puddles or snowdrifts. Style with boots in the winter or sandals in the summer; these versatile pants can pull off any look in any season.
Best Vintage Pick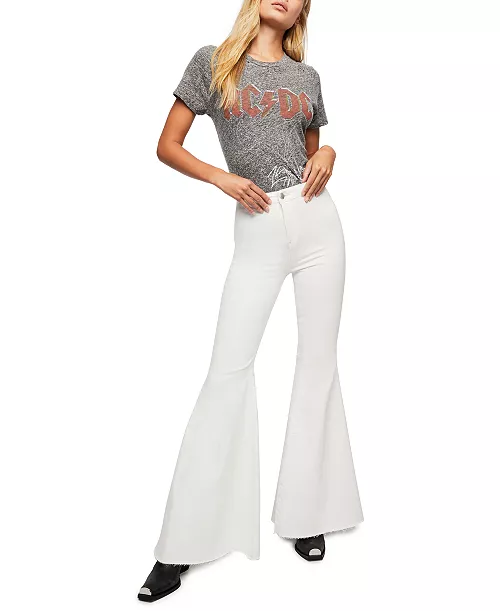 Check Latest Price
Bell bottoms feature a wide-flared leg starting at the knee and are synonymous with vintage styles of the '60s and '70s. The trumpeted legs add voluptuous curves to all body types, while the unmistakable silhouette automatically elevates any 'fit from so-so to so very vintage.
Free People's Just Float On Flare Jeans are available in bold white, midnight blue, and cornflower blue (Bermondsey). All three colors are begging to be paired with your favorite vintage tee, a fitted turtleneck, or a flounce crop top.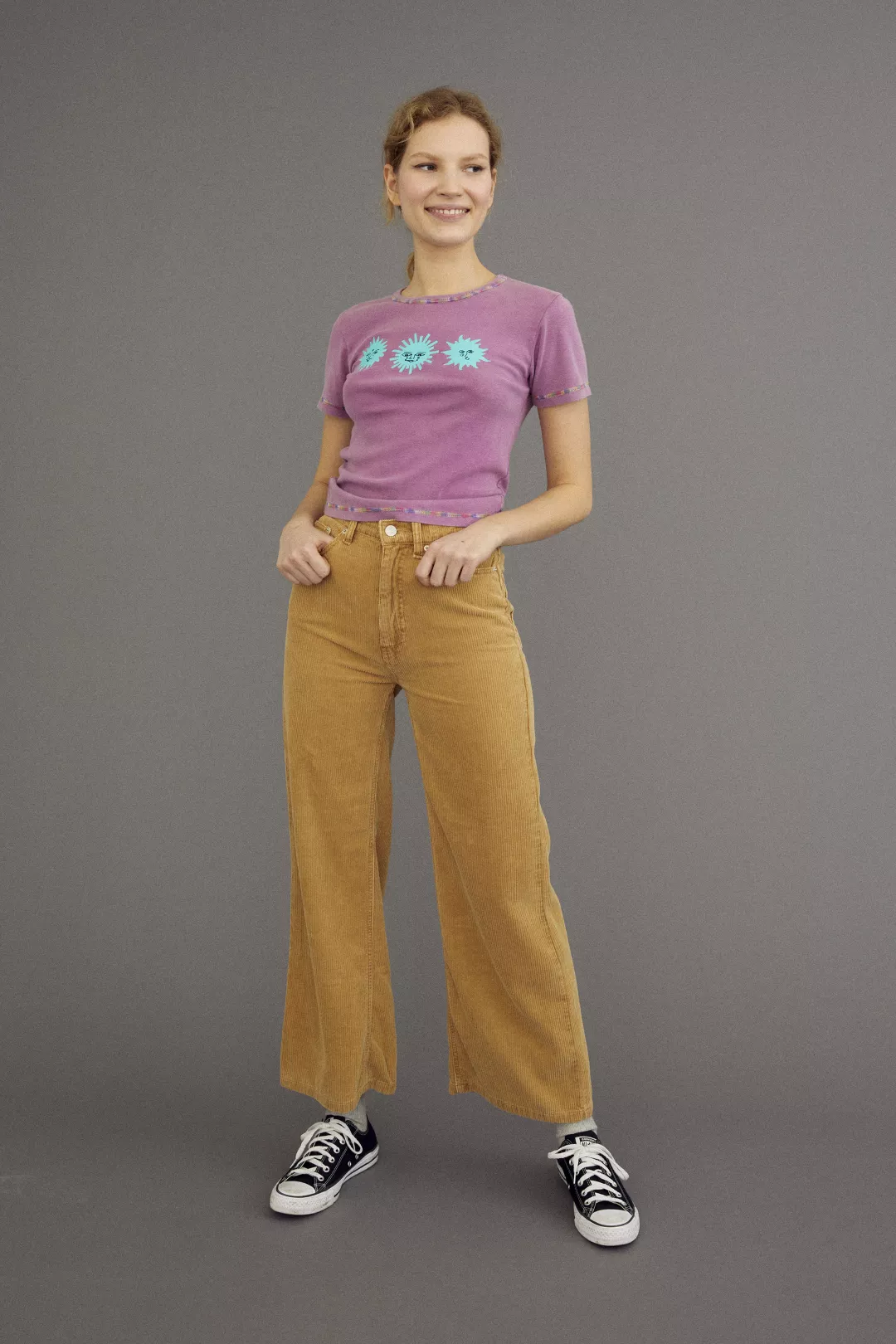 Check Latest Price
Classic silhouettes deserve classic materials, and corduroy is almost as classic as denim. BDG's ultra-retro wide-legged cords come in versatile neutrals like sandy beige, tan, and olive or eye-catching pastels like sherbert orange and cotton candy pink.
The ribbed, velveteen fabric makes these pants as comfy as they are chic, and that comfort is only enhanced by the roomy 22" leg openings and convenient five-pocket styling. Tuck a fitted top or bodysuit into the high waist to keep the look from getting too frumpy.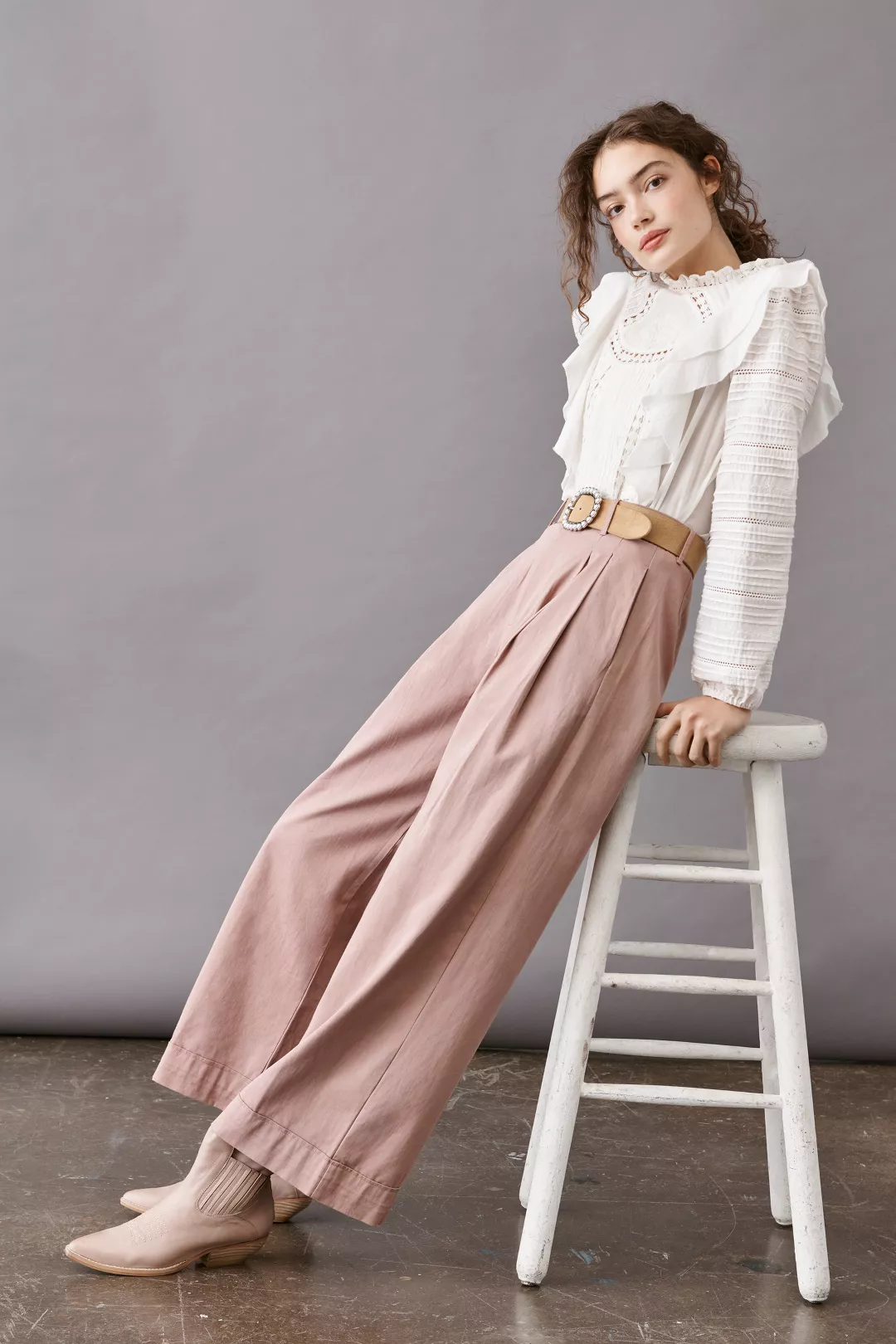 Check Latest Price
The 1930s and '40s saw a widespread trend of women's wide-legged pants. Silver screen beauties like Ginger Rogers and Eleanor Powell brought the easy, breezy style to the American mainstream. Almost a century later, and we're still in love with this look.
Anthropologie's cotton twill wide-legged pants embody the best parts of this early 20th-century trend: sophisticated pleating, deep side-slant pockets, and a removable belt that cinches the waist and emphasizes the drama of the wide, flowing legs. A dusty rose hue adds a hint of modernity to this quintessential style.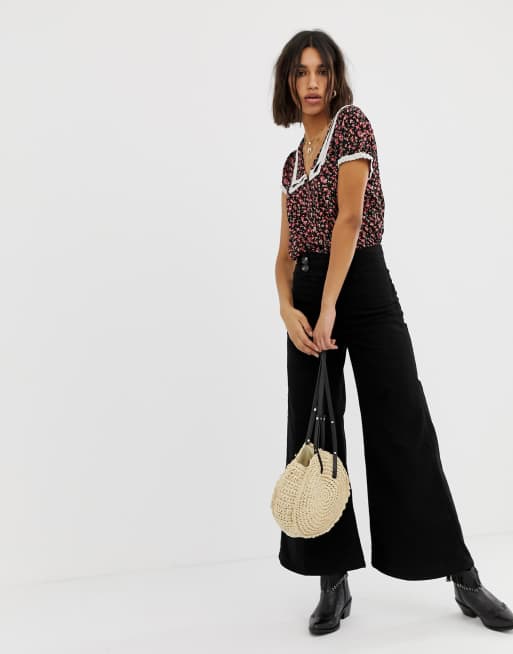 Check Latest Price
If the slim fit through the hips of Free People's Float On jeans was a bit too exaggerated for you, consider the company's cotton bell bottom trousers instead. These true-to-bell-fashion pants feature a wide-cut leg and high-rise waist with a little something extra.
A two-button fastening on the waist and breezy, woven black cotton allow these pants to transition effortlessly from casual to formal, day to night, and everything in between. The relaxed fit through the hips keeps these pants from becoming too va-va-voom for an everyday look. Don't sacrifice comfort for style or vice versa—these killer bell bottoms give you both.
Check Latest Price
All these pants are missing is a retro pair of roller skates. Made with premium non-stretch Japanese denim, Simon Miller's embroidered bell bottoms add a pop of color with a groovy, hip-hugging curve of rainbow topstitching.
Pair with a fitted white tee or tank top; these bells are bold enough to stand on their own. Cheaper embroidered imitations are liable to unravel or wear over time, making these statement indigo jeans well worth the investment.
Check Latest Price
Don't know which color of denim you like best? How about all of them? Bell bottoms and patchwork clothing were contemporary trends of the 1970s, and these raw hem jeans from Aodrusa combine the best of both Flower Power worlds.
These pants earn high marks in comfort thanks to their stretchy blend of cotton, polyester, rayon, and spandex. Thinner stretch denim might not be the most durable, but considering the more-than-reasonable price tag, you're sure to get your money's worth out of these funky bell bottoms.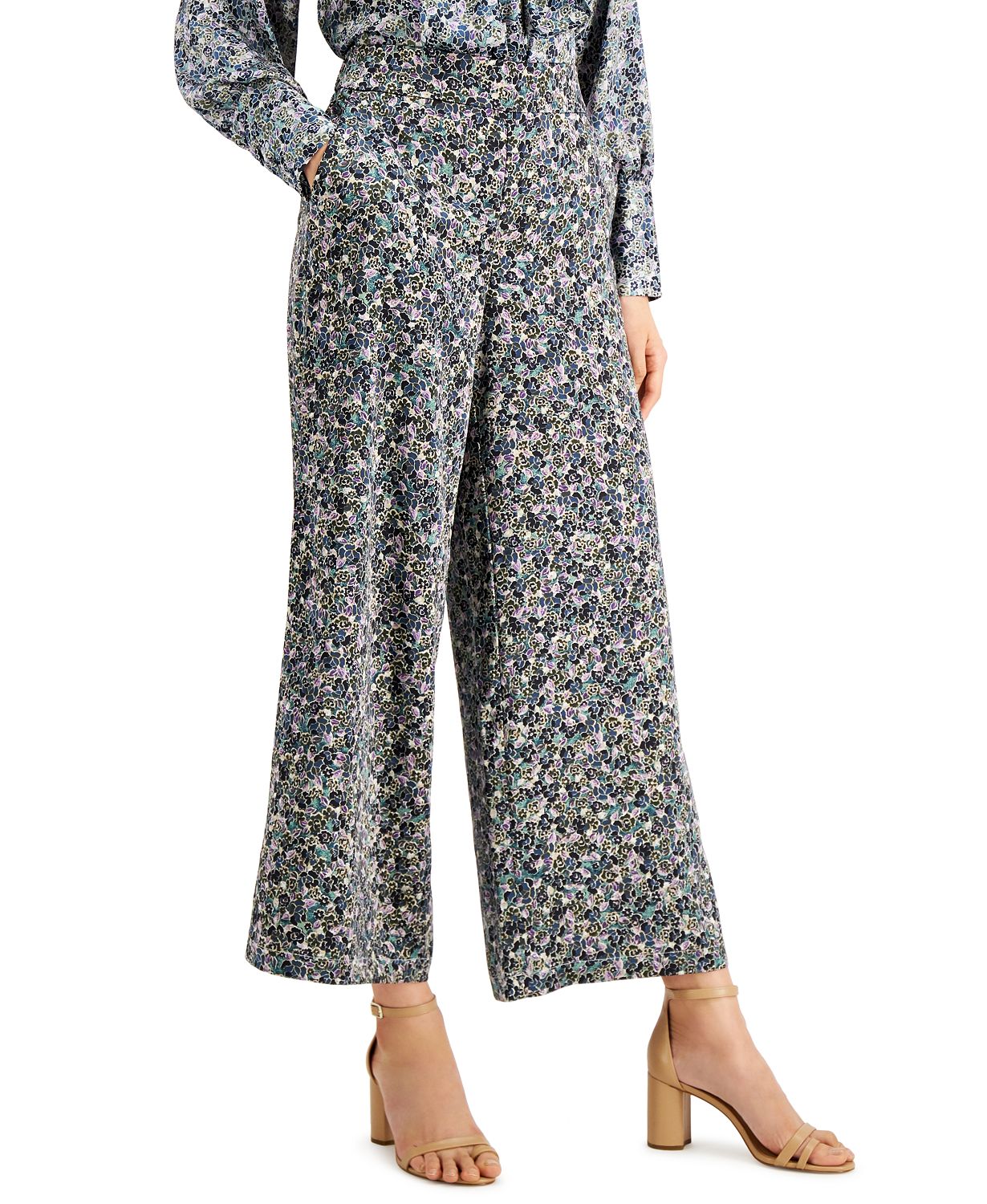 Check Latest Price
INC's printed wide-leg pants, made exclusively for Macy's, are the quintessential spring pant for several reasons: the trendy floral print, breezy wide-legged silhouette, and convenient pull-on styling.
For a look that takes virtually zero effort, try pairing these printed pants with a matching bow-neck blouse. Not only does this matching patterned combo scream vintage, but it also feels like you're wearing pajamas. Comfort was the name of the game in 2020, and we're carrying that trend over into 2021, thank you very much.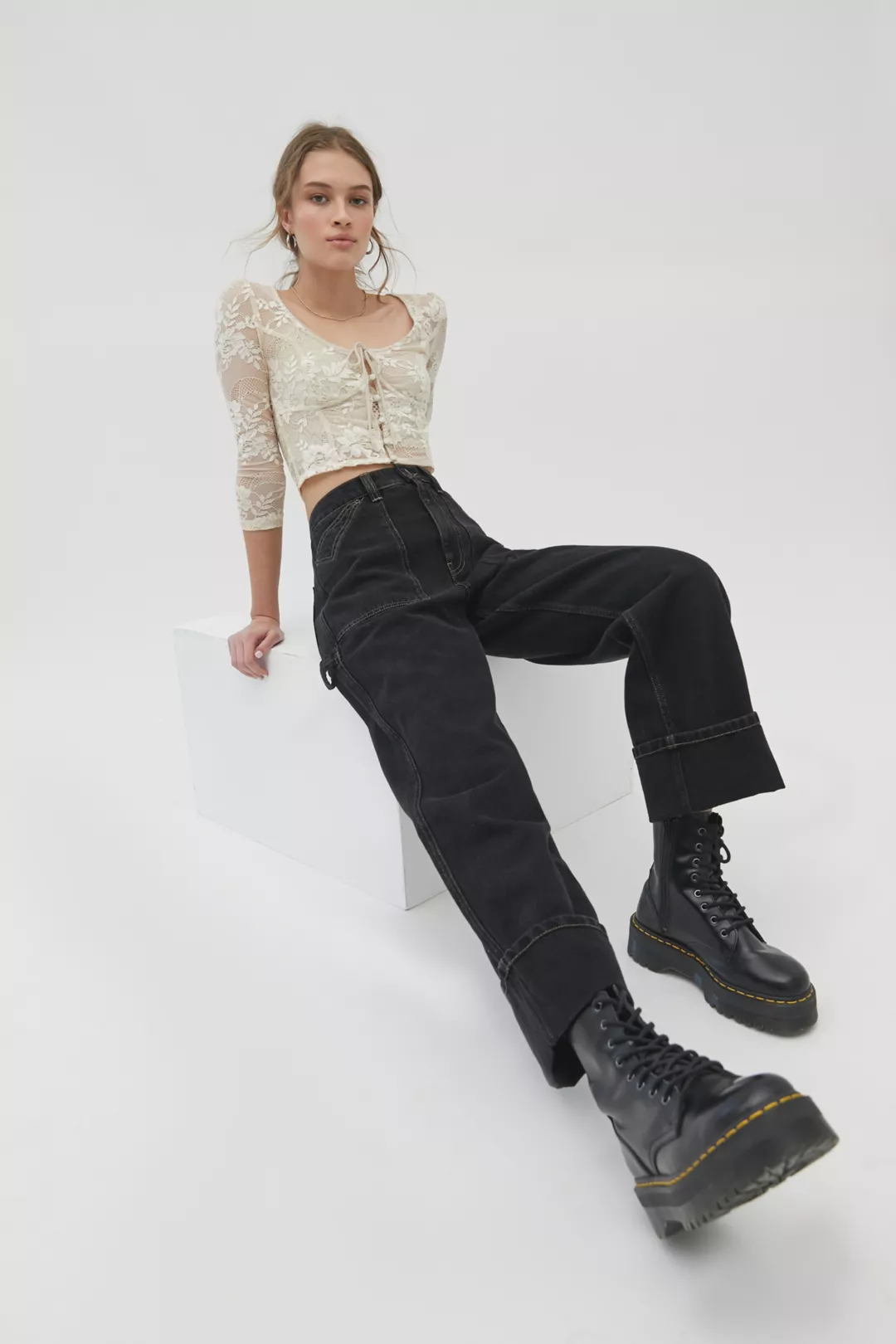 Check Latest Price
First, there were Mom jeans, then boyfriend jeans, and now, we have carpenter jeans. Carpenter jeans combine cargo pants' functionality with the slim-up-top, wide-down-low silhouette of more feminine wide-legged styles.
BDG's Deep Cuff carpenter jeans don't require you to know how to work power tools, but you probably could while rocking these durable jeans. Workwear detailing and an ultra-deep cuff keep these pants more fashionable than they are functional, but let's be honest, they are very much both.
Check Latest Price
Wide-legged and flared pants can get a bad rap for being unflattering on any non-Amazonian body types, but that notion couldn't be any further from the truth. Styling wide-legged pants is all about balance, and an excellent way to achieve that balance is with a paperbag waistline.
Paperbag waistlines create the illusion of a narrower waist thanks to the ruched fabric above the ultra high-rise beltline. These cropped pants with adjustable belt from MOLFROA help balance a dramatic, wide-legged fit on a bustier or more petite body type.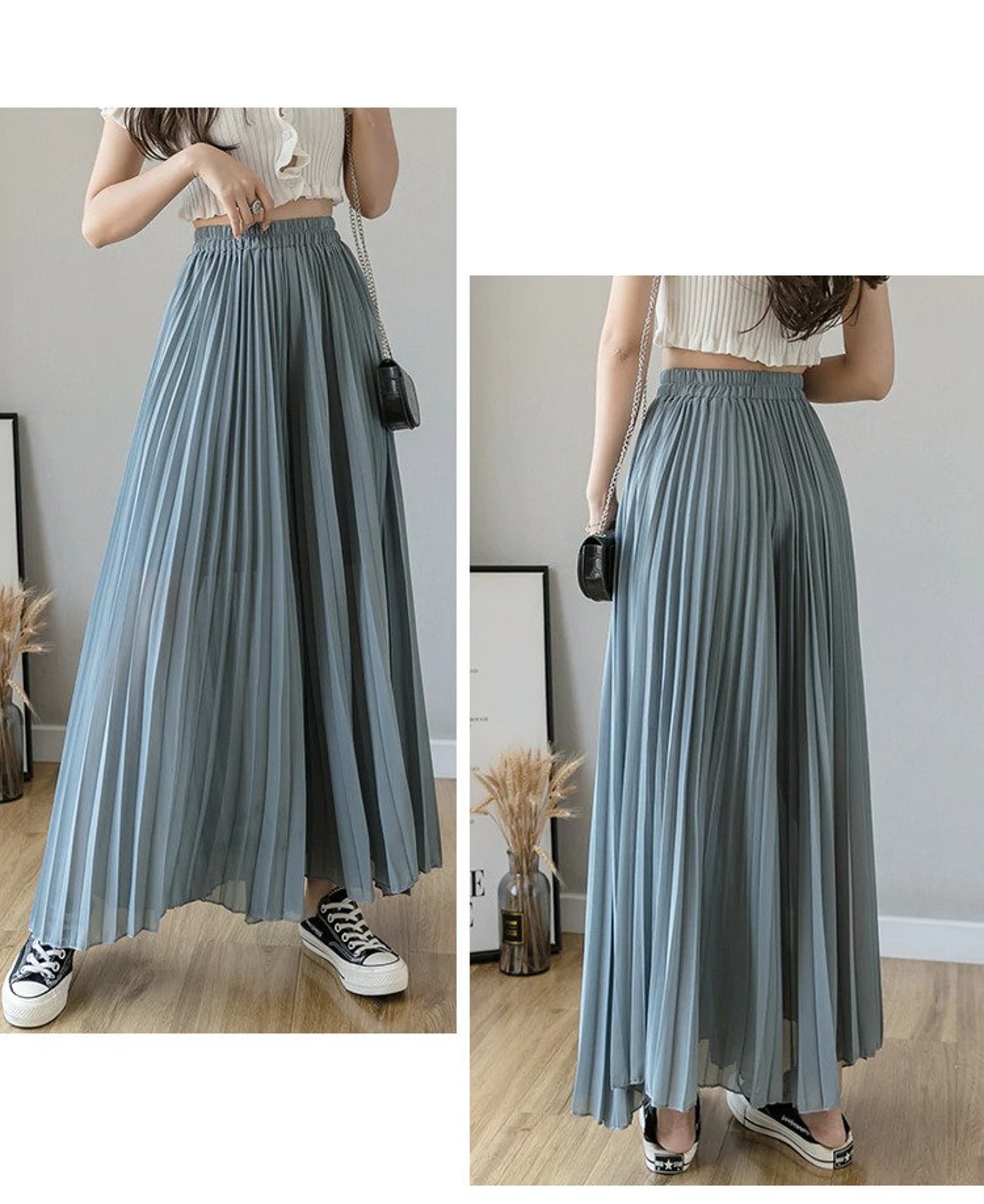 Check Latest Price
It's a skirt! It's a dress! Nope, they're pants. Prepare to be bombarded with compliments and questions about these stunning accordion-style wide-legged pants.
Available in either purple, black, or blue, these cottagecore pants feature a roomy elastic waistband and yards of flowing fabric to create a style that is as breathtaking as it is plain comfy. Wear with a t-shirt for a casual look or pair with a formalwear bodysuit and heels. Either way, all eyes will be on you.
Check Latest Price
Free People's French Girl flare jeans prove that a little extra fabric around the ankles goes a long way. The 12" rise on these classic black denim jeans lengthens the legs, while the subtle flare at the ankles falls in line with today's wide-leg trend without going full-bell-bottom.
The styling possibilities of these pants are practically endless. These pants can be styled down with an edgy pair of Doc Martens and denim jacket or dressed up with pumps and a tailored jacket (we love Miss Punctuality's Lightweight Blazer).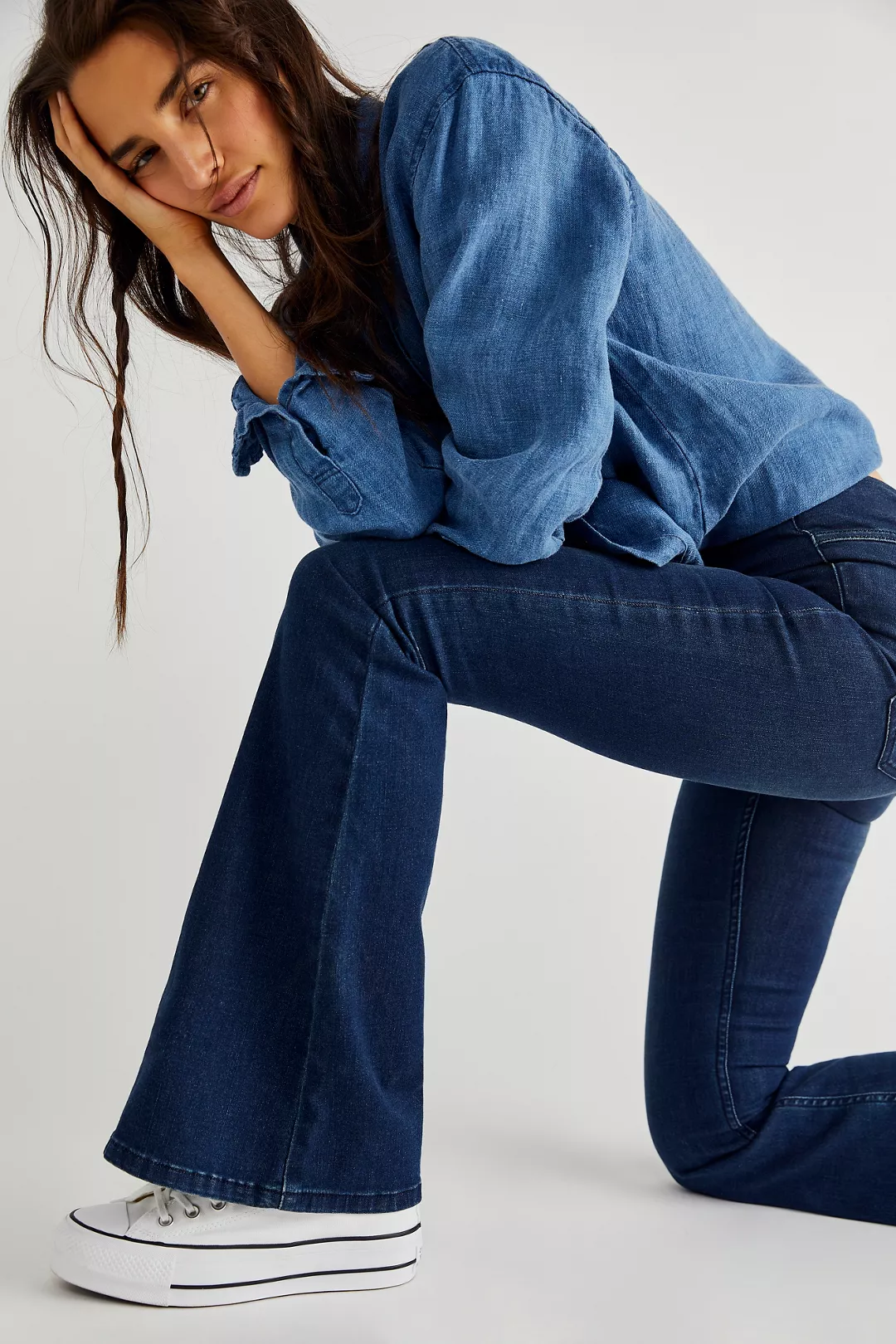 Check Latest Price
Free People kills the bohemian aesthetic once again with their effortless Penny Pull-On flare jeans. These mid-rise pants have no distracting bells, whistles, or buttons that press into your torso when the fourth-beer-stomach-bloat hits.
In addition to a roomy elastic waistband, these jeans boast a perfectly stretchy blend of polyester, rayon, spandex, and cotton. The Penny Pull-On jeans are comfortable enough to wear every day of the week, and luckily, they come in a whopping 11 shades—so you can do just that.
Related Reading