As OOLA editors, we select and write about stuff we love and think you'll like too. OOLA has affiliate and advertising partnerships so we may earn a commission if you make a purchase.
You're the Zest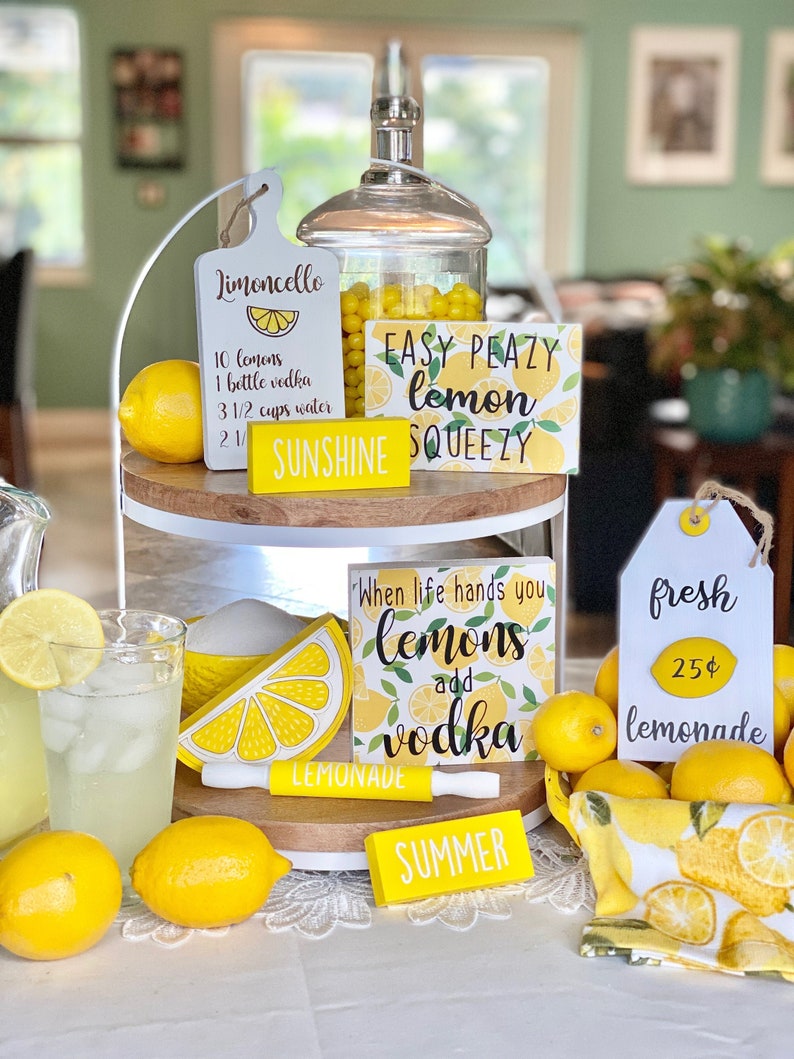 Check Latest Price
Squeeze the Day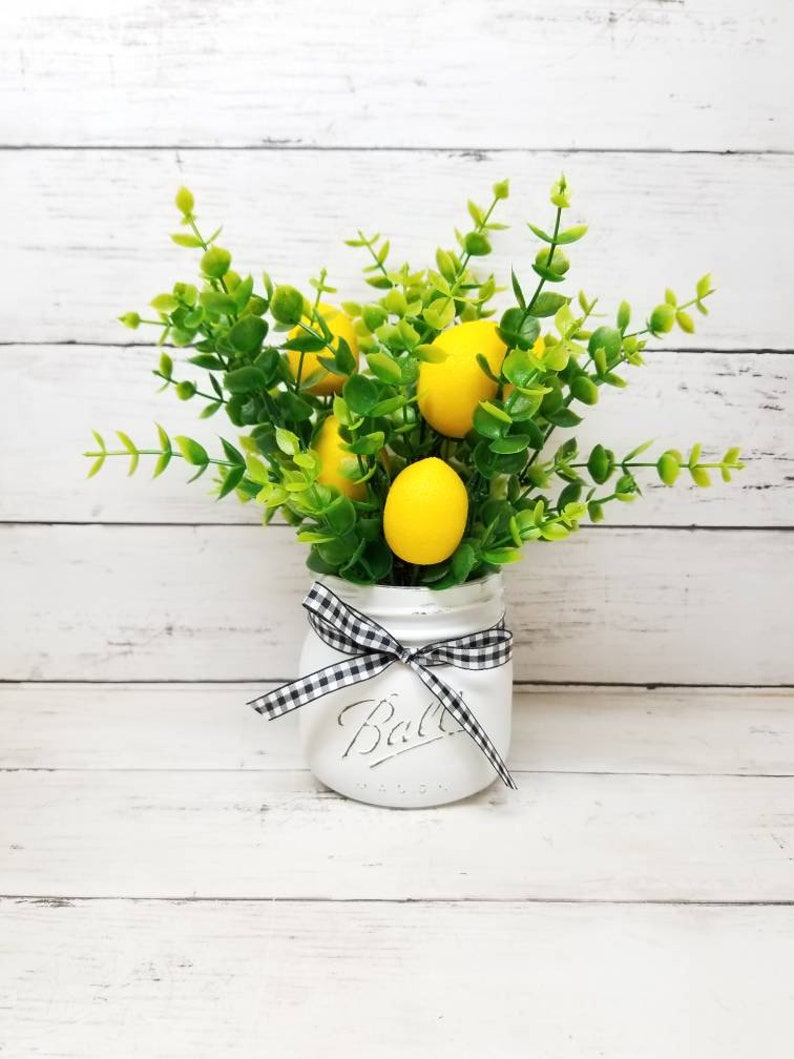 Check Latest Price
Perfectly suited for the kitchen countertop or a tiered tray, this miniature artificial lemon tree snuggled into a mason jar complements any lemon kitchen decor.
Rustique Charm By Leese's mini lemon tree is blooming with cheery yellow lemons. Each mason jar comes dressed in your choice of decorative buffalo check ribbon or rustic twine, ideal for chic farmhouse decor. Don't feel limited to your kitchen counters or coffee bar tiered trays; add a trio of these bright and lively lemon trees to a rustic wooden crate for a farmhouse centerpiece.
Sweet and Sour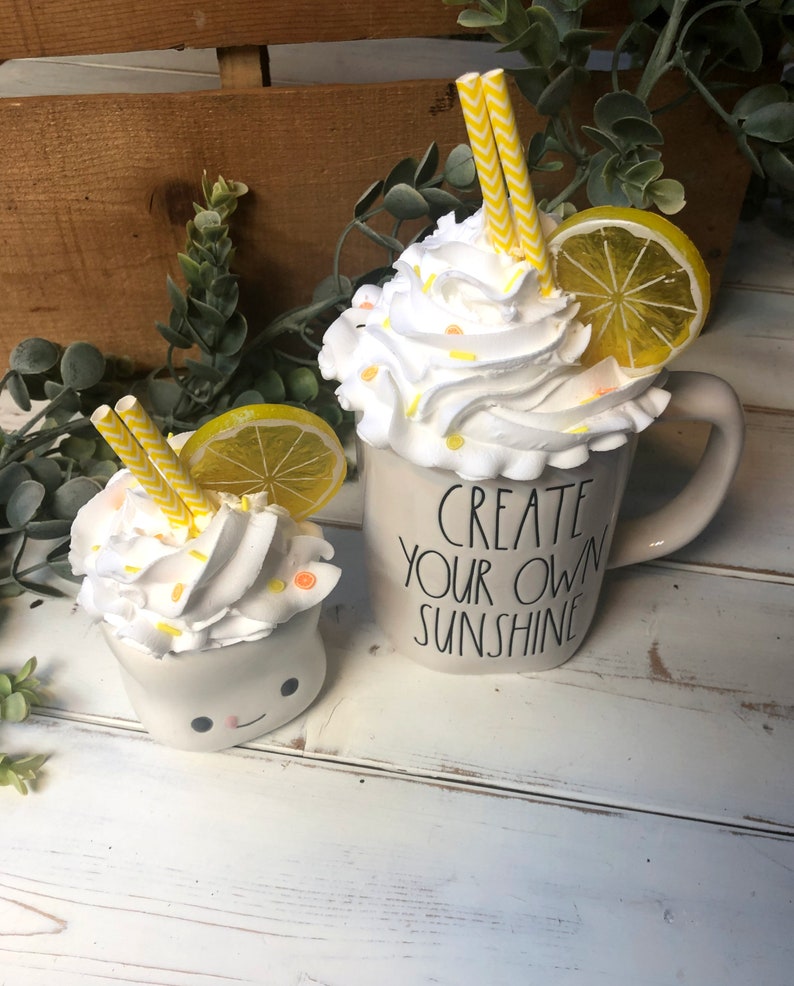 Check Latest Price
Faux lemon whipped cream toppers by SandpaperSunflowers look good enough to eat! But don't be fooled; these lemony treats are only tasty to the eyes. Display these faux lemon whipped creams on your favorite Rae Dunn mugs, which will go perfectly with any lemon theme. Choose from either marshmallow mug or large mug size when placing an order.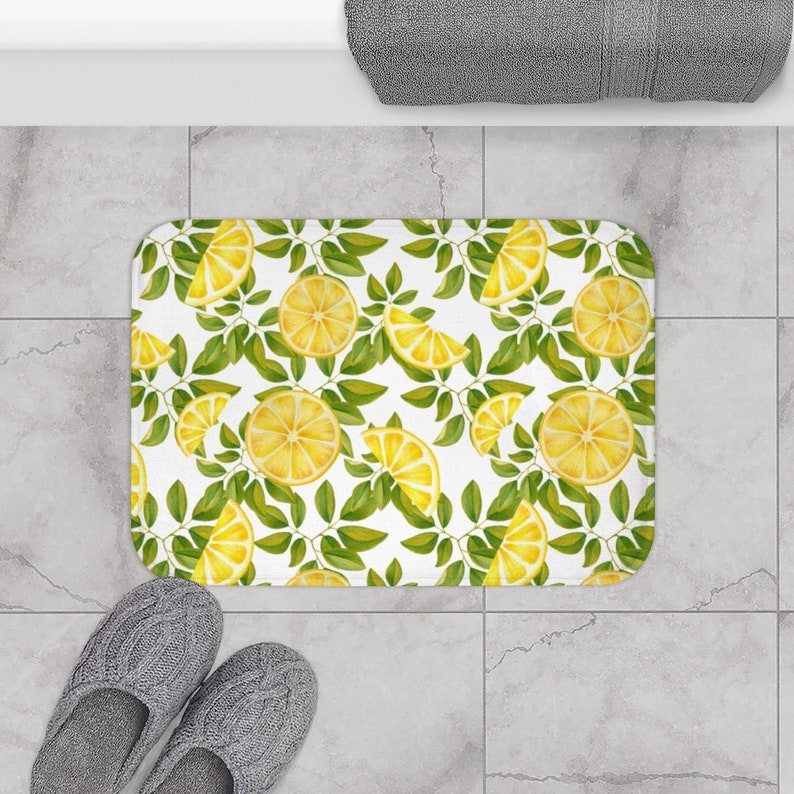 Check Latest Price
Standing at the kitchen sink to wash dishes after a hard day's work is challenging enough. Allow your tired feet some comfort while providing your kitchen with some added flair with a stylish lemon leaf kitchen mat.
The LemonHouseAndHome lemon kitchen sink mat features a lovely pattern of an abundance of freshly sliced lemons amidst sprawling greenery on soft memory foam microfiber. Never worry about slipping, as this kitchen mat has anti-slip backing, keeping you and your family safe while preparing meals in the kitchen. Choose from small (24x17in) or large (34×21) sizing when making a purchase.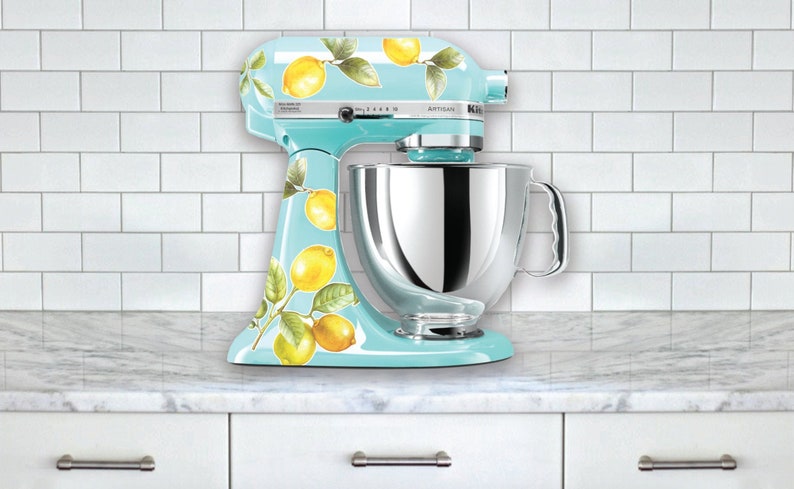 Check Latest Price
Dare to be different! Not only can your trusty Kitchen Aid mixer sport your favorite color, but your favorite kitchen appliance can also be bedazzled with lemon decals. Lemon art will make your stand mixer feel new again as it blends into your kitchen decor. Application instructions for KMvinyl lemon decals are included with every purchase.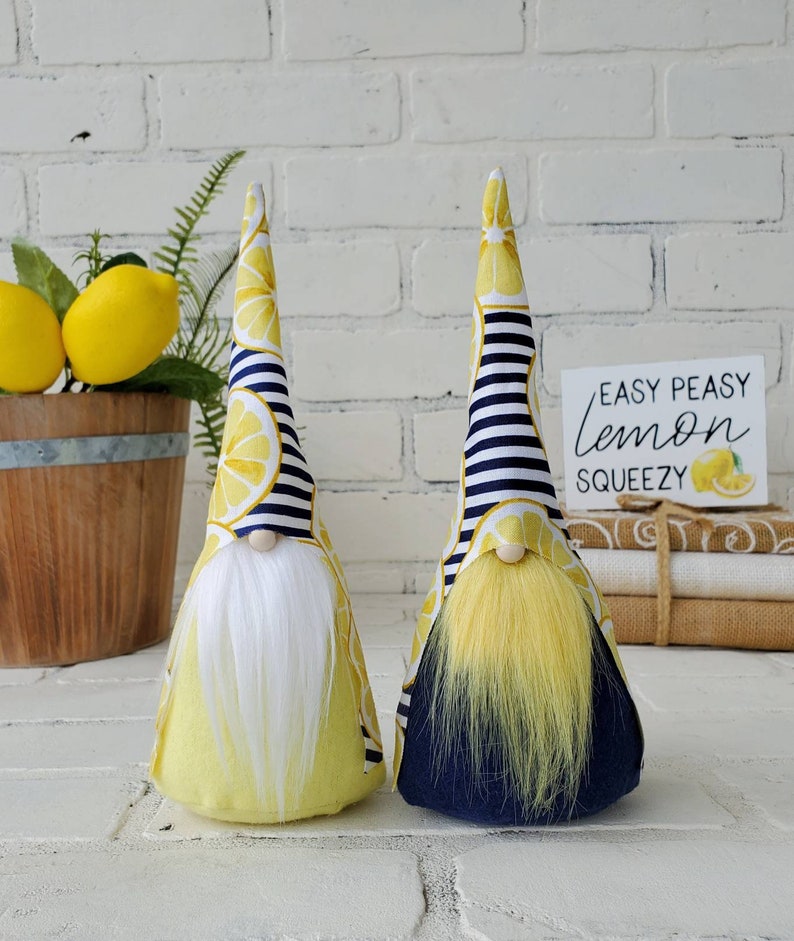 Check Latest Price
Add a touch of whimsy to your lemon-themed kitchen. These adorable bestselling lemon gnomes from KyElleKreations will undoubtedly be your main squeeze. Perch them on your kitchen hutch or nestle them in a nearby tiered tray to watch over your culinary adventures for good luck. Lemon-themed gnomes feature a striped lemon hat and your choice of body color (yellow or navy) and beard (white or yellow).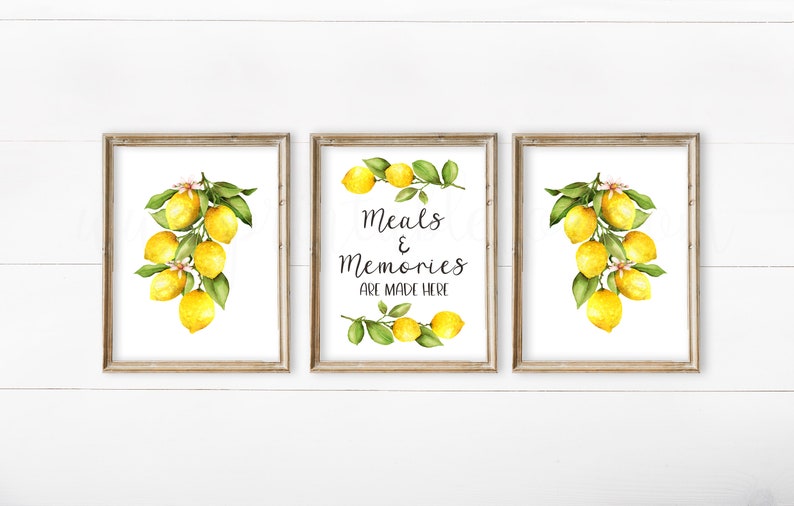 Check Latest Price
Spruce up your kitchen wall with a charming trio of lemon art by PrintableRose. Simple, yet elegant, these fruity watercolor prints are an effortless way to add more style to your citrusy collection without breaking the bank. Download a set of three lemon-themed printables and place them in your choice of matted frame.
Check Latest Price
Add some pizzaz to your kitchenette's muted walls or lonely backsplash with lemon blossoms wallpaper from Spoonflower. This zesty, fun wallpaper will have you feeling fresh with its bright and cheery vibes, as sunny lemons make a bold splash. Choose from either pre-pasted or peel-and-stick woven wallpaper, both self-adhesive and fully removable for added convenience.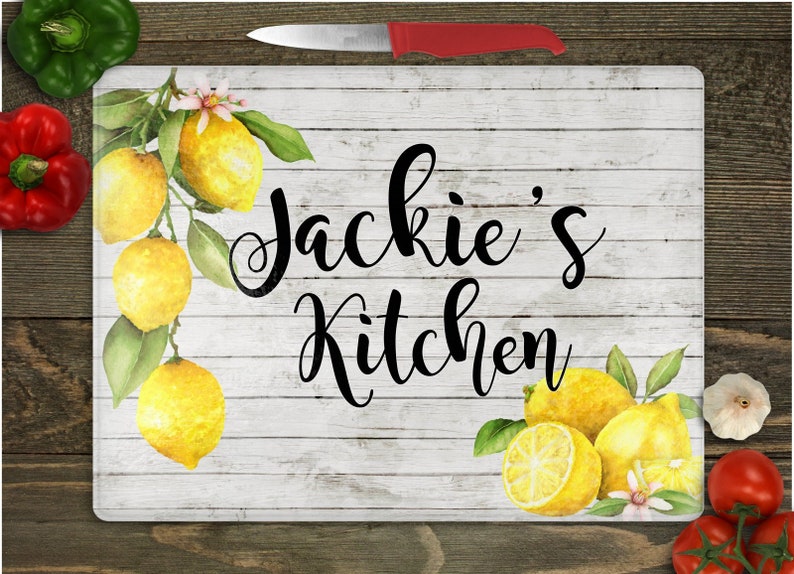 Check Latest Price
Dress up your kitchen counter with a personalized lemon-themed glass cutting board that also doubles as a stylish serving tray for appetizers during small gatherings. Each personalized cutting board has textured glass and rubber feet for stability. When placing your order, choose which color you'd like the typography to be on the cutting board to best match your kitchen decor.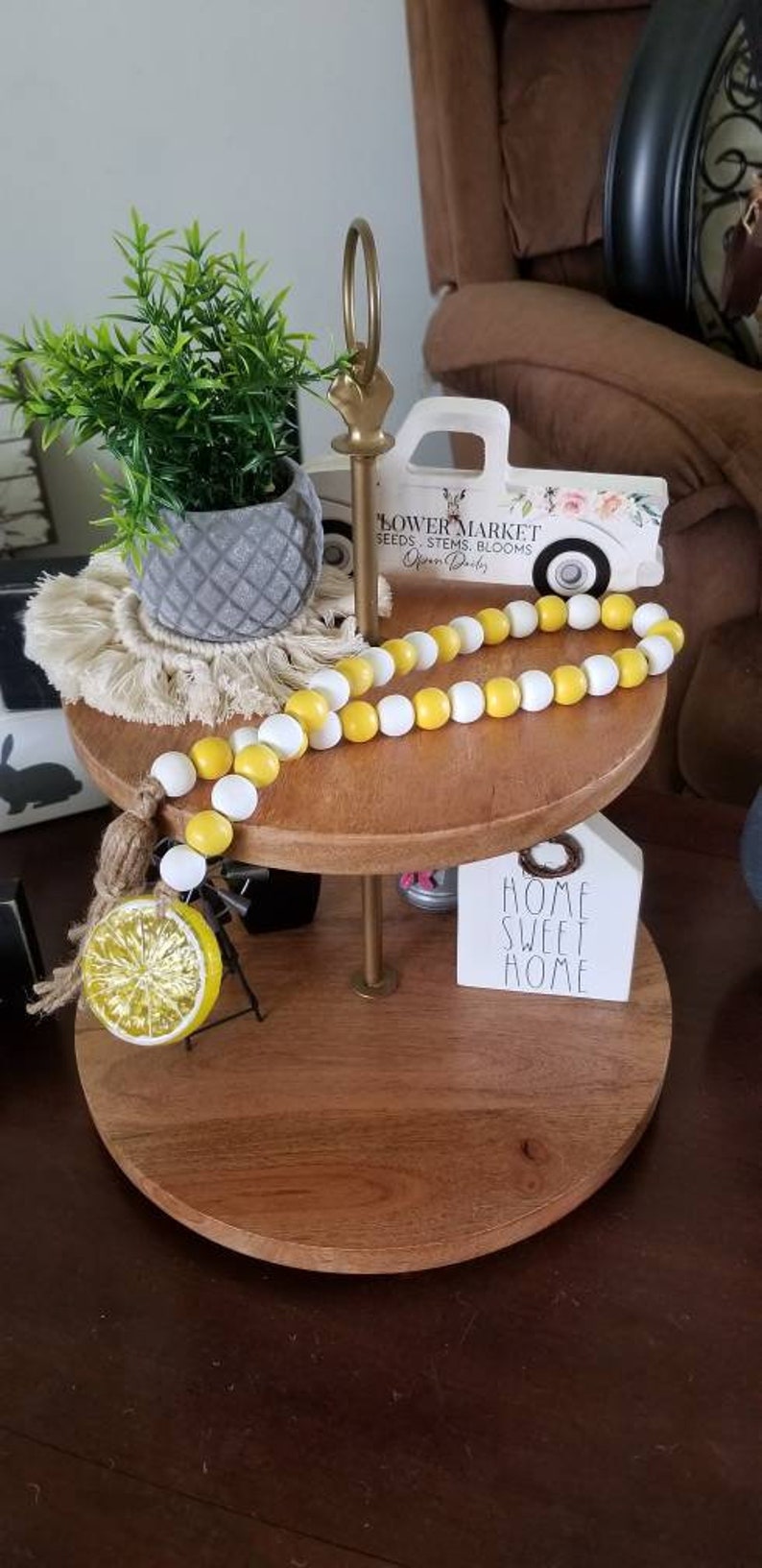 Check Latest Price
Wood bead garlands with jute tassels are a trendy kitchen accent that's become a must-have for many-tiered tray lovers. The hand-painted lemon bead garland by MidnightcraftByTammi features yellow and white beads with a darling lemon slice accent. Although a mere set of small wooden beads, this colorful decoration is mighty cute, just waiting to be a part of your lemony collection!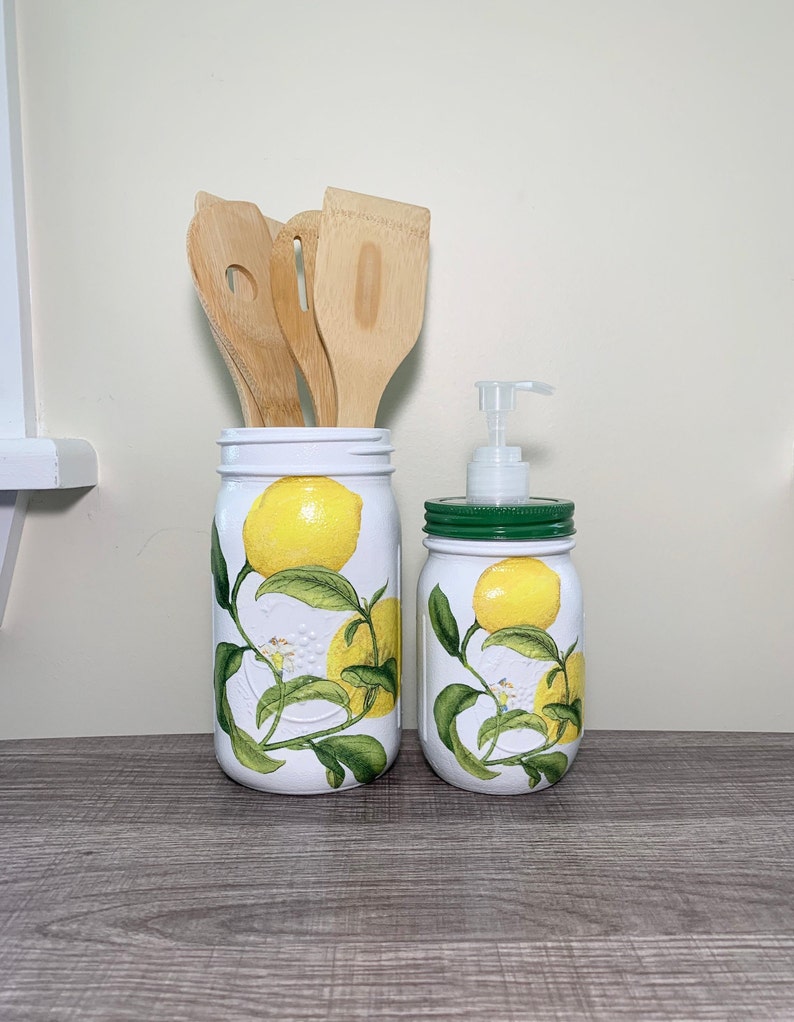 Check Latest Price
Don't just toss your utensils into any ol' holder; keep the lemon trend going strong by providing your most-used utensils a home. Farmhouse-style mason jars by Nokycrafts are decorated using the decoupage technique (fastening paper decorations to a hard surface with glue) on a white handpainted background.
This gorgeous rustic set comes complete with a wide-mouthed lemon-themed utensil holder ready to house your most handy utensils and a mason jar soap dispenser. Feel free to use the utensil holder as a flower vase as a lovely alternative.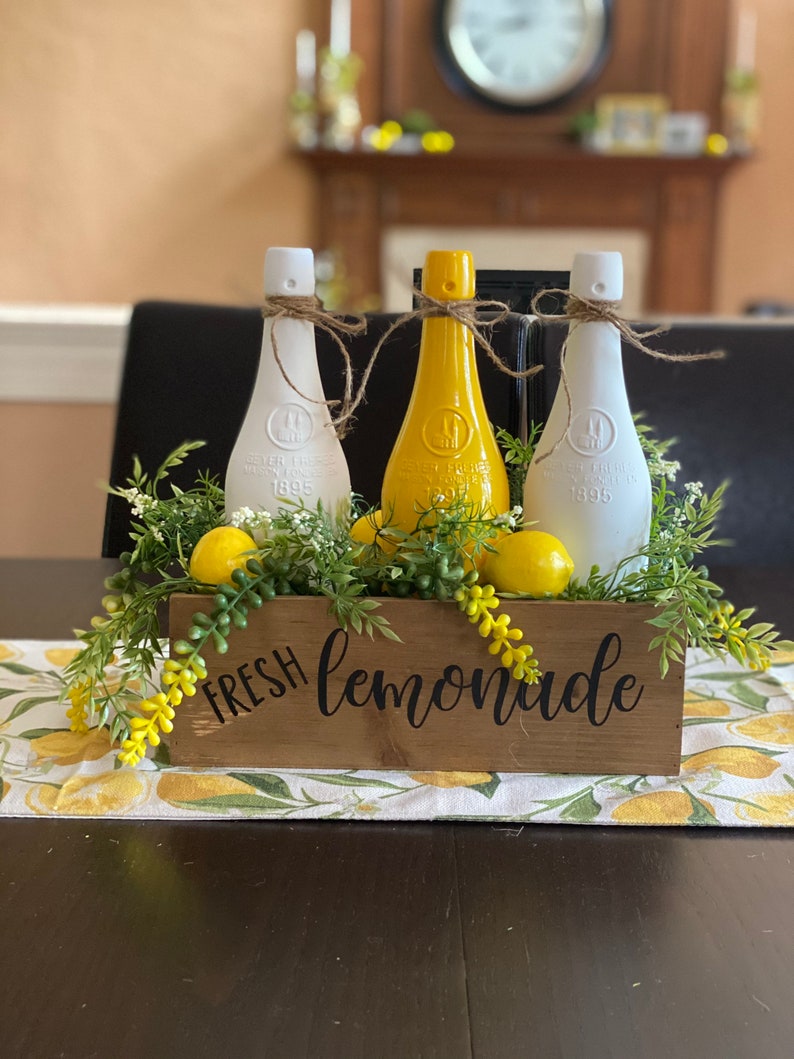 Check Latest Price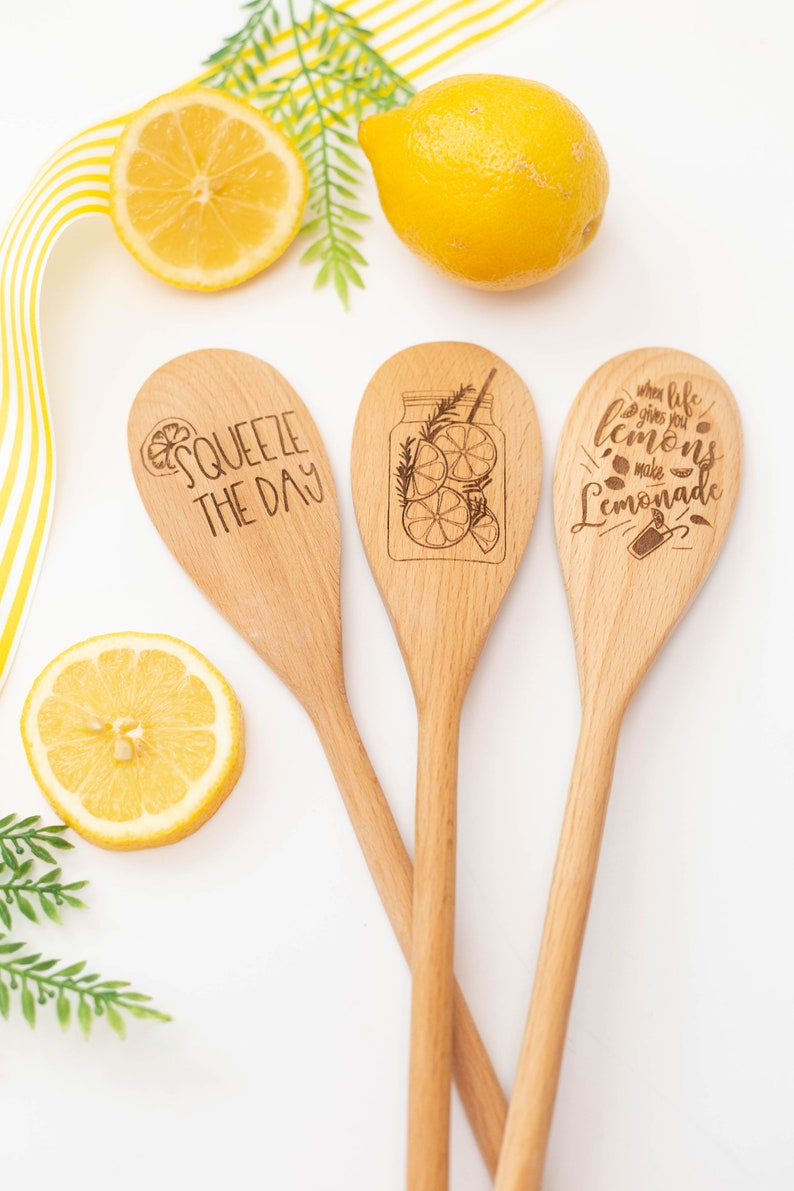 Check Latest Price
A kitchen arsenal is not complete without a proper wooden spoon, as they make stirring easier and more reliable without the worry of the handle suddenly giving out. Collectors of all things lemon will appreciate these whimsical wooden spoons by AFewSpareMoments for their fruity engravings.
Choose from three adorable sunny phrases and designs; "squeeze the day," or the classic, "when life gives you lemons make lemonade." You can also choose a simple jar of lemons design. A set of measuring spoons and kitchen tea towels can also be added to complete your purchase.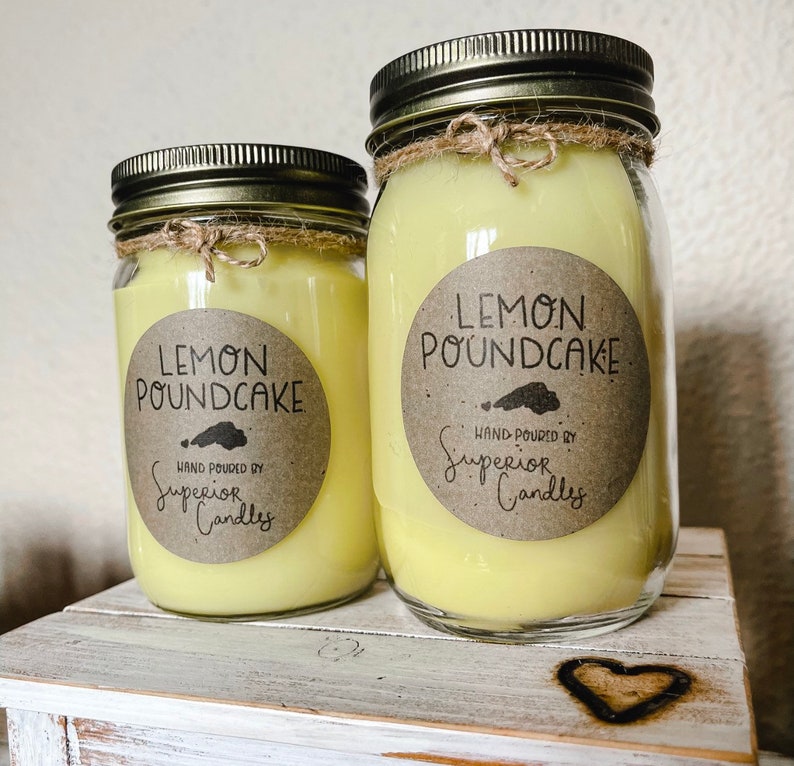 Check Latest Price
When you step into a kitchen covered in beautiful, tasteful lemon decor, imagine if it smelled of sweet-tart lemons too. The lemon pound cake candle from RachelsRusticDecor smells simply heavenly with sharp lemon peel and juicy, citrusy notes as if a warm, tender lemon pound cake has just left the oven, begging to be sliced.
This hand-poured soy-paraffin blend candle is waiting to be lit aflame as the finishing touch to your fabulous lemon kitchen decor.
Related Reading