As OOLA editors, we select and write about stuff we love and think you'll like too. OOLA has affiliate and advertising partnerships so we may earn a commission if you make a purchase.
Check Latest Price
IFFEI is a fantastic source for matching family swimwear. They have a ton of designs to choose from, and we especially love this Pineapple Printed Striped set. Made from high-quality smooth fabric that is stretchy, comfortable, and durable, you have the color option of pink or white.
The swimsuits for mom and daughter are one-piece, while the boys get pineapple-covered trunks. These matching suits will have you and your peeps looking amazing during your beach vacation.
Check Latest Price
Like we said, we are big fans of IFFEI. We wanted to mention this Sunflower Family Matching Swimwear because, obviously, we love the print and the bright, vivid colors. It also gives moms and daughters a two-piece bikini option, while the guys get the shorts.
Check Latest Price
The HengShunRui family swimsuits in the palm print are made from high-quality fabric that is super soft, stretchy, and breathable. The women and girls option is a two-piece that features a solid, ruffled bandeau top and a high-waisted palm print bottom. The men and boys get matching palm printed swim trunks.
Simple and Classic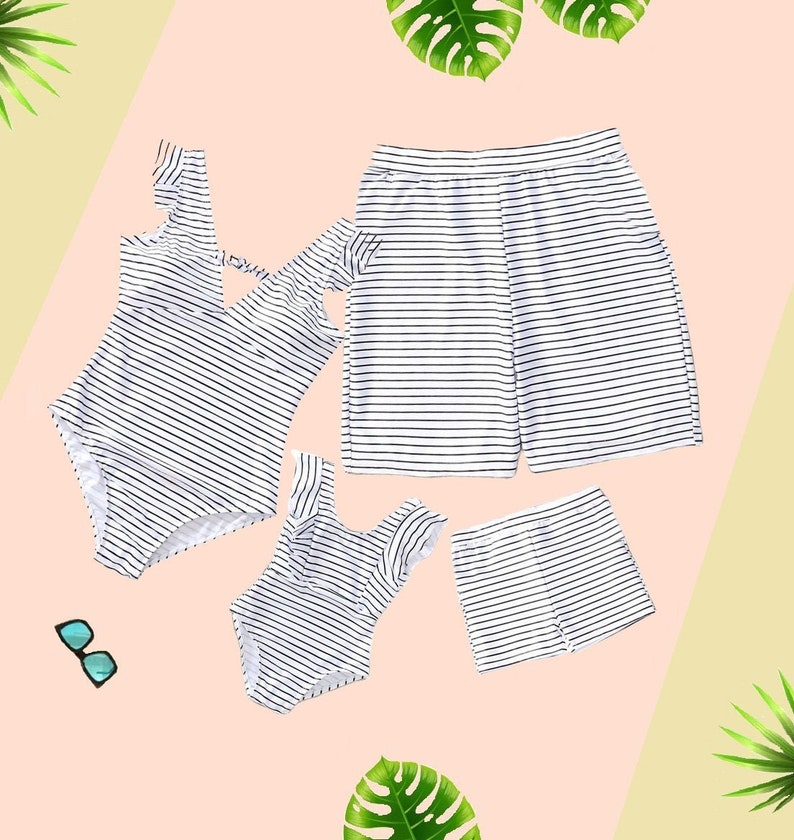 Check Latest Price
This striped matching swimwear from Honey Yougurt will make the best pictures! The suits are made from nylon, polyester, and spandex and are machine washable. The material is high-quality, and the simple, striped design gives off a classic roaring 20s vibe.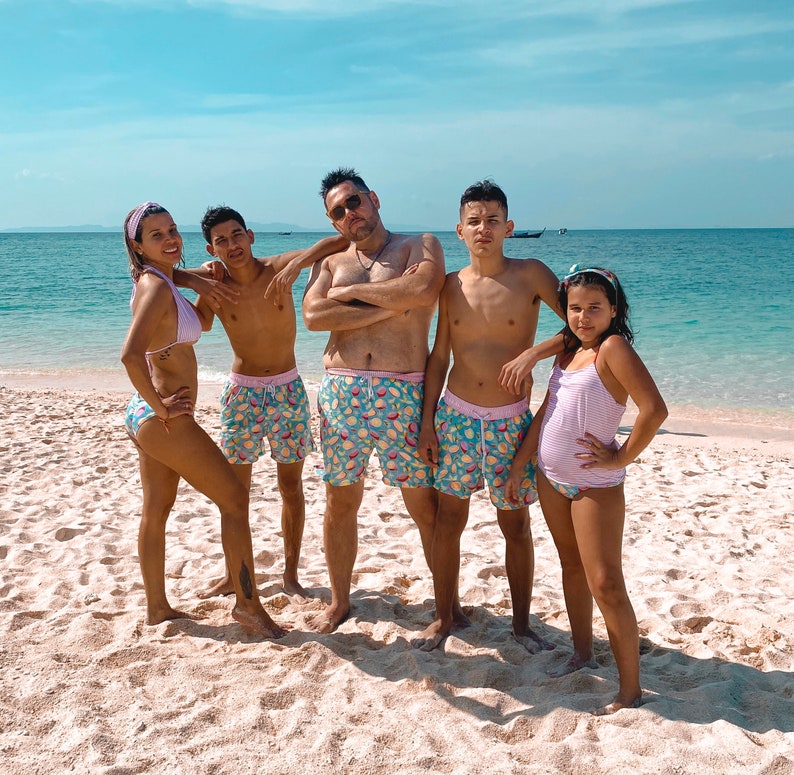 Check Latest Price
The matching swimwear from LeBlanchSwim in the Tropical Summer Print is customizable for the whole family. The ladies can choose either a one-piece or a bikini, and they also get to choose the style. Adult sizes available are XS to XXXXL, and kids' sizes are from infant to 14 years old.
Check Latest Price
The Herbeeza Family Matching Swimsuits include four styles for mom, girl, dad, and boy, with a uniform pattern but different design. The two-piece bikini set is ruffled with an adjustable soft padded bra top and removable shoulder straps. The bottom features an elongated waist.
For the guys, the trousers have the same printed design with an elastic waist. They're made from high-quality, quick-drying fabric which is 80 percent polyester and 20 percent spandex.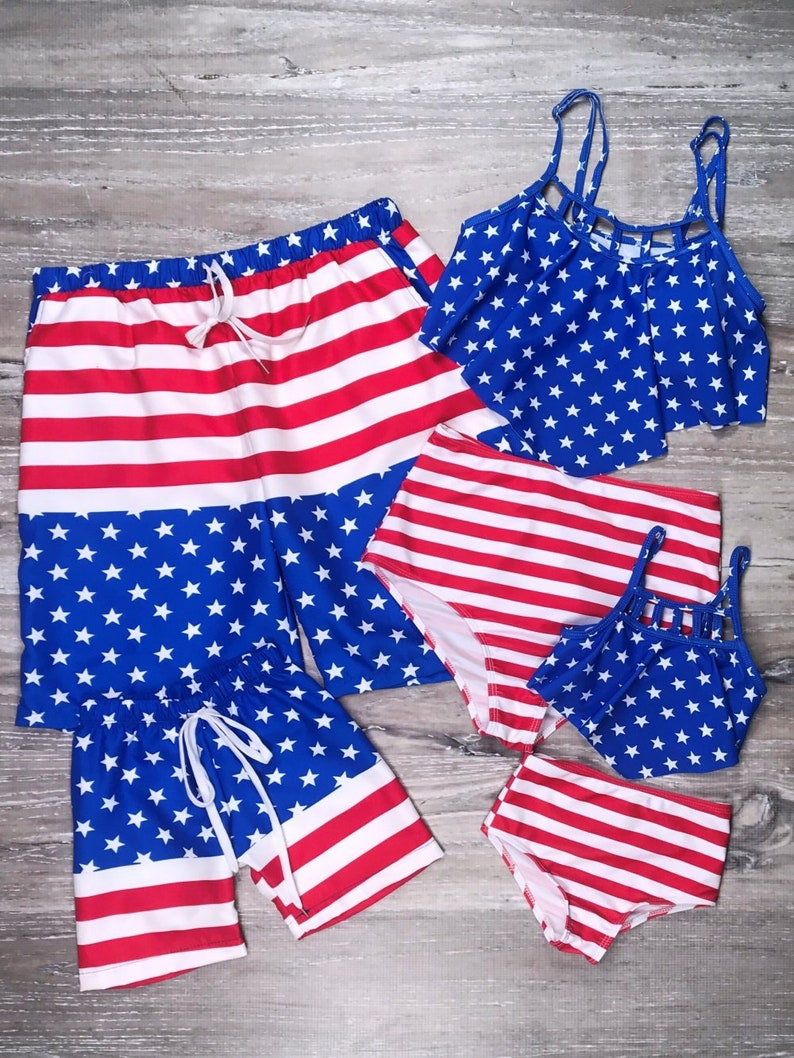 Check Latest Price
Show off your family's American patriotism and celebrate freedom in these matching swimsuits from SydneySoSweet. The dad and boy swim trunks feature an American flag style pattern and a drawstring elastic waist.
The bathing suits for mom and girl come with a blue star patterned bikini top with cutout detail and ruffle trim. The bikini bottoms are high-waisted with red and white stripes.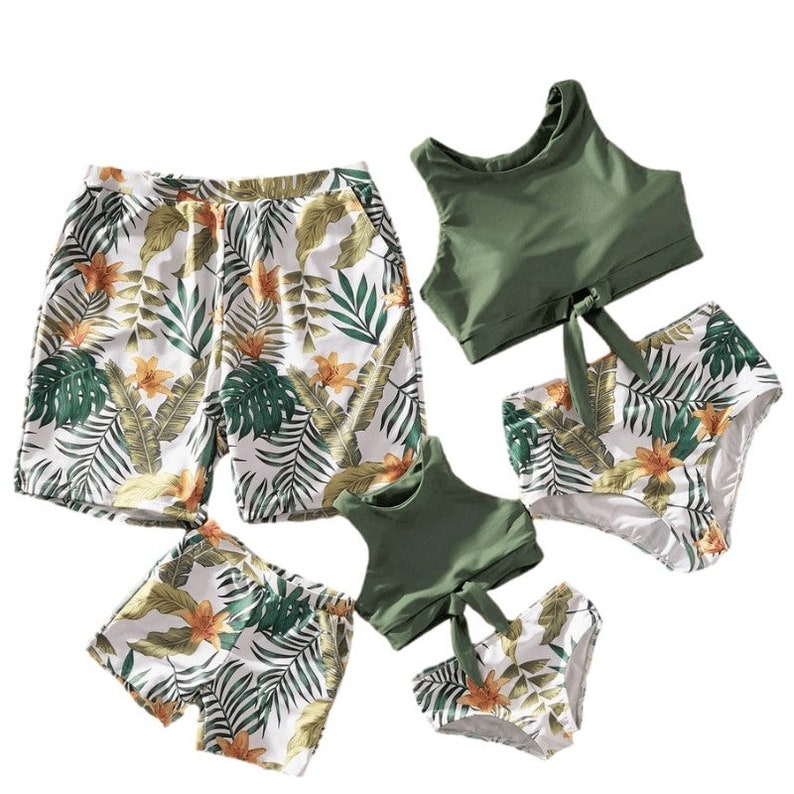 Check Latest Price
Everybody Loves Disney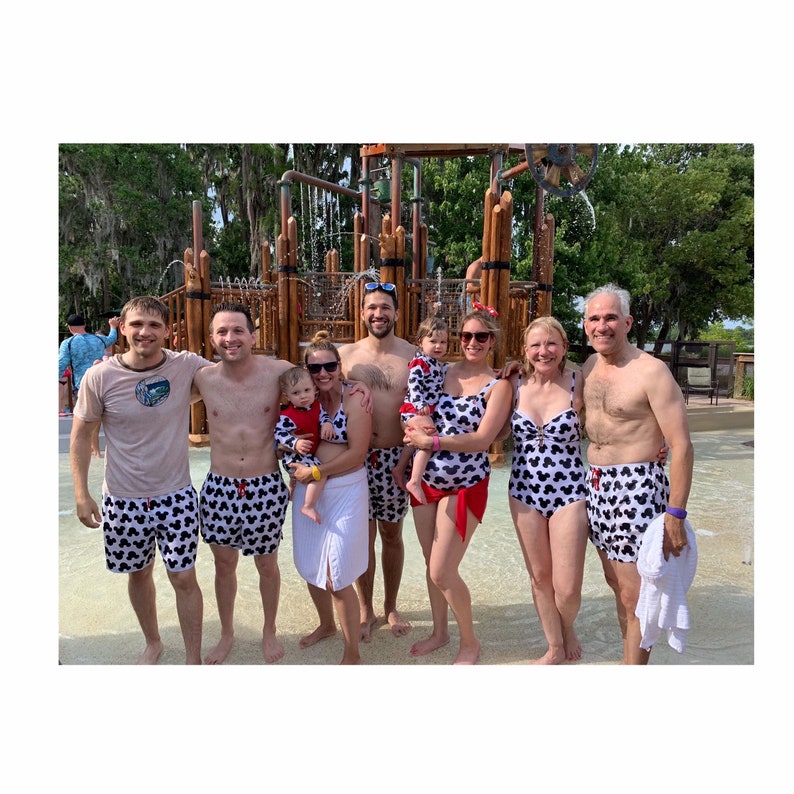 Check Latest Price
The custom-made Disney Print swimsuits from Lainos Swimwear are designed especially for you and your family. Everyone can order different styles, but still be matching during your day at the beach or pool.
Styles for girls include a one-piece with sleeves, a sleeveless one-piece, and a two-piece. For the ladies, they can choose a simple one-piece or select one of the multiple two-piece variations. The guys get the option of short or regular trunks.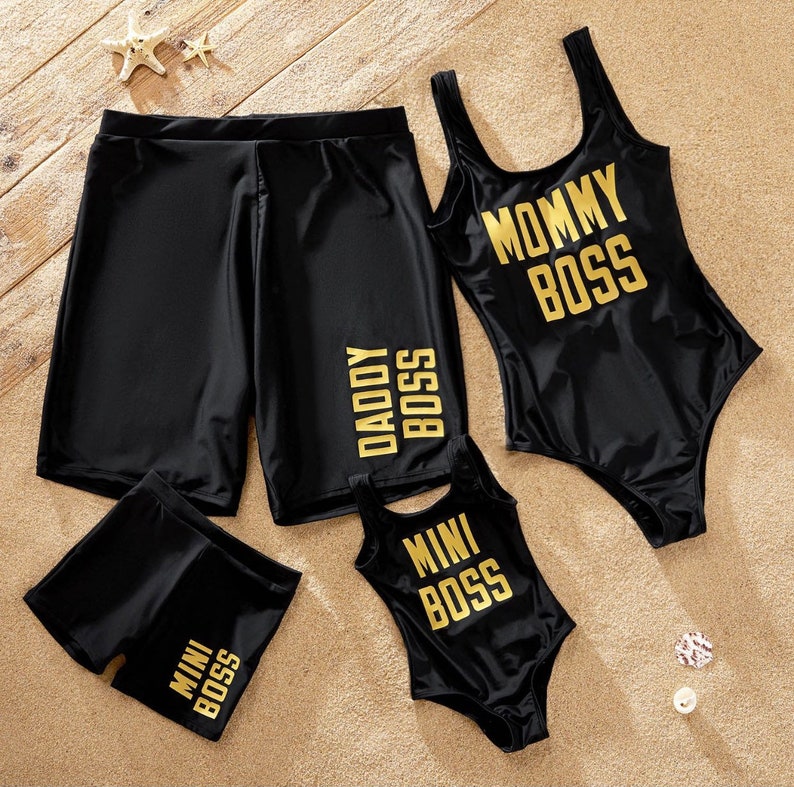 Check Latest Price
Everyone in your family can match "like a boss" during your day on the water with these matching suits from LunasBoutique17. The one-piece for women reads "Mommy Boss" and the trunks for men read "Daddy Boss." For the littles, there are one-pieces and trunks that read "Mini Boss."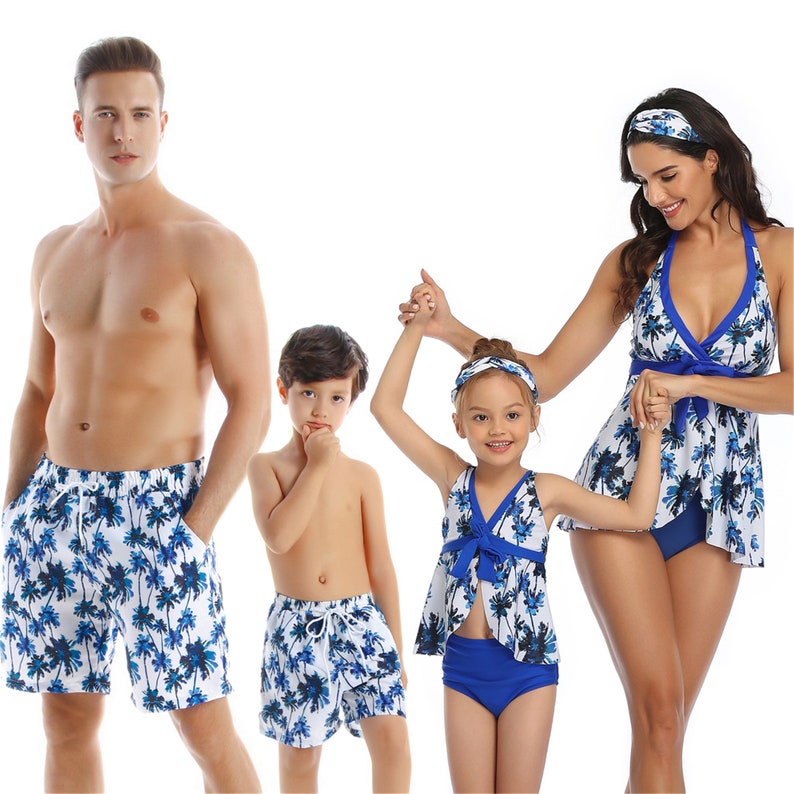 Check Latest Price
The beautiful matching blue bathing suits with a boho floral design from Matching Collections feature vivid and bright colors. Sizes available for women include Small through X-Large, while the men's shorts are available in Medium through 2X. Kids sizes are available in ages 2 through 11.
Matching Collections uses a special material for the men and boys shorts to help them keep their shape in the water, instead of sticking to your body when swimming. For the ladies, the top features halter straps and soft padded cups without an underwire. The tummy-control retro bottoms are high-waisted with lining.
Designed to Stand Out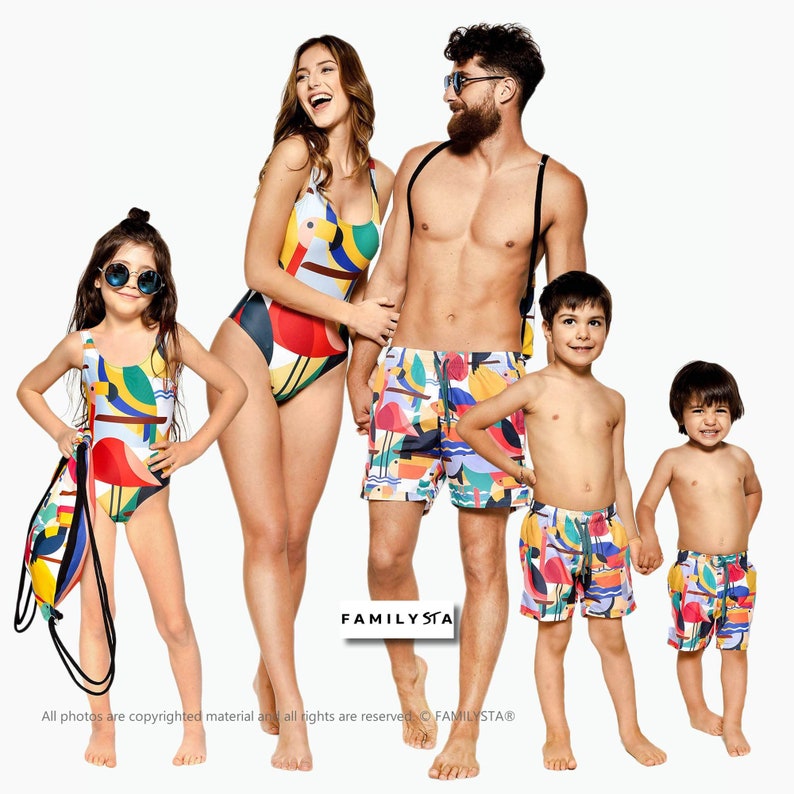 Check Latest Price
The super fun patterns available from familySTa will definitely make your family stand out in the crowd. The ladies' and girl's suits are made from recycled polyester and elastane, while the guys' trunks are 100% polyester.
You can also buy matching father and son tees in the flamingo and "Bahamas" patterns. As well as a drawstring bag with the same pattern to carry your pool gear.
Matching swimwear is the way to go for your summer beach vacation or day at the pool. The only downside is having to choose between all of these great options. Of course, you don't have to buy just one set…
Related Reading: