As OOLA editors, we select and write about stuff we love and think you'll like too. OOLA has affiliate and advertising partnerships so we may earn a commission if you make a purchase.
Perfect Sauce Catcher
Check Latest Price
This well-loved and trusted Italian brand offers the highest-quality pasta you'll find in your local grocery store. Made from 100% semolina flour, De Cecco goes the extra mile by using bronze dies to cut their pasta.
This traditional cutting method results in pasta with a rough surface, and that's exactly what you want. The rough surface on De Cecco pasta helps the sauce grip onto the noodles and coat every inch.
The cheaper method of cutting is with Teflon dies. That gives the pasta a smooth surface, which causes the sauce to slip and drip. With De Cecco pasta, you get extremely close to the kind of dry noodles you'll find at a specialty store. But they don't cost near as much.
The De Cecco Penne Rigate No. 41 and the Spaghetti No. 12 are some of the best noodles you'll find in the grocery store. They achieve the perfect al dente texture and just better flavor overall. The De Cecco brand also offers shapes that can be hard to find, like fusilli corti bucati.
Check Latest Price
This popular brand comes in a blue box like De Cecco. It's also made from 100 percent semolina flour, which is what you want for dry pasta. Barilla Spaghetti features long, golden strands with a delicious al dente texture that can be achieved in just 10 minutes.
These noodles also give you a great taste and match well with almost any type of pasta sauce. Barilla pasta is free of major allergens, like lactose, peanut, shellfish, tree nut, and soy. It's also Kosher certified. Made in the USA, Barilla pasta is also available in whole grain, gluten-free, and organic varieties.
A New York Institution
Check Latest Price
Rao pasta noodles are made with just two ingredients: semolina flour and water. Like De Cecco, Rao also uses traditional bronze dies to cut their pasta. That means that the grooves grab every drop of sauce.
Rao's Homemade Fusilli is a delicious corkscrew-shaped pasta that many Americans often refer to as "rotini." They also offer a Homemade Spaghetti noodle with a hearty and robust flavor. When those noodles are sauced up, they can't be beaten.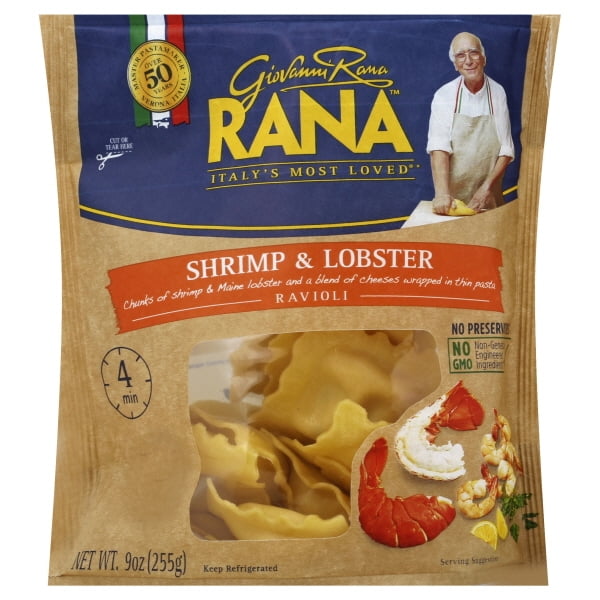 Check Latest Price
If you haven't tried Rana filled pastas, we recommend adding them to your grocery list immediately. Rana offers different kinds of ravioli, like Mozzarella Cheese, Italian Sausage, Shrimp & Lobster, and Spinach & Ricotta. But our favorite is the Rana Cheese Lover's Tortelloni.
The Cheese Lover's Tortelloni has a wonderful flavor because it includes ricotta, mascarpone, Parmigiano Reggiano, mozzarella, and Pecorino Romano cheeses. There are no preservatives, artificial flavors or colors, or GMO ingredients.
You can make the tortelloni in just three easy steps. First, bring six quarts of water to a gentle boil. Then add a pinch of salt and the pasta and cook for three to four minutes. Finally, drain the water and toss the pasta in melted butter or extra virgin olive oil, and top with freshly grated cheese.
You don't have to eat the pasta by itself, though. You can easily add Rana-filled pasta into other recipes.
Check Latest Price
This brand offers the most unusual pasta shapes you'll find. Rustichella D'Abruzzo is artisan dried pasta that's crafted in Abruzzo, Italy. Their pasta is made from top-quality flours and pure Apennine mountain spring water. This brand also uses bronze dies for that desirable texture that holds sauce just like you want it to.
The Rustichella D'Abruzzo bucatini noodles are long, thick spaghetti with a hole running through the center. Their cestini pasta is perfect for ingredients that normally get lost in another kind of pasta dish, like ground meat and peas. These noodles can actually hold the sauce and ingredients all at once.
Check Latest Price
Check Latest Price
Faella products are made from the highest quality durum wheat and spring water from the Lattari mountains. The noodles are extruded through traditional bronze dies that are created specifically for each shape.
One of our absolute favorites is the Faella Mezzi Paccheri. These large and marvelously thick and meaty rings are an absolute showstopper at any dinner. They are perfect when baked with chunky sauces. In the oven, they will fill your kitchen with the aroma of freshly baked bread.
Quality pasta makes a big difference. The higher the quality, the easier it is to achieve al dente—which is exactly what you want. If you haven't tried these pasta brands, you'll be shocked to discover just how much of a difference quality pasta can make.
Related Reading