As OOLA editors, we select and write about stuff we love and think you'll like too. OOLA has affiliate and advertising partnerships so we may earn a commission if you make a purchase.
Check Latest Price
The Helix Midnight Luxe Mattress might just be the best mattress you'll ever sleep on. After one night, you'll actually notice improvements, like decreased back, shoulder, and neck pain.
This is because the Luxe mattress features zoned lumbar support for enhanced contouring. For side sleepers, the luxury memory foam gives pressure point relief on the hips and shoulders. To stay cool and comfortable all night long, this medium-feel mattress features an ultra-breathable Tencel cover for maximum airflow.
The Helix Midnight Luxe Mattress comes with a 100-night sleep trial and a warranty. There are also financing options available, and the price includes free shipping.
Check Latest Price
Another amazing mattress option comes from Saatva. Their Loom & Leaf Mattress is handcrafted in the USA with premium eco-friendly materials. They also hand deliver your mattress to your home for free and set it up in the room of your choosing.
Every layer of this mattress is designed to give you cool, supportive comfort. The ultra-premium five-pound memory foam and high-density foam layers will contour to your body to relieve pressure points and give maximum support. The gel-infused foam is ultra-breathable and will keep you cool Lionel Richie style – All Night Long.
Like a luxury hotel!
Check Latest Price
You can make your whole bed feel like the cool side of the pillow with Brooklinen's signature long-staple cotton percale sheets. These cool and crisp sheets will make you feel like you're sleeping in a luxury hotel. The Brooklinen classic percale sheets feature a breathable 270 thread count weave and are made with 100 percent long-staple cotton. A nice bonus feature is the "long" and "short" side labels. They make it so much easier to make the bed!
Check Latest Price
The key to a perfect night's sleep is finding the right pillow, and we're pretty sure we found it! The Coyuchi Down Feather Pillow is soft, supportive and plush, but its medium firmness ensures that it's not too squishy.
This pillow is actually divided up into three sections on the inside. The center is filled with an 80 percent feather and 20% down mix that gives the pillow structure. The sides are filled with pure down for maximum cushy softness. The fill is doubled-washed and encased in an organic cotton shell.
Coyuchi Down Feather Pillows are made in the USA, and filled with feathers and down from an Indiana duck farm. All of the birds are raised humanely and the feathers are carefully processed. The entire process is all about quality, and Coyuchi is all about the highest standards.
You need this blanket!
Check Latest Price
You might not know that you need a Layla Weighted Blanket. But we promise, you really do. The feel of this therapeutic blanket can't be matched. Layla's philosophy is that a stress blanket "should feel like a dozen puppies."
To achieve that goal, the Layla Weighted Blanket is made of plush, soft, mink-like fur. The other side is 300-thread count, 100-percent cotton. But the benefits of a weighted blanket aren't just from the materials.
Research has shown that Deep Touch Pressure (DTP) helps release serotonin in your system. Sleeping under a weighted blanket promotes deeper and longer sleep while giving you a secure, calm feeling. If you have anxiety or ADHD, a weighted blanket is a must for a good night's sleep.
Check Latest Price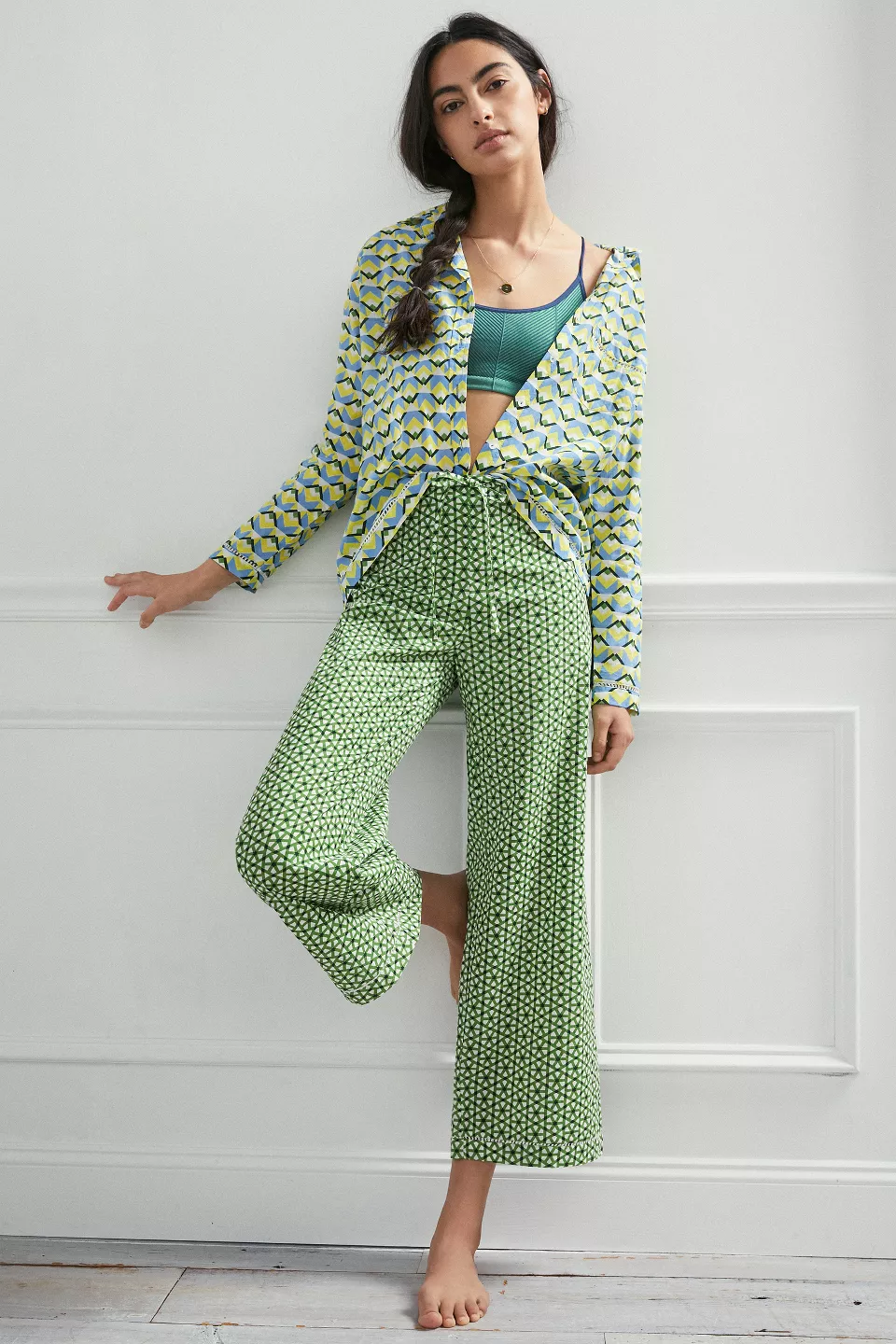 Check Latest Price
We are also big fans of the Rosita Pajama Set, which is made from fine-spun cotton and features a hand-blocked design. You'll feel like you're on vacation at the beach when you wear these comfy resort-style jammies.
Cozy! Cozy! Cozy!
Check Latest Price
Talk about the ultimate comfy pants! The Lunya Cozy Cotton Silk Relaxed Pants are an absolute dream come true. You'll always feel relaxed when you wear these wide-leg pants made from cotton, nylon, and silk.
These pants feature a wide leg and slightly dropped crotch for maximum comfort. These pants are light and breathable and have a no-twist waistband, so they won't bunch up while you sleep. The Lunya Cozy Cotton Silk Relaxed Pants are machine-washable and available in three different colors. They come in sizes XS to XL.
Check Latest Price
If you need help with your beauty sleep, we've found the ultimate toolkit. The Gravity Beauty Sleep Set will help you get the perfect sleep night after night. This kit includes Dream Skin Serum, which uses lavender for a calming effect and Bakuchiol to support skin elasticity. Bakuchiol is a gentler alternative to retinol, but it's just as effective.
The second part of the Gravity Beauty Sleep Set is a bag of Fast Asleep, which are yummy chocolate and mint squares made with GABA and saffron. They help you relax and calm your mind before closing your eyes. This is a delicious and decadent replacement for melatonin.
The last item in the kit is the Heating/Cooling Weighted Sleep Mask. Just like weighted blankets, the science behind these masks is used to give your face the perfect pressure stimulation. You can also heat it up or freeze the mask for an extra dose of relaxation.
Celebrate World Sleep Day with these products that will help you create your perfect sleep sanctuary. These mattresses, sheets, pillows, blankets, and accessories are sleep-game changers, and totally worth it.
Related Reading: