As OOLA editors, we select and write about stuff we love and think you'll like too. OOLA has affiliate and advertising partnerships so we may earn a commission if you make a purchase.
Da Bomb.com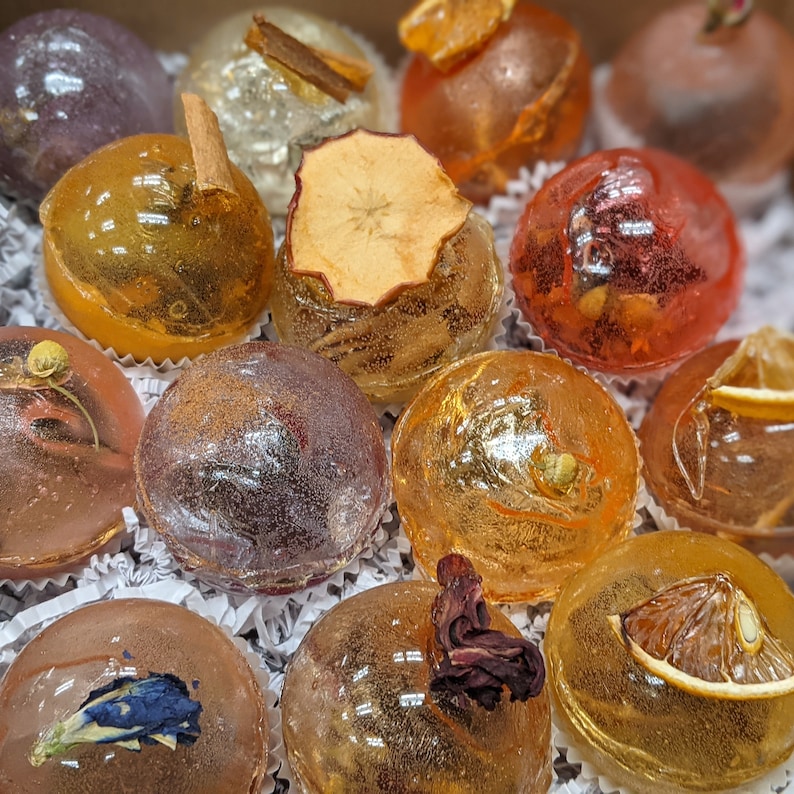 Check Latest Price
Preparing hot tea bombs is very similar to making hot chocolate bombs. Rather than tempering chocolate, you'll be melting isomalt.
You'll need a half-sphere silicone mold, isomalt crystals, food coloring (optional), and tea of your choice.
Begin by melting about 1/4-1/2 cup of your isomalt, according to package instructions. Once your isomalt is hot and bubbly, quickly add in the food coloring, about two drops, if you prefer, and blend well. Remove the melted isomalt from the heat and carefully coat your sugary mixture into the silicone molds. Ensure the mix is thick within both sides of the molds reducing the likelihood of breakage once removed.
Allow the mixture to cool and dry inside the molds. Once cooled, very carefully remove the shells from the mold. Fill one side of the cooled half-sphere with your choice of loose tea or a teabag. To adhere the halves together, simply warm the rim of one side by placing the edge on a hot plate, which will make it sticky. Bring the two halves together, enabling them to seal shut.
Now add your gorgeous tea globe to your favorite teacup or mug and pour hot water over it. Tea time magic awaits you!
Helpful Tips:
Use the backside of a spoon to coat the inside of the silicone molds. A spoon helps seal any holes or gaps that are present. Never touch the hot sugar with your hands, as it results in burns.
Try not to overfill the silicone molds. If the molds' sides are overfilled with sugar, it will be challenging to seal if they have uneven edges.
What Kind of Tea is Best For Hot Tea Bombs?
Loose Leaf Tea
Check Latest Price
When it comes to this dazzling winter sipper, you can add whatever tea you'd like to a hot tea bomb. Loose tea offers a more charming effect, but if you don't enjoy tea leaves floating in your teacup, opt for a simple tea bag. If using a teabag, allow the string to hang outside of the tea globe, making it easier to insert into the mug. Our top picks for the best tea bags are The Republic of Tea, Tea Forte, Twinings of London, and Harney and Sons tea.
For loose tea, we especially love bestselling blends from DavidsTea:
Forever Nuts: A rich and comforting blend of toasty nuts and apples reminiscent of warm apple crumble straight from the oven.
Organic Mother's Little Helper: A soothing blend of chamomile, peppermint lemongrass, and valerin root will melt your day's stress and anxieties away.
Organic Cream of Earl Grey: A rich, creamy vanilla twist on the classic citrusy burst of bergamot oil flavor.
What Else Can I Add to My Tea Bomb?
Edible Flowers
Check Latest Price
Don't just stop at tea; just like their chocolatey predecessor, tea bombs are meant to be an exciting experience! However, before adding anything to your tea bomb, make sure it's food-grade and safe for consumption.
Edible flowers make a lovely presentation when they make their presence as your tea begins to steep. We recommend a sample botanical flowers kit filled with jasmine, rosebuds, lavender, marigold, chamomile, and pink rosebuds that will allow for plenty of fun tea time experiments.
Another way to had some extra glam to your hot tea bombs is to sprinkle a little luster dust on the outside of the globe. Edible luster dust adds a gorgeous, magical sheen for an unforgettable experience, especially for the little ones.
Can You Make Tea Bombs Without Isomalt?
Check Latest Price
Otherwise known as pure food-grade beet sugar, isomalt is not a kitchen staple, nor is it readily available at many local grocers. You can find isomalt online or at many hobby supply stores that carry baking supplies, such as Hobby Lobby.
Although preparing tea bombs is much easier with isomalt, you can prepare them with a combination of light corn syrup, sugar, and water.
Add one cup of sugar, 1/3 cup light corn syrup, and two tablespoons of water to a medium saucepan. Bring the mixture to a boil. Once the sugary mixture reaches the hard crack stage or 300 degrees on a candy thermometer, immediately transfer to the silicone molds.
You may find that this method is more finicky than isomalt in that it's not as strong, and the process is more labor-intensive. Also, keep in mind that your finished tea will have a much sweeter flavor. Isomalt is less sweet than regular sugar; its sweetening power is 50–60% that of sucrose.
Add a tea bomb to your favorite mug when you require a much-deserved moment of comforting peace. Relish in the beauty of tea time. Watch as the tea leaves gradually reveal themselves, steeping, brewing the perfect cup of tea. Although not an everyday ritual, tea bombs are perfect for a day of pampering, a mini-spa in a teacup. Hot tea bombs also make a unique gift for the tea lover in your life or anyone deserving of a truly magical moment of relaxation.
Related Reading