As OOLA editors, we select and write about stuff we love and think you'll like too. OOLA has affiliate and advertising partnerships so we may earn a commission if you make a purchase.
Check Latest Price
The Sweetheart Valentine Cookie Decorating Kit from Sweetology is decorating made easy. The kit features 12 freshly baked sugar cookies. And it comes with five colors of real buttercream frosting—light pink, dark pink, red, bright blue, and vanilla.
The frosting is in pre-filled piping bags with decorating tips to help keep the mess to a minimum. This cookie kit also has three varieties of colorful sprinkles and edible decorative toppers.
sweets for your sweetie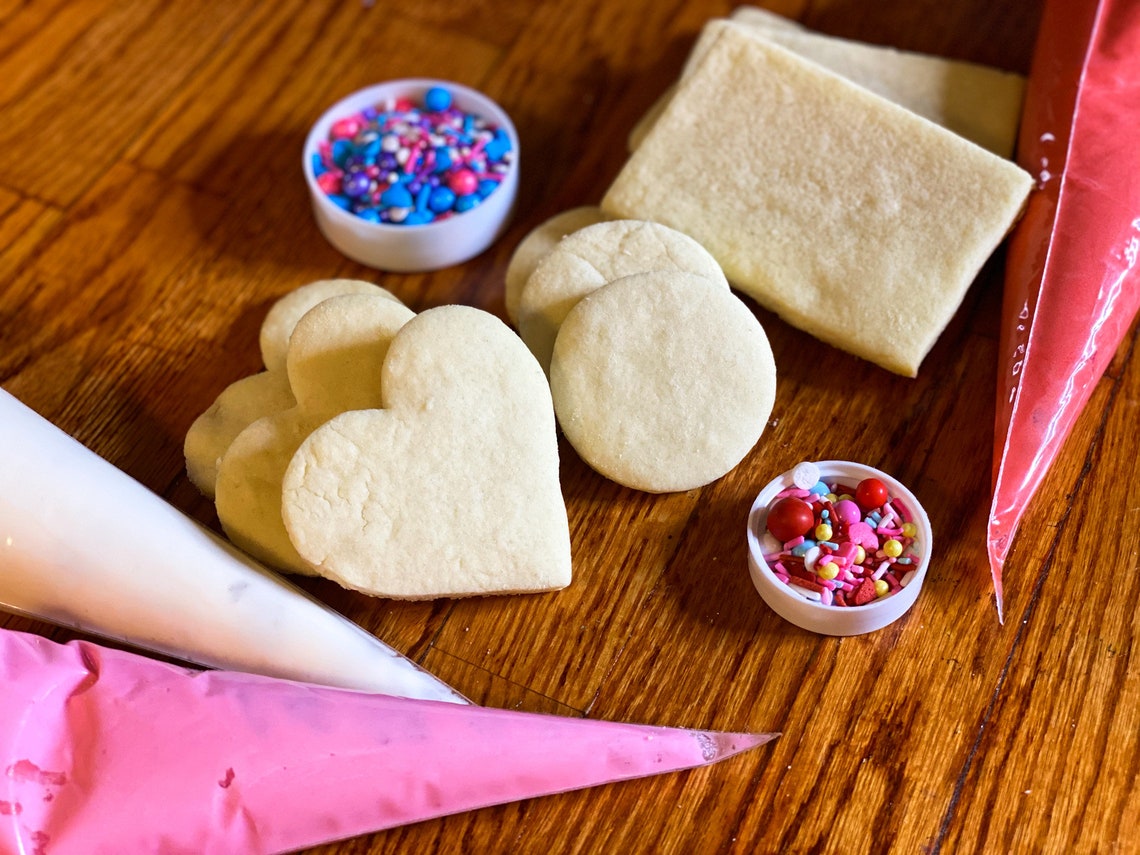 Check Latest Price
Another cookie decorating option for Valentine's Day comes from Fresh Farm Living on Etsy. Their Valentine Cookie Decorating Kit includes a half-dozen cut out cookies, three different colors of buttercream frosting already in piping bags, and two different kinds of sprinkles.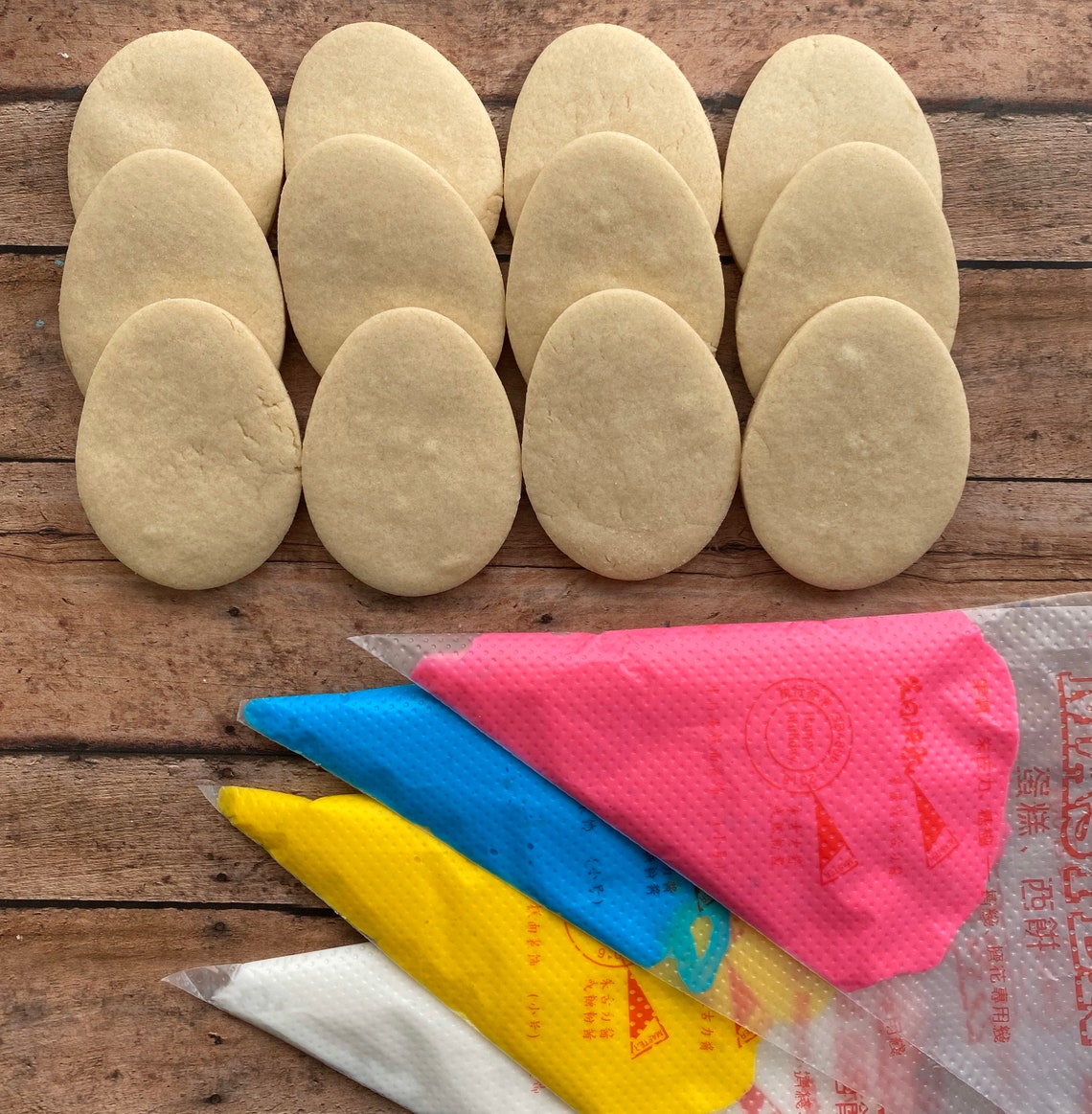 Check Latest Price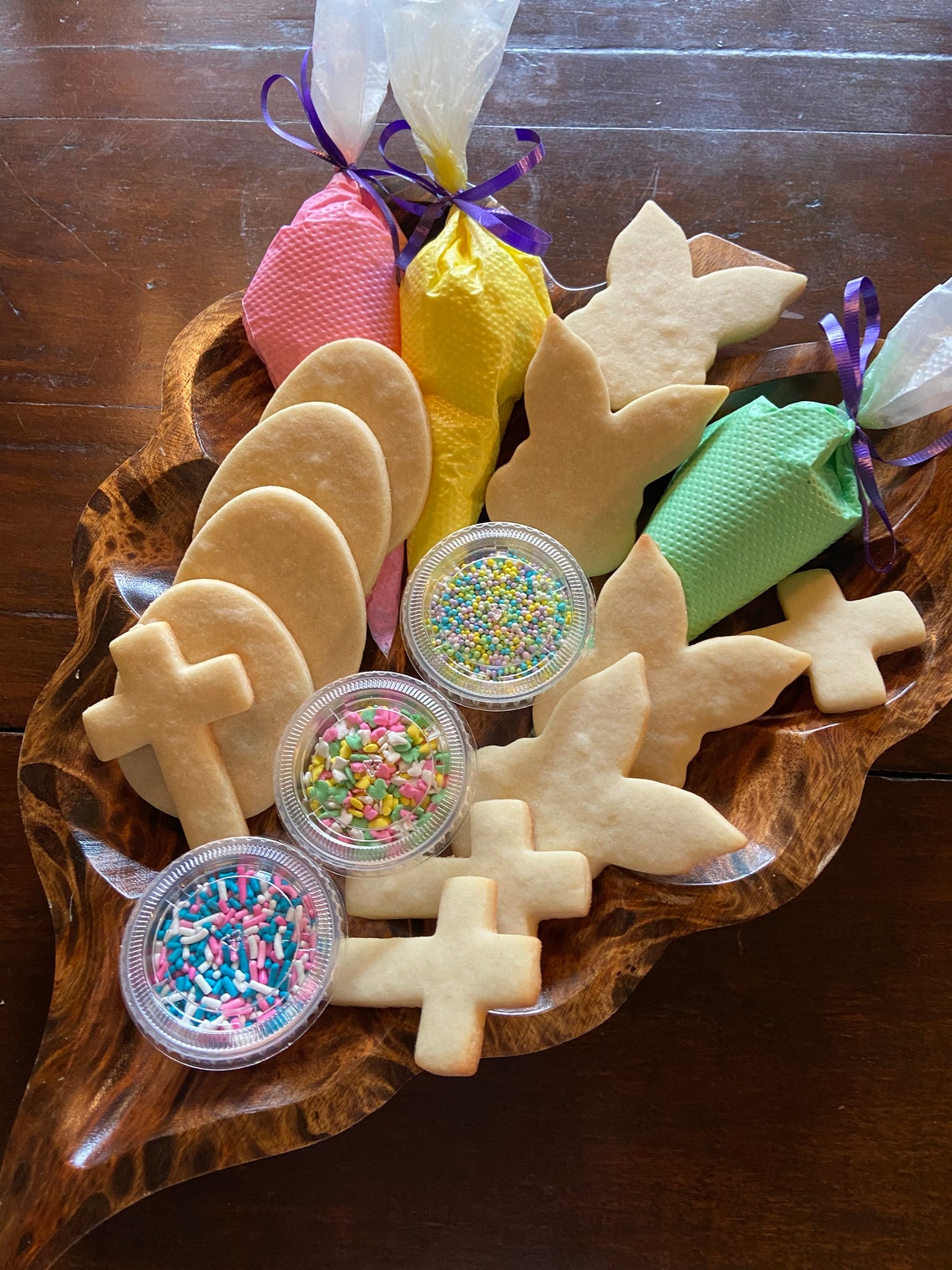 Check Latest Price
Cookie Kits by Julie offers an Easter Cookie Kit with one-dozen sugar cookies shaped like eggs, bunnies, and crosses. There are also three containers of sprinkles in spring colors and three bags of royal icing.
The kit comes with a page of instructions and suggestions. And, the cookies are vacuum-packed for maximum freshness. With just a one-day turnaround on orders and USPS priority mail shipping, you can have your kit delivered just hours after you order it.
Make America sweet again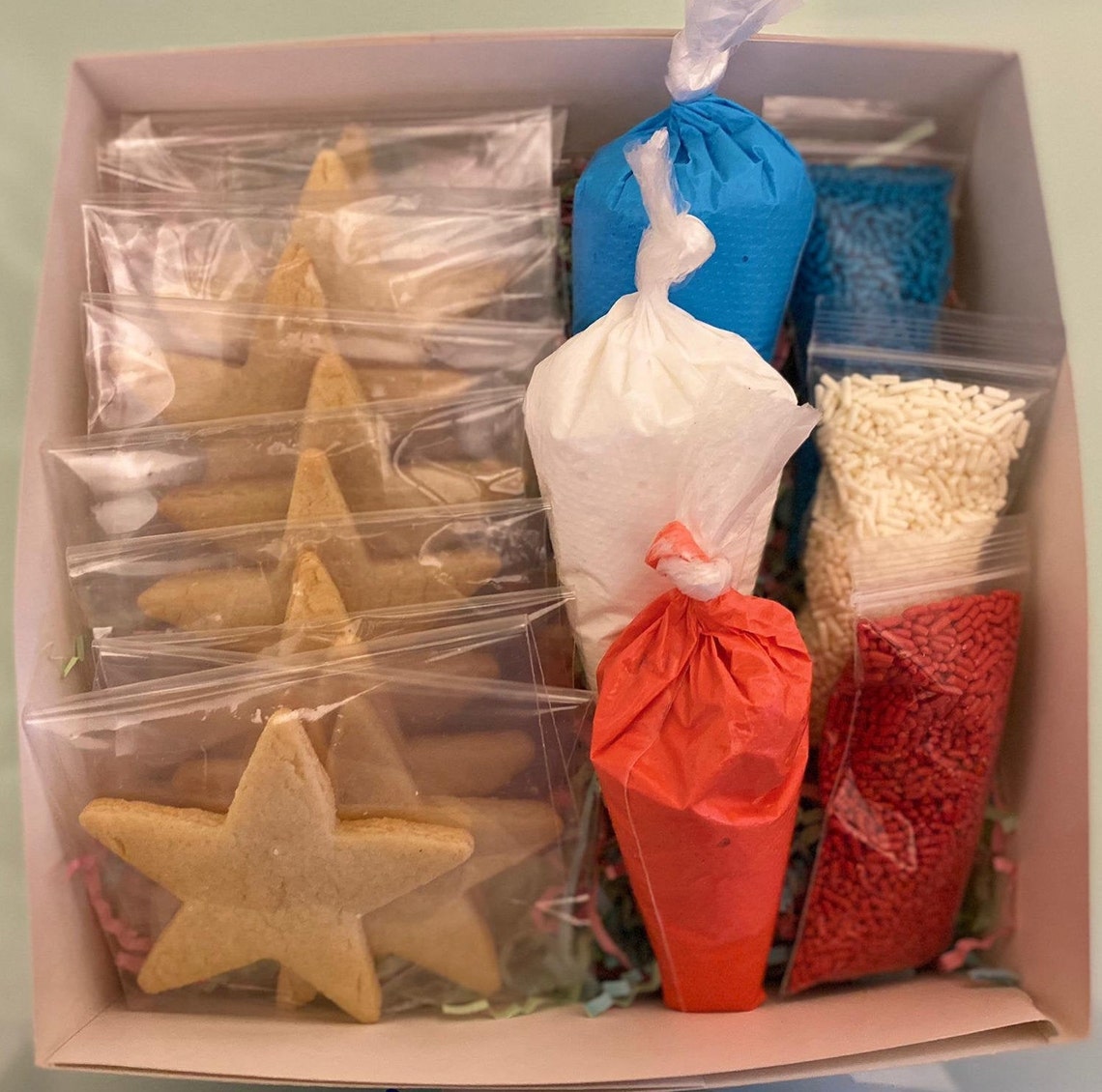 Check Latest Price
SS Unique Creations offers a Fourth of July Patriotic Cookie Decorating Kit that features a dozen homemade cookies and three bags of royal icing in red, white, and blue. The kit also has three small bags of sprinkles in red, white, and blue, plus decorating instructions.
Each cookie is individually wrapped and sealed, and the kit is packaged in a white bakery box. You can request to add curly ribbons and a gift tag with a handwritten personal message if you would like to purchase this kit as a gift.
Check Latest Price
There is more to decorate at Halloween than just pumpkins. Crafty Cooking Kits offers a kid-friendly Halloween cookie decorating kit that will help you create your own little pumpkin patch at home.
This kit doesn't come with the cookies and icing already made. But it does include sugar cookie mix to make 10 cookies and royal icing mix. This kit also includes orange color powder, green and black icing pens, candy eyes, a piping bag, and two pumpkin cookie cutters.
It has a shelf life of up to one year, so you can buy the kit in advance and have it ready when Halloween 2021 rolls around.
Check Latest Price
You don't have to wait for a holiday to use a cookie decorating kit. This winter-themed kit from Edible Impressions features eight sugar cookies in four different designs—snowman, snowflake, mitten, and winter hat.
This kit also has three royal icing frosting colors in tipless decorating bags, so they are ready to use. You will also receive three assorted custom royal icing sprinkle sets, and a paintbrush to spread the frosting. Of course, this decorating kit also comes with instructions.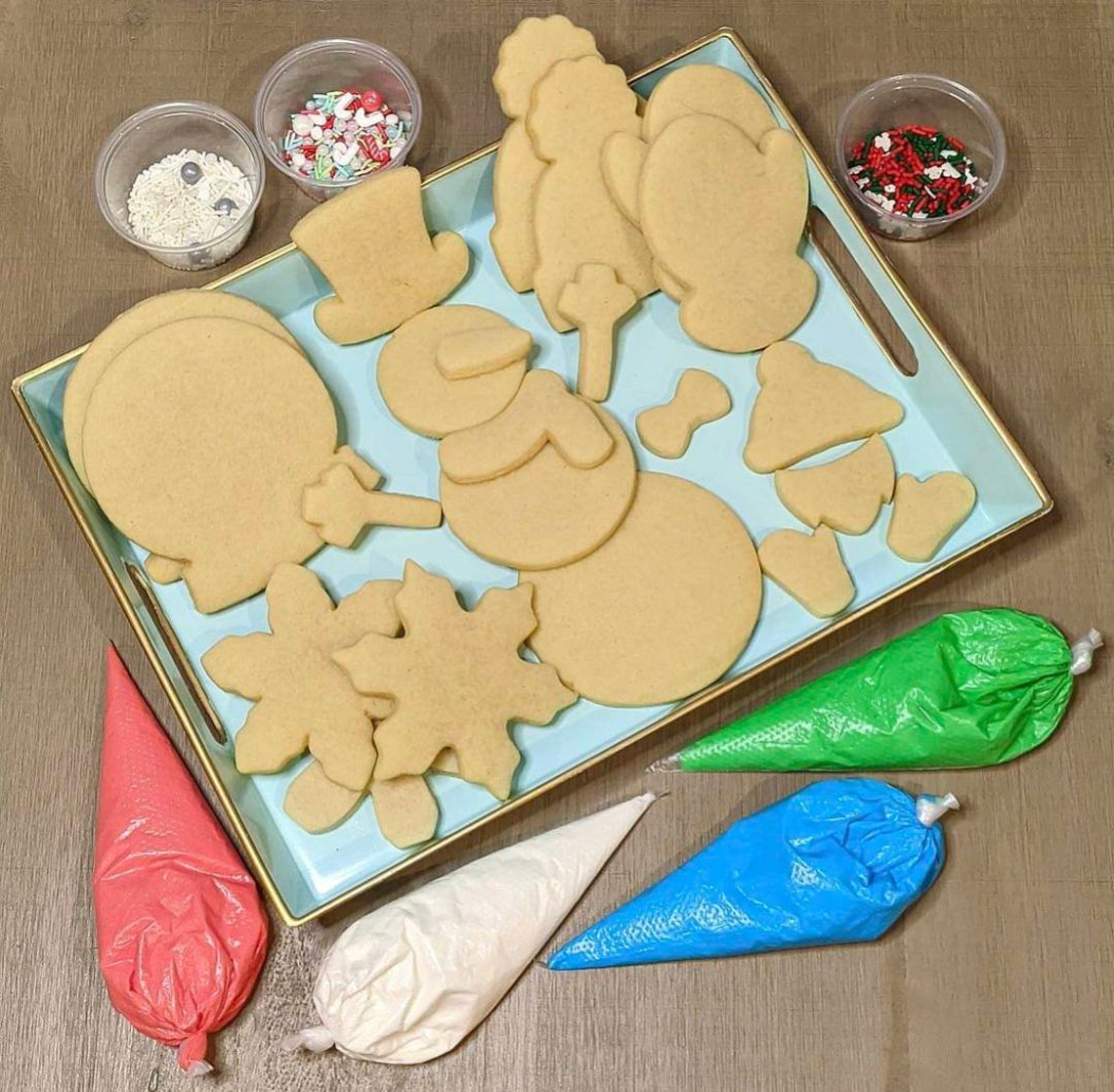 Check Latest Price
The Sugar Island Bake Shop also offers a winter cookie decorating kit that they call "Snow Much Fun." The box includes three snowflake-shaped cookies, two mittens, one hat, two snow globes, and one snowman kit. There are also four colors of icing – white, blue, green, and red—and two sprinkle mixes.
Custom kits are also available. All you have to do is send the Sugar Island Bake Shop a message and they will get back to you within 24 hours.
Personalize it
Check Latest Price
Nowadays, you can personalize just about anything—even cookie decorating kits. Baketivity offers an amazing Face-Bake DIY Cookie Kit that can provide a lot of fun at a birthday party, family gathering, or reunion.
When you order the kit, you will upload your personalized design for the cookies. You can have different designs and images on each one, or put the same design and image on all 12 cookies. It's completely up to you. You can put your face on all of the cookies, your kids' faces, or all of your family members…the possibilities are endless.
When your cookie decorating kit arrives, it will include those images as edible custom stick-ons to decorate your cookies. The kit also includes a step-by-step baking recipe book, sugar, vanilla sugar, flour, baking powder, salt, confectioner's sugar, circle cookie cutters, and a mini-cookbook. As a bonus, they will send you a magnetic fridge picture frame. These kits always have clear recipes and pre-measured ingredients. One baking kit makes 12 Face-Bake Cookies.
If your December has been anything like mine, you've washed a lot of tree-shaped cookie cutters and cleaned up a lot of icing and sprinkles off the kitchen counter. But just because the holiday season is coming to an end, doesn't mean you have to stop baking cookies! What's more, baking delicious cookies doesn't have to be difficult or messy. All you need is a cookie decorating kit to make all of your cookie dreams a reality.
Cookie decorating kits aren't just for Christmas, and they're not just for kids. They come in all different shapes and sizes, with most featuring piping bags, sprinkles, decorating utensils. Some even have pre-made cookies and icing. Cookie decorating kits are a fun project for the family, and they work well for groups large and small.
Here are some of the best cookie decorating kits we've found online that you can use throughout the entire year.
Cookies are delicious every day of the year, not just during the holiday season. Whether you are an experienced baker or just a beginner, there is a cookie decorating kit out there that will give you exactly what you are looking for. Not only do cookie decorating kits result in sweet, delicious treats, they also give you the opportunity to spend some fun time with your family.