As OOLA editors, we select and write about stuff we love and think you'll like too. OOLA has affiliate and advertising partnerships so we may earn a commission if you make a purchase.
Check Latest Price
You can transform your bathroom into an eco-friendly heaven with TUSHY products. The TUSHY bidet attachment will save your butt, save you money, and save the environment. Instead of using toilet paper and flushable wipes, a TUSHY bidet is the best way to clean your bum in an environmentally friendly way.
The TUSHY bidet attachment will wash your butt with a stream of clean water after you poop. With just the turn of a knob, you can adjust the temperature and the pressure. It takes just one pint of water to properly wash with a TUSHY bidet compared to the 15 million trees needed to make toilet paper annually.
Tushy also offers bamboo toilet paper that's "soft as a Panda's bottom." They also have bamboo bum towels when you are ready to ditch the TP for good.
Check Latest Price
No Harmful Chemicals
Check Latest Price
Check Latest Price
The Blume Self Care Bundle features the only three skin products you need to fight acne, keep your skin hydrated and glowing, and keep you feeling fresh. It features their Meltdown Acne Oil, Daydreamer Face Wash, and Hug Me Natural Deodorant.
The antibacterial and anti-inflammatory properties in the Meltdown Acne Oil zaps zits overnight, reduce the look of acne scars, and helps prevent future breakouts. The Daydreamer Face Wash will remove your makeup, hydrate and soothe your skin, and give you a perfect glow.
The Hug Me Natural Deodorant will keep you feeling fresh and smelling good. All three of these products use all-natural ingredients.
Blume also offers eco-friendly period products like organic pads and tampons and cramp oil.
Nonstick and Ceramic
Check Latest Price
The ceramic non-stick revolution is here. Cooking tools and accessories from GreenPan were born after the company founders discovered that traditional non-stick pans release toxins when overheated.
GreenPan takes pride in its healthy cookware, as well as its evolving healthy cooking technologies. The brand's latest cookware is its best ceramic non-stick to date. Thermolon coating makes GreenPan products more advanced in performance and durability.
GreenPan offers everything from cookware sets and frypans to grill pans and knives. Made from natural materials, GreenPan cookware has no toxic fumes and conducts heat beautifully.
Check Latest Price
Ditch the single-use plastic bags for food storage and upgrade to Stasher Platinum Silicone Food Grade Reusable Storage Bags. They are the world's first fully functional, self-sealing, reusable alternative to single-use plastic bags.
These bags feature an innovative air-tight, pinch-loc seal that will keep your food fresh. They will also keep your food's flavors, nutrients, and juices locked in. These bags are dishwasher safe and can be used in both the freezer and microwave. They can also handle boiling water and oven temperatures up to 400 degrees Fahrenheit.
The Stasher Platinum Silicone Food Grade Reusable Storage Bags come in half-gallon, sandwich, snack, and pocket sizes.
Cruelty Free
Check Latest Price
The goal of Mrs. Meyer's Clean Day products is to make the world a greener place, one garden at a time. With a passion for the environment, the company is committed to improving the earth. Mrs. Meyer's multi-surface, lavender-scented, everyday cleaner is a fresh way to clean and refresh the surfaces throughout your house. Mrs. Meyers also has dish and laundry products, as well as soaps and lotions for the hands and body.
Check Latest Price
DocuSign is an online signature platform that integrates with Google Drive, Dropbox, SalesForce, and other major partners. There's no need to waste paper when you can sign documents electronically and almost any device.
There's also Adobe Sign, which is considered by many to be the standard when it comes to online signatures because it excels in security and integration.
We picked these eco-friendly products because they replace disposable items and reduce the use of chemicals that can harm the planet. Going green with the products you buy isn't the only way to make a difference, but it's a great way to start.
Think about replacing the disposable products and harmful chemicals that you use in your everyday life. It can help you make better choices as a consumer.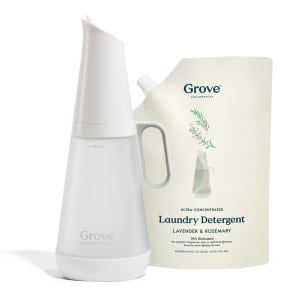 Check Latest Price
Grove Collaborative is a wonderful brand that uses 100% cruelty-free non-toxic plant-based formulas, sourced from ethical supply chains, and made with sustainable materials. We hate to think of how many giant plastic containers of laundry detergent we've been through in our lives. That's why Grove's Laundry Starter Set, featuring ultra-concentrated dye-free detergent and an Auto-Dose Detergent Dispenser, made our list of The Best Eco-Conscious Products of 2021.
Grove Collaborative's mission is to inspire every family to create and sustain a healthy, beautiful home by offering environmentally friendly household and personal care products.
Related Reading