As OOLA editors, we select and write about stuff we love and think you'll like too. OOLA has affiliate and advertising partnerships so we may earn a commission if you make a purchase.
Best Low Key Look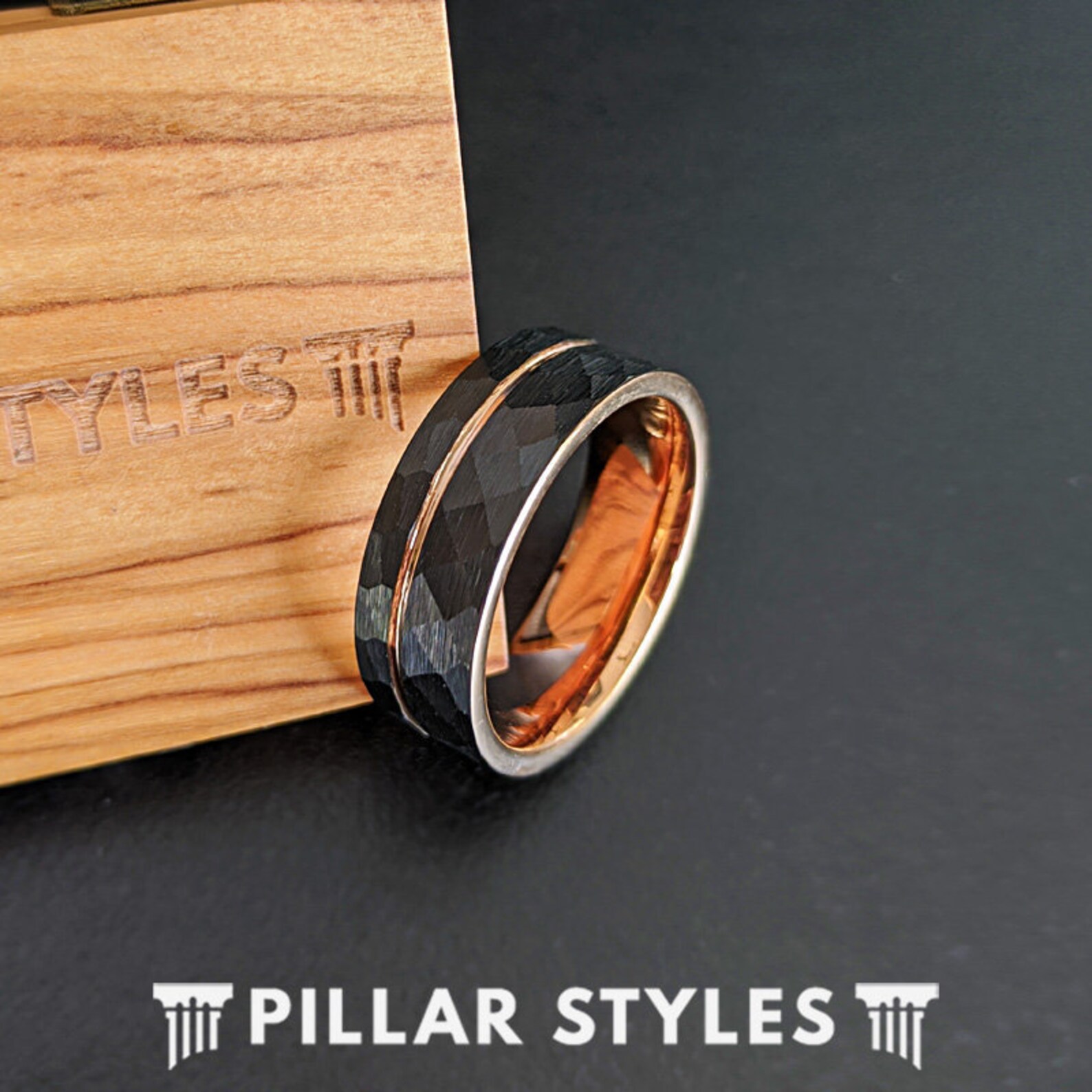 Check Latest Price
For a pseudo-traditional wedding band with a little extra 'something,' try this hammered tungsten and rose gold ring from Pillar Styles on Etsy. The shape, width, and color of this ring fall in line with more common male band designs, but the subtle diamond-shaped pattern elevates it from everyday to extraordinary.
Plus, thanks to the ultra-durable tungsten carbide construction, this ring is scratch-resistant and waterproof, meaning it can withstand the rougher moments in life (just like your marriage).
Our Fav Pick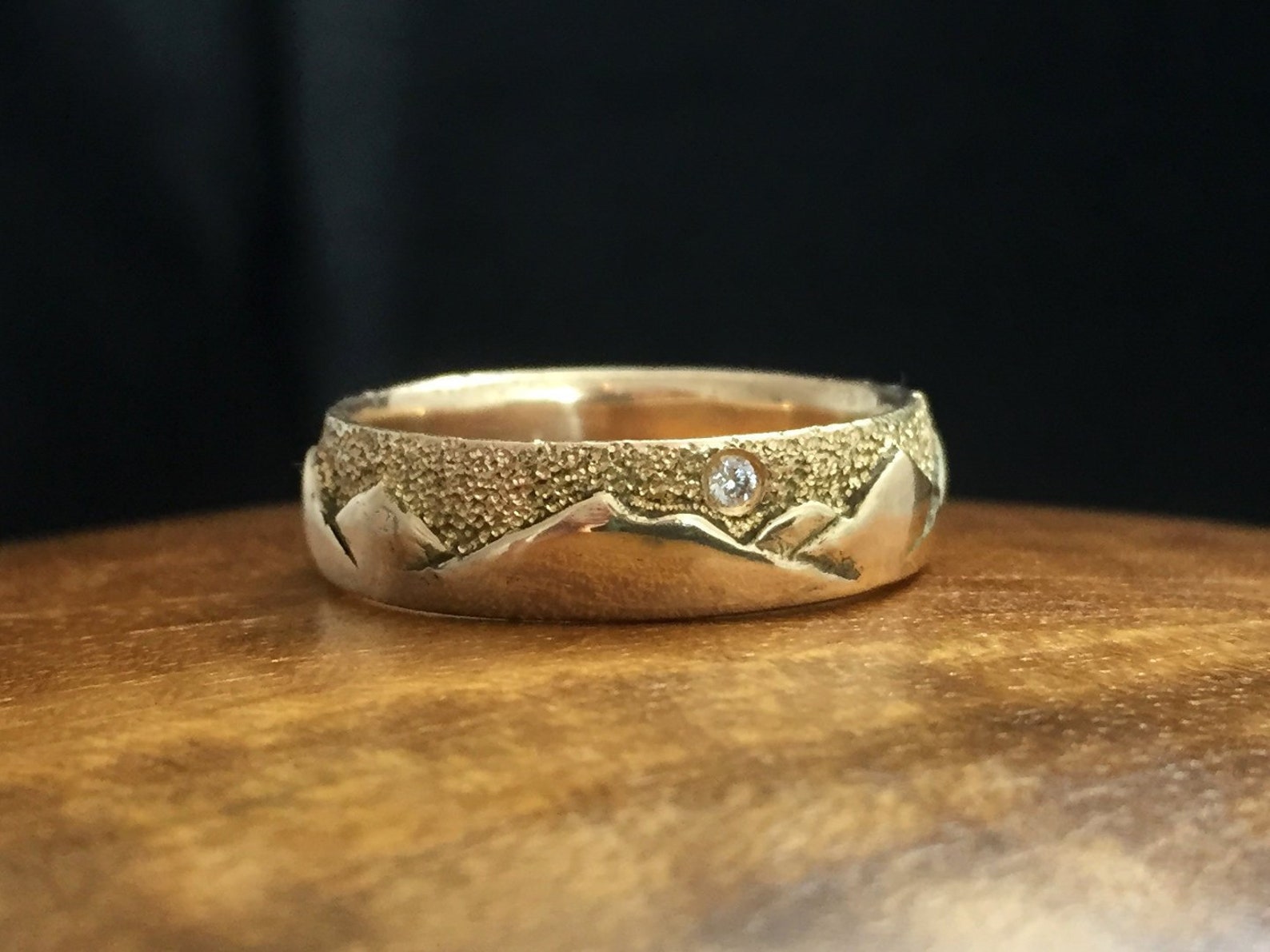 Check Latest Price
There ain't no mountain high enough to keep you from getting to your babe, so why not get him a ring that celebrates the grandeur of your love? Sadja Jewelry Design offers a unique alternative to traditional wedding band styles with this scenic gold diamond mountain ring.
The hand-carved mountain range stretches and shrinks according to the wearer's size, which means your hubby will receive a one-of-a-kind band celebrating your mutual love of the mountains (or your willingness to climb and/or move them in the name of love).
Best Luxe Look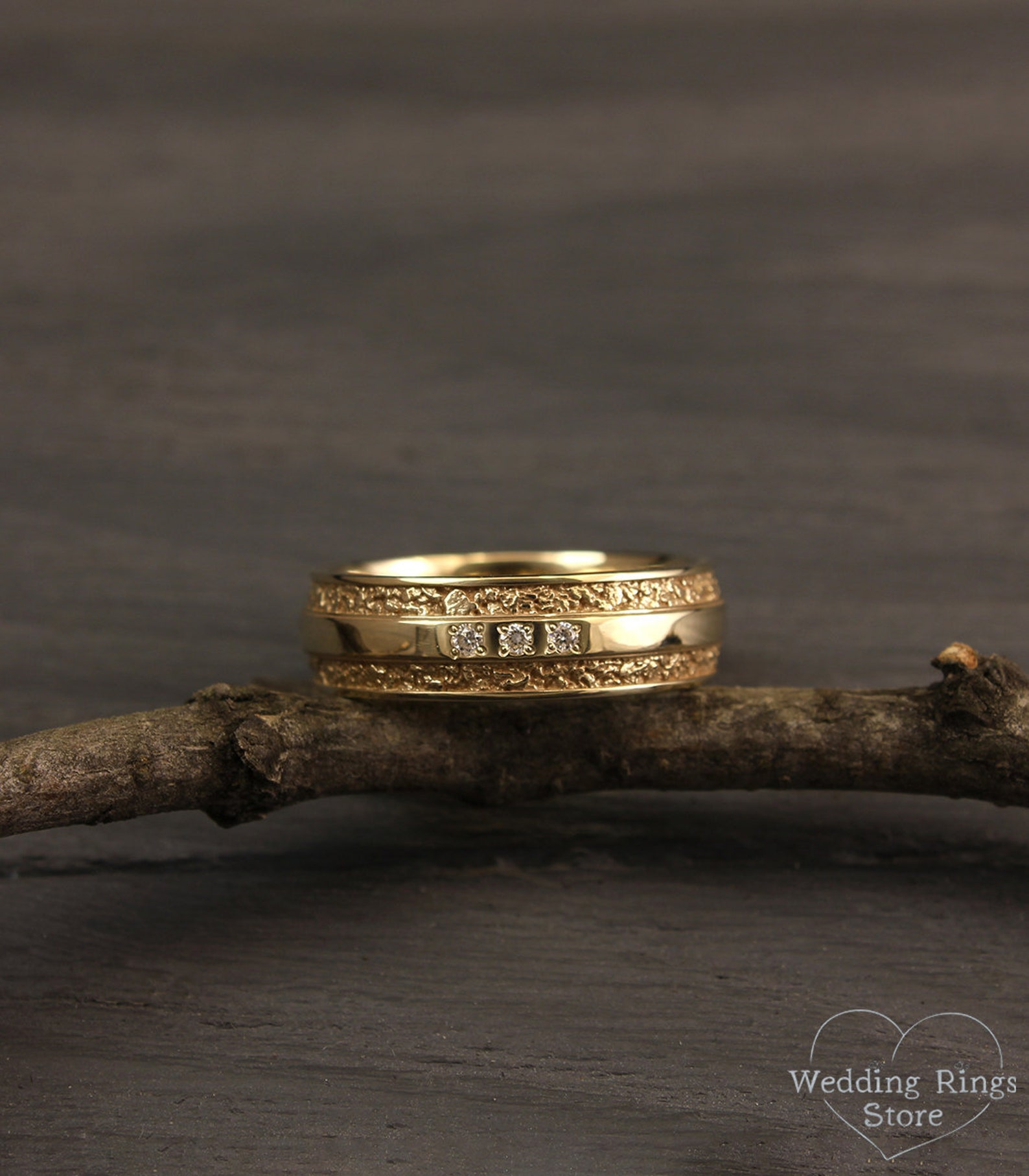 Check Latest Price
This stunning wedding band from the Wedding Rings Store on Etsy has a little bit of everything: 14K gold, elegant gemstone setting, and eye-catching filigree—perfect for the distinguished beaux who likes to enjoy the finer things in life.
If diamonds aren't his thing, the ring can be designed with emerald, sapphire, ruby, amethyst, topaz, citrine, peridot, or garnet instead. Customize the ring with your birthstone (or your child's) for an extra touch of romance and sentimentality.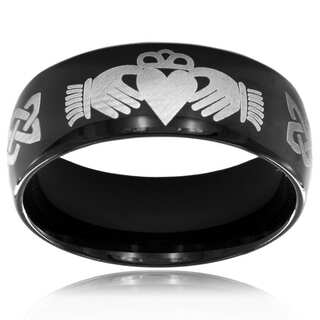 Check Latest Price
Claddagh rings have become a popular alternative to traditional engagement or wedding rings, symbolizing love, loyalty, friendship, and Celtic origins. These rings are overwhelmingly marketed towards women, but since when are love, loyalty, and friendship women-only qualities?
West Coast Jewelry's stainless steel Claddagh ring offers the same classic look on a wider, more masculine band, so you and your Irish sweetie can both enjoy the symbolism of your lifelong bond.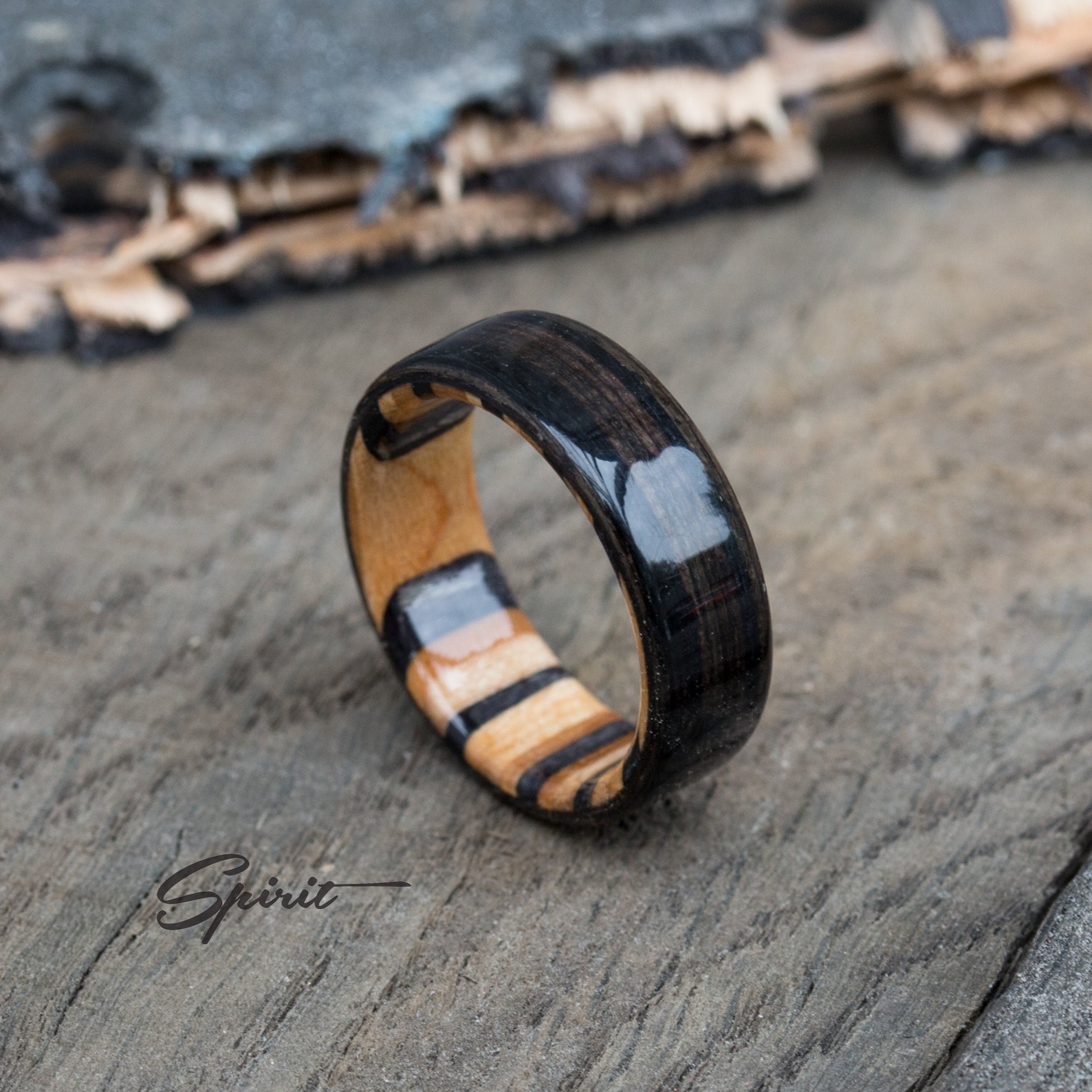 Check Latest Price
Wooden rings provide a more subtle, understated look compared to precious metals like gold, silver, and platinum. This Ebony and Canadian Maple wood ring from Spirit Workshop Store features a muted outer ring of dark ebony wood and an eye-catching interior of Canadian Maple.
If you were lucky enough to live out all of our 2002 fantasies of marrying the hottie Sk8er Boi, you and your love would be especially pleased to know that the Canadian Maple features are made with recycled skateboards. Gnarly.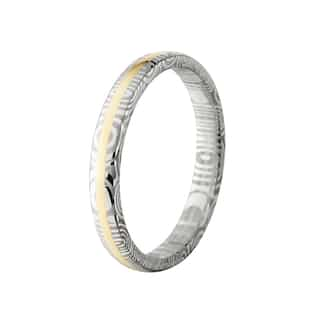 Check Latest Price
Men's wedding bands are often wideset and plain, but that in no way means every single groom would prefer this pervasive style. Narrow bands like this 3-4 mm Damascus Steel and Gold ring are ideal for men who require lots of finger dexterity: musicians, IT technicians, carpenters, etc.
The domed steel and gold band also features an eye-catching half-round design that offers a bit of pizazz without getting overly flashy (after all, the real trophy of the wedding is you. Duh.)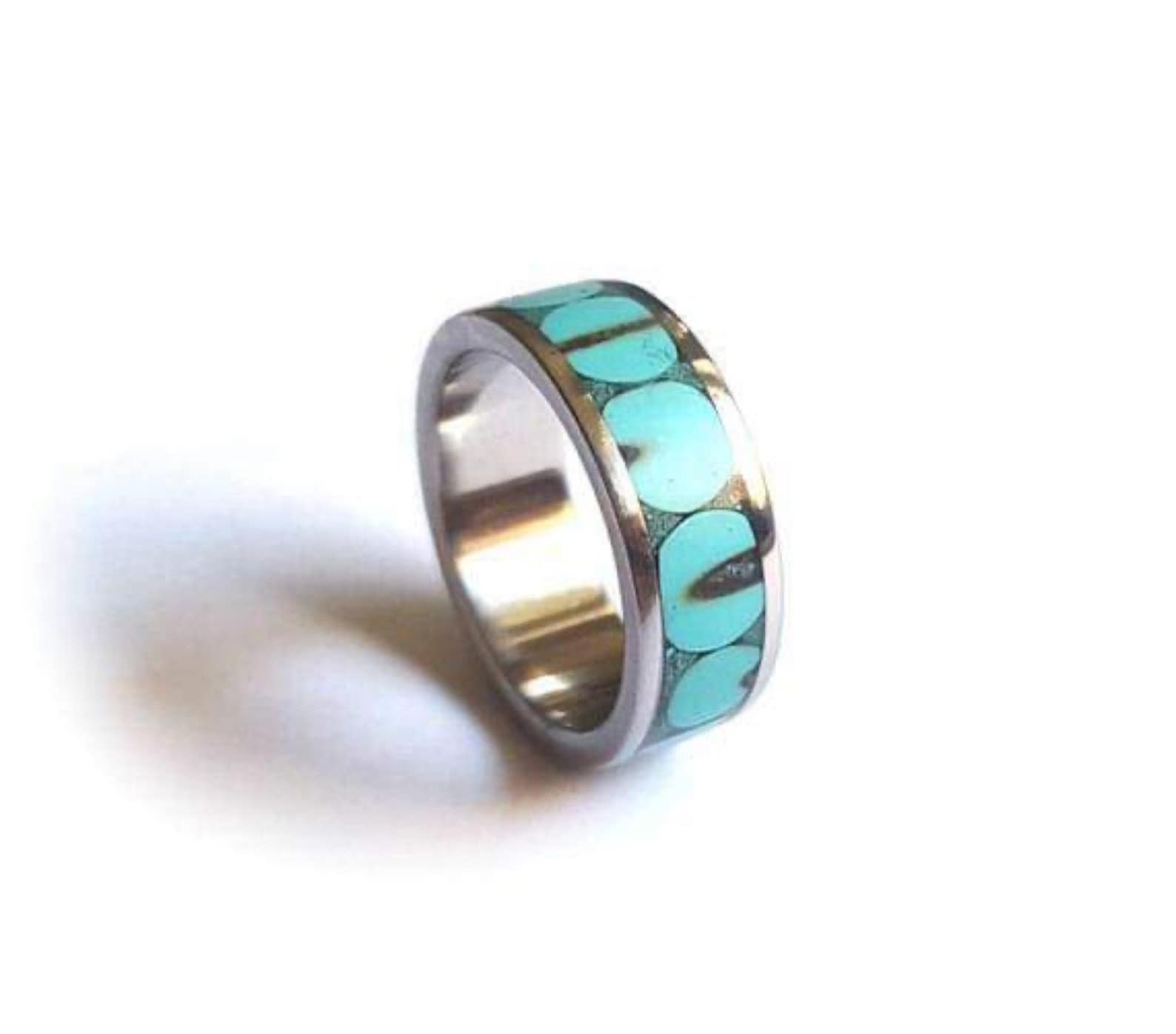 Check Latest Price
Turquoise has been used in amulets as a protective stone for centuries. Contemporary crystal and gemstone experts still celebrate the robin-egg-blue stone for its representation of wisdom, tranquility, and enduring love—three qualities that make a good marriage great.
This wedding band from Bohem Bundle on Etsy features a moderately-wideset band of stainless steel decorated with vibrant bits of crushed turquoise. For an even sturdier ring, upgrade the band to titanium for only $65 more.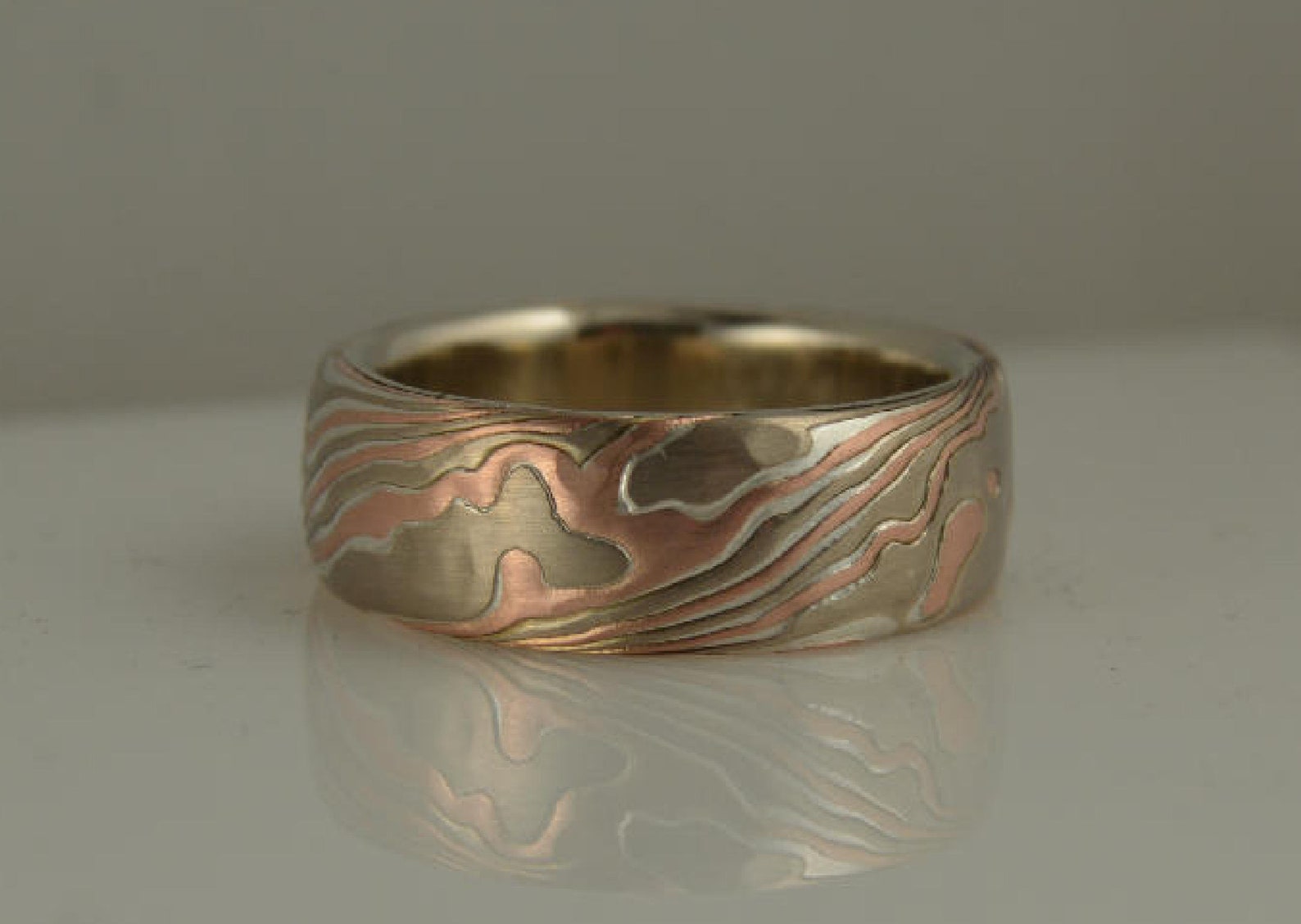 Check Latest Price
Combine the natural aesthetic of wood grain with the durability of precious metals with this eye-catching rustic mokume gane ring. Mokume gane refers to the Japanese metalworking technique that produces its distinct mixed-metal, wood grain-like appearance.
This particular blend of 14K palladium white gold and red gold is available in five different widths, making this a perfect ring option for matching couple's sets.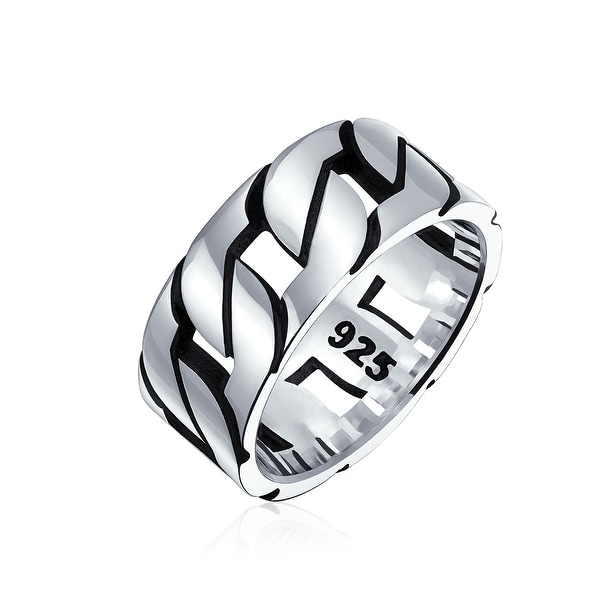 Check Latest Price
Celebrate the long-lasting strength of your union with a sterling silver curb link chain ring. The eclectic, interlocked design is bold without being gaudy, modern without being wacky, and perfect for formal and casual settings.
This is a great option for men who like the look of wider bands, just not on their own fingers. The holes throughout the chainlink-style band offer modest flashes of skin, breaking up the metal for a softer, more flattering look.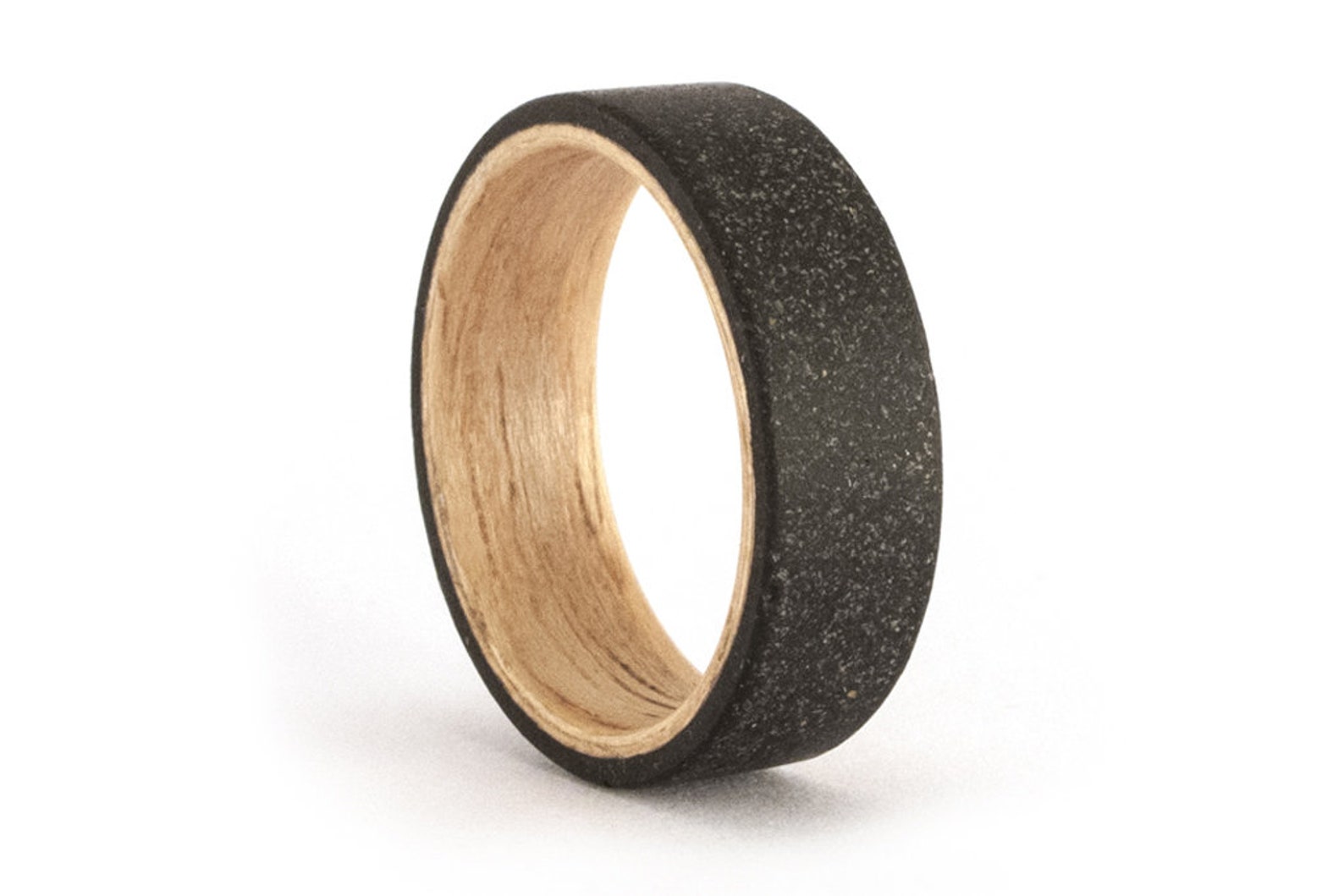 Check Latest Price
Whether your partner is in the construction, architectural, or engineering industry or simply interested in alternatives to traditional silver and gold, this matte black concrete and oak wood ring from Rosler on Etsy offers a unique twist on a classic style.
Each Rosler ring is made to order, which means you can tailor the ring exactly to your partner's taste. Don't let the heavy materials fool you, either; hundreds of Etsy users have reported this ring to be incredibly lightweight and comfortable to wear.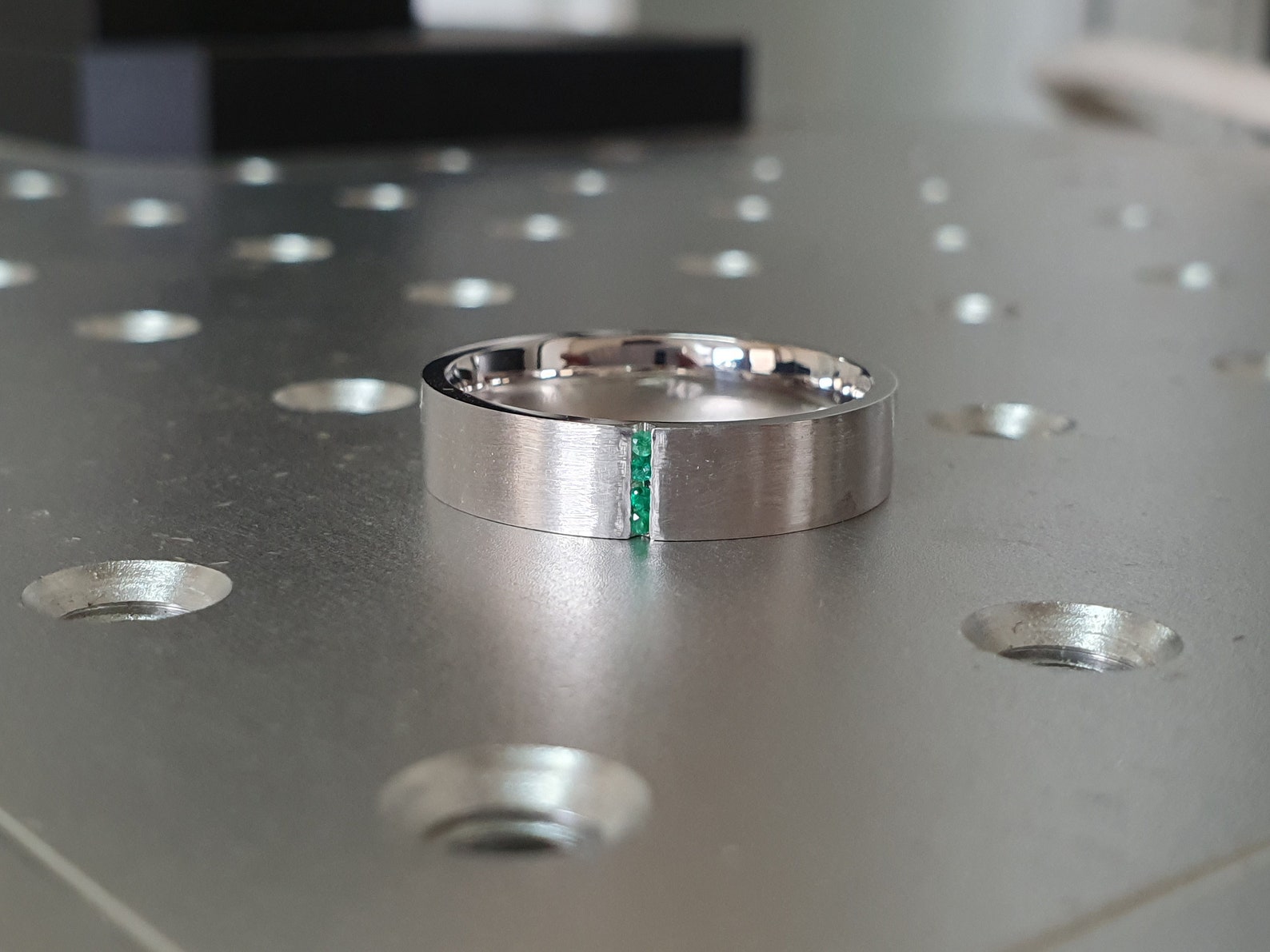 Check Latest Price
For a touch of sparkle that isn't too in his face, consider this understated emerald ring from Etsy's Braverman Oren. The sleek vertical stripe of emerald provides a pop of color in an interesting, modern way and offers a more delicate addition to the otherwise rugged, brushed metal band.
Customized engravings of up to 55 characters or symbols are also available upon request. Unfortunately, this does not include the eggplant emoji, but a girl can dream, right?
Check Latest Price
Groove Life's patented, breathable grooves and air-ports make its unique men's wedding bands the perfect, safe, comfortable alternative to a traditional wedding band. This silicone ring is super affordable and comes with a 94-year "NO BS" warranty.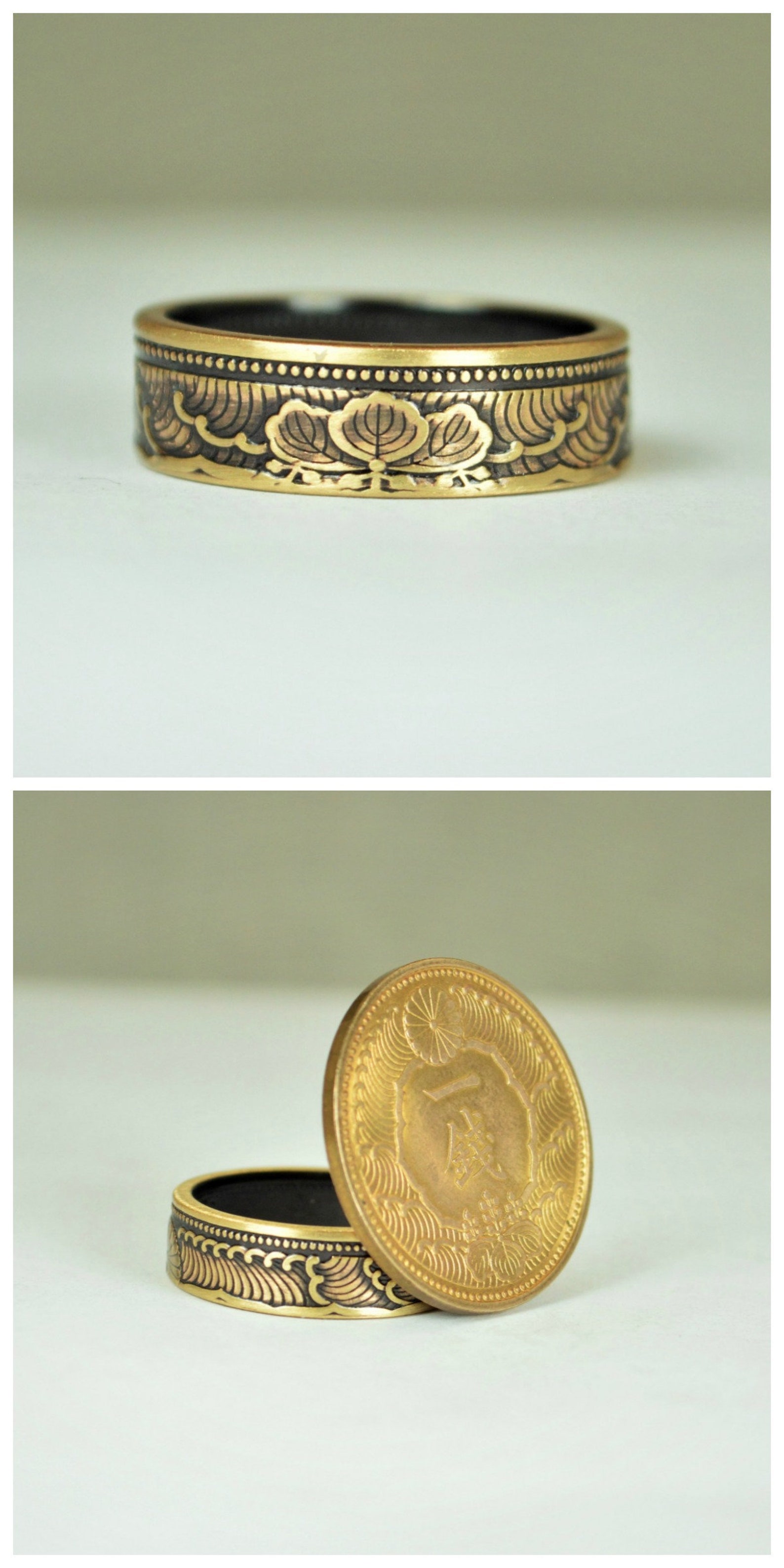 Check Latest Price
Japanese coins feature metallic images of flowers, waves, temples, and of course, Kanji symbols. These coins are then transformed into one-of-a-kind bands in various colors, widths, and patterns by jewelry artisans like Alari Design on Etsy.
Alari Design offers an outstanding selection of Japanese coin rings, including this art nouveau-esque band of bronze waves taken from a 1938 Japanese 1 Sen. Your hub's finger won't turn green thanks to the additional nano ceramic color coating, available in nine colors, including purple, royal blue, dusky rose, and green.
Related Reading