As OOLA editors, we select and write about stuff we love and think you'll like too. OOLA has affiliate and advertising partnerships so we may earn a commission if you make a purchase.
There are plenty of reasons to love warm weather season: longer days, agreeable temps, and, our personal favorite, an excuse to buy a new bathing suit.
Swim styles cycle over the decades (lookin' at you, French cut bikinis of the '80s), and this year is no exception. We're revisiting tried and true trends with modern twists, from revamped animal prints to keyhole cut-outs to classic, glitzy glam.
Revamped Animal Print
gopjn.com
Check Price
Our favorite sustainable swim brand, Summersalt, has perfected the timeless one-piece swimsuit. Featuring an eye-catching leopard print, square neckline, and moderately high-cut legs, this classic leopard one-piece is wildly flattering. As a bonus, this va-va-voom vintage suit is made of recycled material, making it as good for the planet as it looks on you.
Warm Earth Tones
amazon.com
Check Price
We are loving the recent swimwear trend of switching to warm earth tones like dark brown, mahogany, and burnt orange. These cozy colors beautifully complement the golden bronze undertones of tanned skin and are a refreshing twist on the overdone all-black bikini. Verdusa's sexy underwire bikini in sienna (aka your new favorite suit) combines all the best elements of old and new trends.
Flirty Keyhole Cutouts
amazon.com
Check Price
Barely-there bikinis aren't the only swimsuits that ooze sex appeal. Sometimes, all it takes to transform a swimsuit from cute to vampy is a subtle keyhole detail. La Blanca's halter keyhole one-piece is the perfect blend of classy, alluring, and stylish. Plus, the multicolored vertical stripes make this suit ultra-flattering on all body types.
amazon.com
Check Latest Price
Want the look of a two-piece with the convenience and compression of a one-piece? From the front, Qearal's strappy monokini looks like a chic, high-waisted bikini. A quick look at the back reveals a full coverage, one-piece suit—truly the best of both swimsuit worlds. The only "downside" to this versatile suit is that it comes in a whopping 14 colors and patterns, so good luck deciding that one.
fave.co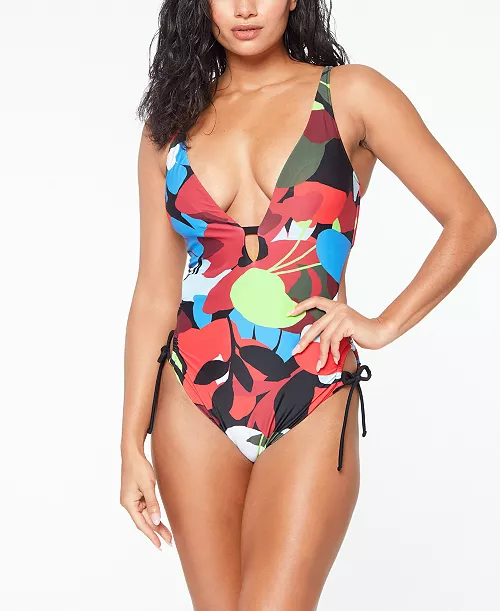 Check Latest Price
Qearal's monokini shows off the stomach while covering the back; while this abstract, multi-colored monokini from Bar III does the opposite. The front of this striking suit features a deep v-neck plunge with a flirty keyhole cut-out and full, smoothing torso coverage. From the back, the monokini splits into a two-piece style, keeping you feeling free and breezy even after your fourth hour by the pool.
amazon.com
Check Latest Price
String bikinis are great for looking cute for the 'gram, but not-so-great for...just about anything else. Don't settle for choosing between fashion and function—Upopby's athletic two-piece bikini set has both. Whether you're strictly a sun worshipper or a beach volleyballer, this high-waisted, full coverage top set will stay in place and style.
fave.co
Check Latest Price
Why yes, this is Barbie's swimsuit; thanks for noticing! We love everything about this gorgeous ombré one-piece by Bound By Bond-Eye. The durable, figure-flattering ribbed seersucker fabric is available in a magenta to lavender, seafoam green to aqua, or peach to coral gradient. A one-shoulder neckline and hourglass cutouts create a stunning silhouette and add flirtatious peeks of skin.
fave.co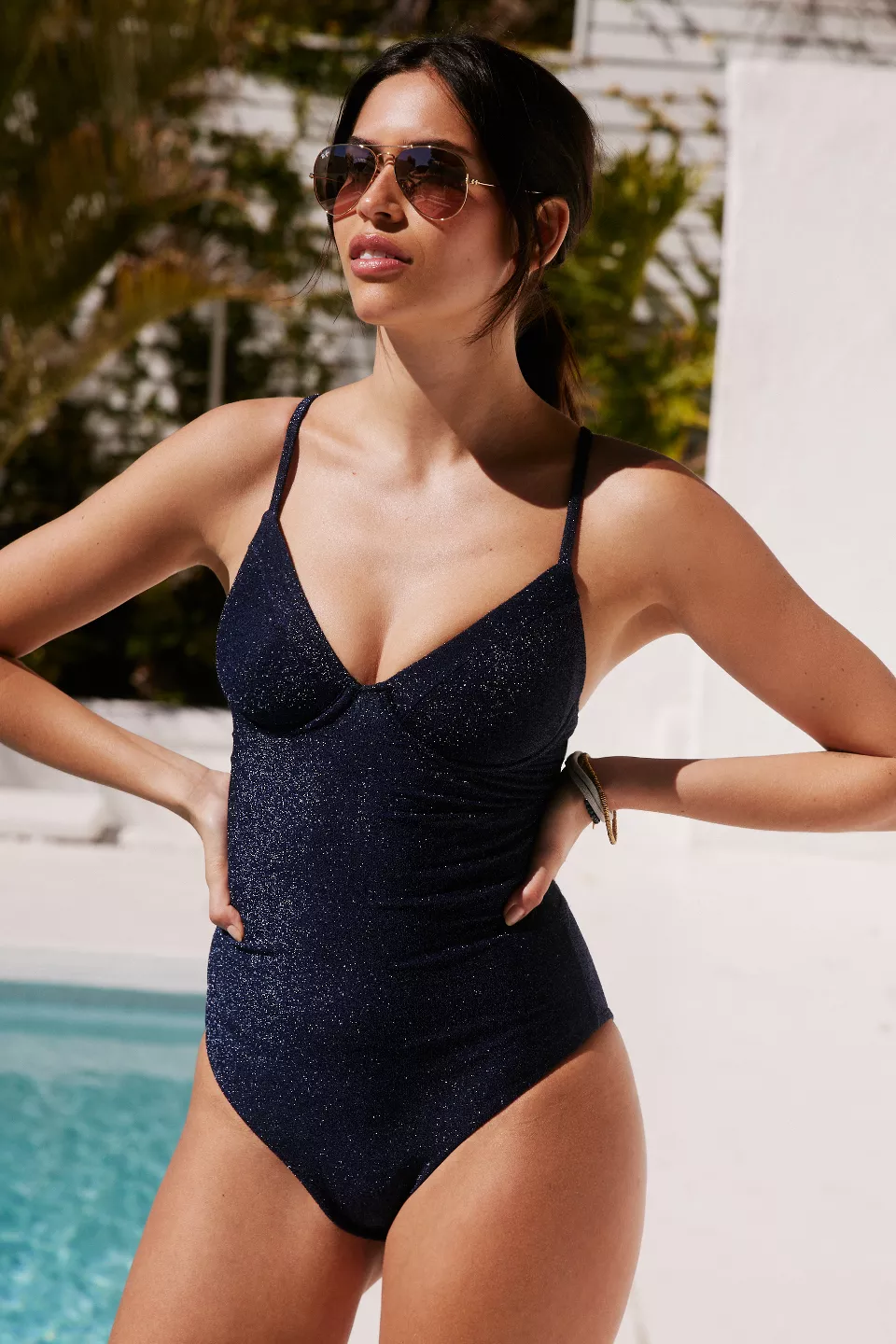 Check Latest Price
Another 2021 summer trend we're looking forward to rocking is mega glitz and glam, and this shimmering one-piece from Anthropologie delivers both. This opulent swimsuit offers underwire bust support and flexible size, thanks to the criss-cross tie feature in the back. And if you're wondering, yes, this suit does look even better in sunlight.
fave.co
Check Latest Price
Throw it all the way back to the 1970s with this floral ruffle bikini set from Billabong. The warm, burnt oranges, golds, sage greens, and baby pinks look fantastic on all skin tones, and the supportive v-wire cups are great for all bust sizes. As if you needed any more reasons to buy this adorable swimsuit, it's also made from sustainable, recycled fabric.
fave.co
Check Latest Price
Move over, gladiator sandals—the only criss-cross ties we're interested in this year are torso wrap ties like in SHEIN's trendy wrap knot waist bikini. This all-black stunner looks fantastic in the front and jaw-dropping in the back, giving you a 360º look that's bound to keep you sizzling hot this summer.
amazon.com
Check Latest Price
Tired of the same old leopard, zebra, or tiger prints? We don't blame you. Black and white mottled prints have come back in style, likely due in at least a small part to Doja Cat's 2018 viral hit, Mooo! Or, maybe you're just trying to channel your inner Jessie from Toy Story. Either way, this high-cut, v-underwire cow print bikini is a unique summer wardrobe must-have.
fave.co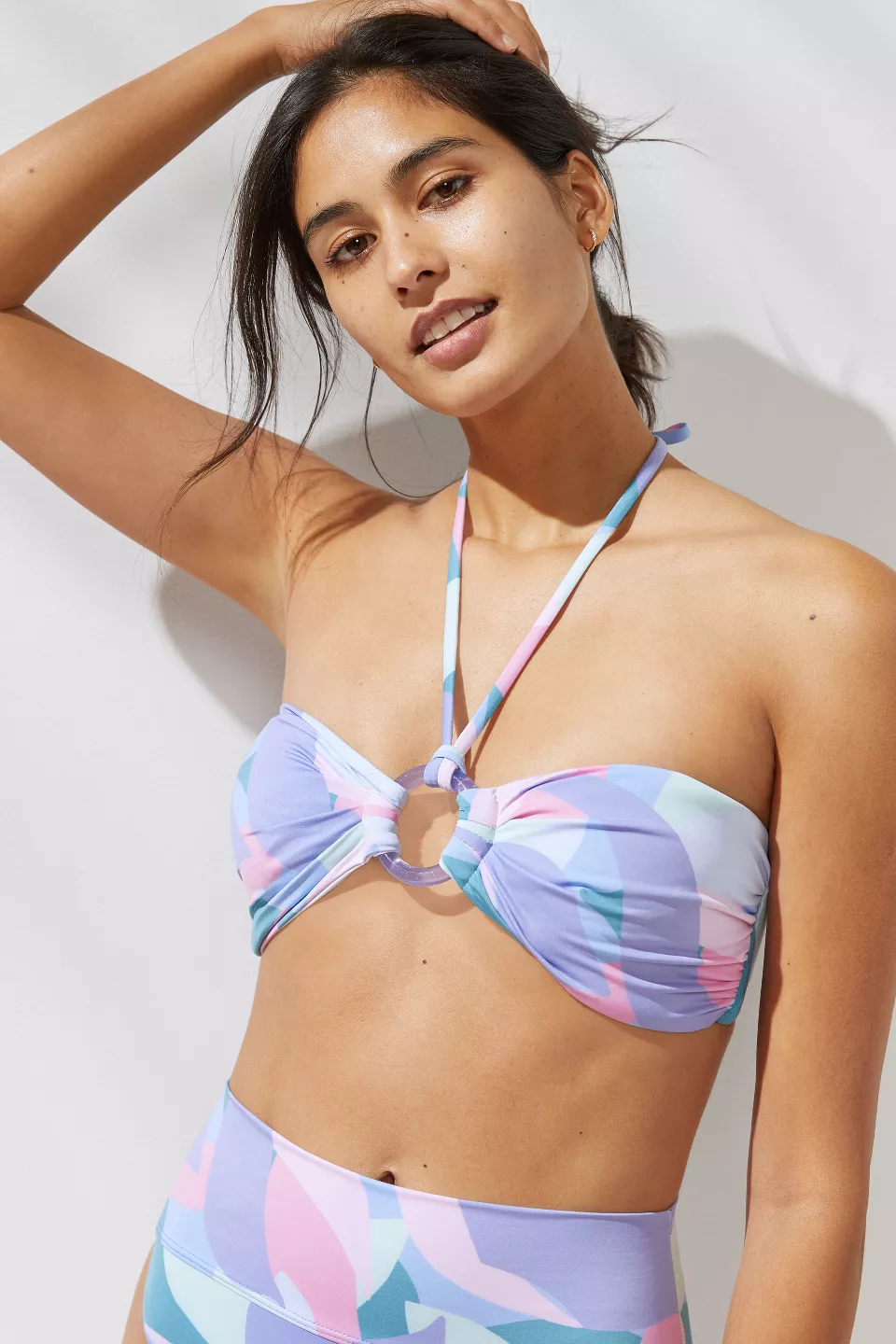 Check Latest Price
Bring back the beachy bandeaus of the 1960s with Beach Riot's mosaic ring bikini. An added halter strap gives support to bigger busts, and the high-waisted, full coverage bottoms give its lucky wearer legs for days. We're also in love with this suit's quintessential summer color combo of minty blues, lilacs, and pinks.
amazon.com
Check Latest Price
Kissycnest's strappy ruffle bikini is the perfect option for those looking for the full coverage of a one-piece and the versatility and vampiness of a two-piece. Sexy criss-cross ties peek out from under a chic flounce neckline with a sultry lace-up feature. The high-waisted bottoms can be hiked up or hung low, depending on how much or how little skin you feel like showing. (Begone, day drinking belly bloat!)
fave.co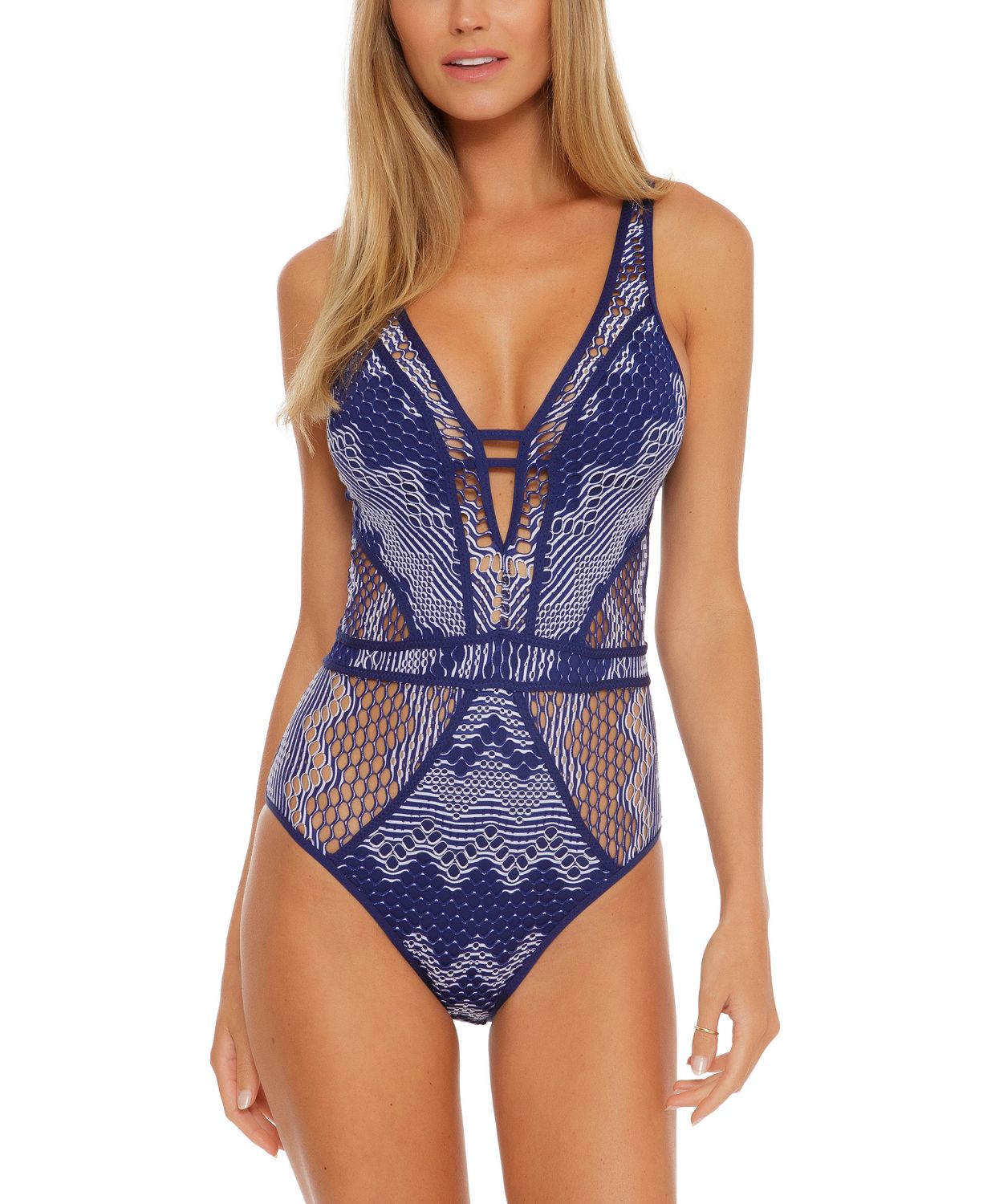 Check Latest Price
One-pieces cling to the skin after a long day in the water, leaving the wearer uncomfortable, constantly damp, and awkwardly yanking at a sopping wet torso. Enter Becca's semi-sheer, crocheted one-piece, a distinctive swimsuit that offers ample coverage while feeling barely there. A back tie closure, adjustable shoulder straps, and removable bra cups ensure a perfect fit.
fave.co
Check Latest Price
Lounge poolside in style with SHEIN's galaxy velvet v-wired bikini. The velveteen, star-speckled fabric creates a svelte silhouette that's begging to be documented on Insta. Choose one of three gorgeous colors or enlist two friends to buy the whole set for all! The! Group! Pics! We're getting starry-eyed just thinking about it.
Related Reading