As OOLA editors, we select and write about stuff we love and think you'll like too. OOLA has affiliate and advertising partnerships so we may earn a commission if you make a purchase.
top pick
Check Latest Price
Currently, Archer Roose offers up four types of canned wine for adventurous imbibers: rosé, bubbly, sauvignon blanc, and malbec. But it's not just the delicious wines that win us over…it's everything that Archer Roose stands for!
We're partial to Archer Roose because the brand has made a public commitment to the environment. With sustainably-grown grapes, responsible farming, planet-friendly packaging, and respectful production…yes, please!
In addition, Archer Roose has made a public commitment to not using harmful additives in its wines. You will not find any artificial flavoring, coloring, added sugars, clarifying agents, or animal fining in these wines. It's not very well-known that, in the wine industry, there are over 70 legally approved additives that winemakers can use in their production without disclosing it to the consumer. Archer Roose believes in informed consumerism. To that end, they document everything that goes into their wines and the reason behind such ingredients. Now that's some consumerism we can stand behind!
Check Latest Price
Oregon in a can? Um, yes please. This delicious canned wine from the Stoller Family Estate is yet another one of our favorites. Canned Oregon offers five varietals: pinot noir, pinot gris, rosé, rosé bubbles, and white bubbles. How will we ever choose? Hmm…
Check Latest Price
Hand-harvested in California, Alloy Wine Works has a lot to offer in terms of canned wine flavors: Gruner veltliner, chardonnay, red wine blend, pinot noir, rosé, Sangiovese, white wine blend, and sauvignon blanc. Alloy also offers a fun mystery-mix pack so you can be completely surprised with your canned wine selections. Hey, any surprise involving wine is a great surprise to us!
Check Latest Price
Paper Planes only makes one canned wine, but it makes it well. Flight School, a sparkling rosé in a can, is the husband and wife team's entry into the portable wine market.
Check Latest Price
Union Wine Company is another stellar Oregon-based winery/vineyard that excels in making ready-to-travel libations. Underwood comes in rosé, pinot noir, nouveau pinot noir, pinot gris, rosé bubbles, mei bubbles, strawberry cooler, and a riesling radler. With all of these choices, how are we ever supposed to choose just one? Well, who said we had to…?
Underwood has a #PINKIESDOWN hashtag, which we love. Union Wine Company's principle is that wine should be affordable and unpretentious but still taste great. Now, what's not to love about that?!
Most Variety
Check Latest Price
House Wine is known for its affordable wine and delightfully drawn label, featuring cute little hand-drawn houses. House Wine offers several single-serving cans of wine and wine cocktails, including House Brut, Casa-Rita, Chardonnay, Grapefruit Spritz, Cranberry Cosmo, Ginger Mule, Original Red Blend, Paloma, Pinot Noir, Rosé, Rosé Bubbles, Sangria, Sauvignon Blanc, and Tropical Spritz. Um, we'll take all of the above.
You may recognize the limited edition Rainbow Rosé Bubbles can from various Pride festivals around the nation. We're not saying that we buy the cans based on the packaging, but…we totally buy the cans based on the packaging.

Check Latest Price
Bonterra has cans of rosé, young red, and sauvignon blanc. Dubbed "America's favorite organically farmed wine," one of Bonterra's guiding principles is sustainability. Bonterra Organic Vineyards utilizes biodynamic farming to preserve a respectful collaboration with the land upon which the grapes are grown.
Instead of using chemicals or pesticides to get rid of unwanted pests, the company strategically utilizes animal "partners" to help with the challenges normally associated with organic winegrowing. Sustainable and sippable? Sign us up!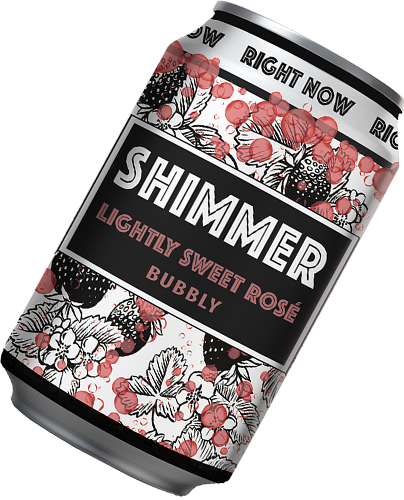 Check Latest Price
For when you need a can of wine right now, we recommend grabbing a can from winemaker Right Now. Choose from Red Number 8, Red Number 6, Alpine Stream White, Rosé, and Shimmer. Wondering what the difference between Red Number 8 and Red Number 6 is? Red Number 8 tends to be a little spicier and heavier, whereas Red Number 6 has notes of black pepper and cinnamon. Um, we'll take one of each, please.
Check Latest Price
SANS is the French word for without, which is an appropriate name for this organic canned wine. SANS sources its grapes from organic vineyards in Napa Valley and ensures that all wines are vegan, sulfite-free, and sugar-free. Current options include rosé, sauvignon blanc, riesling, carbonic carignan, zinfandel, and cabernet sauvignon. One thing's for sure…we don't want to live without this wine!
super sustainable
Check Latest Price
Nomadica Canned Wines are works of art, both inside and out. Nomadica works with independent artists to design the labels for its red wine blend, pink river rosé, sparkling white, sparkling rosé, and chardonnay. Nomadica takes ethical winemaking very seriously, as all of its wines are sustainably sourced from responsible farming practices and don't involve any chemical manipulation.
Nomadica advertises itself as "sommelier-quality wine in a can," and that's something we can support! Not only are these wines delicious, but they are also vegan, low sulfur, and dry (no sugar).
To summarize, wine-on-the-go is here to stay. From Archer Roose to Bonterra, there are plenty of options nowadays. So, grab your favorite brand and head out for your next adventure! After all, isn't that what wine-on-the-go is there for?
Related Reading